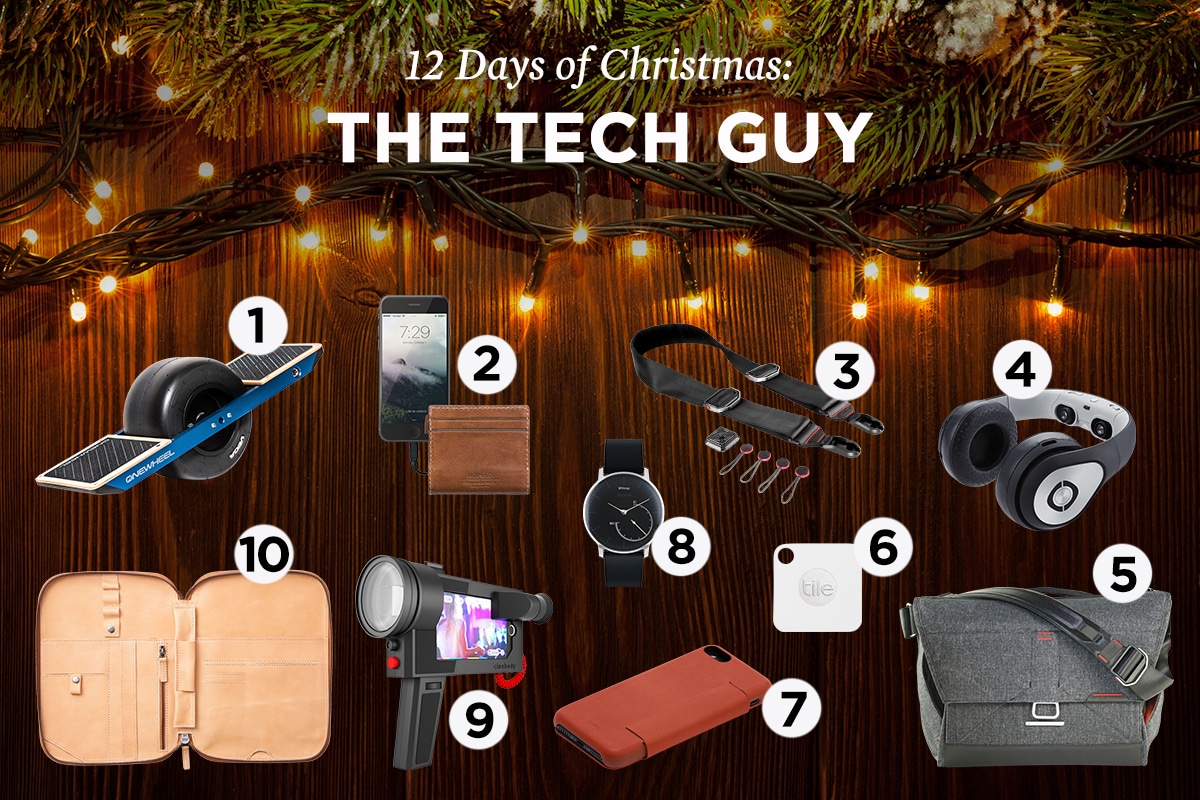 For guys who enjoy gear and gadgets with unique, up-to-date features (as well as handy cases for carrying such gear), today we highlight items from Huckberry's Gifts for the Tech Guy Shop.
The 12 Days of Christmas: The Tech Guy
1. Onewheel. A self-balancing, hands-free, powered off-road board. This 2-horsepower beast turns pavement, dirt, sand, and any other surface into your playground. Onewheel's dynamic stabilization creates lean-to-go control and allows you to navigate roads and trails alike, while having a ton of fun doing so.
2. Nomad Slim Leather Wallet. A stylish, minimalist wallet with a built-in Lightning cable to charge your iPhone. Also includes RFID blocking technology. And it's all housed in a Horween leather exterior that will only get better with age and use.
3. Peak Design Camera Sling. Peak Design has created the ultimate carry system for your photography and optical gear, all of which work as standalone accessories or together in a full-tilt camera carry system. Wear it as a sling, around your neck, or over your shoulder.
4. Avegant Glyph Personal Theater Experience. Slide on the revolutionary Avegant Glyph, plug in the HDMI cable, and in seconds you'll be immersed in your favorite movie, show, or game. It works its magic by using two eyepieces to project images directly onto your retina. The best way we can explain it is that it's like watching a movie at your favorite theater – if every seat was reserved for you and you could watch anything you wanted.
5. Peak Design Everyday Messenger. A tech guy needs a good bag to effectively carry all his gear. Enter this premium day-to-day essential carry workhorse. Though especially designed for photographers, with removable and foldable interior compartment panels that allow for full customization of the inside of the pack, it'll be appreciated by hobbyists, travelers, commuters, and just about everyone else in between.
6. Tile Mat. A tracking device that you can attach to virtually anything in order to keep tabs on the stuff you care about. Attach one to your phone, remote control, or even bike, and when something goes missing, you can see where it is on the Tile App on your smartphone.
7. Bellroy Phone Wallet. This folio-style case has room for everything you need to take with you throughout the day. By allowing for room for cards behind the phone as well as in the front cover, Bellroy has redesigned a popular essential to be slimmer than the competition, yet just as functional as ever.
8. Withings Activité. An activity tracker that doesn't look like an activity tracker. Sleek, stylish, and modern, the Activité's elegantly minimal face belies the full suite of activity tracking features accessed by syncing the watch to any Apple or Android smartphone.
9. Cinebody S6. Change the way you shoot video on your iPhone for good. The ergonomic body instantly upgrades the stability of your video shoots and the built-in microphone captures great sound. Shoot 4K quality video on your iPhone with the ergonomics and advantages of professional cameras.
10. This is Ground Mod Tablet. The last organizer/folio you'll ever need. It has 10 pockets — for your tablet, phone, cash, etc. — and 5 slots for charging cords, headphones, and pens/pencils. And the microfiber lining keeps all your devices and accessories well protected.
Tags:
12 Days of Christmas