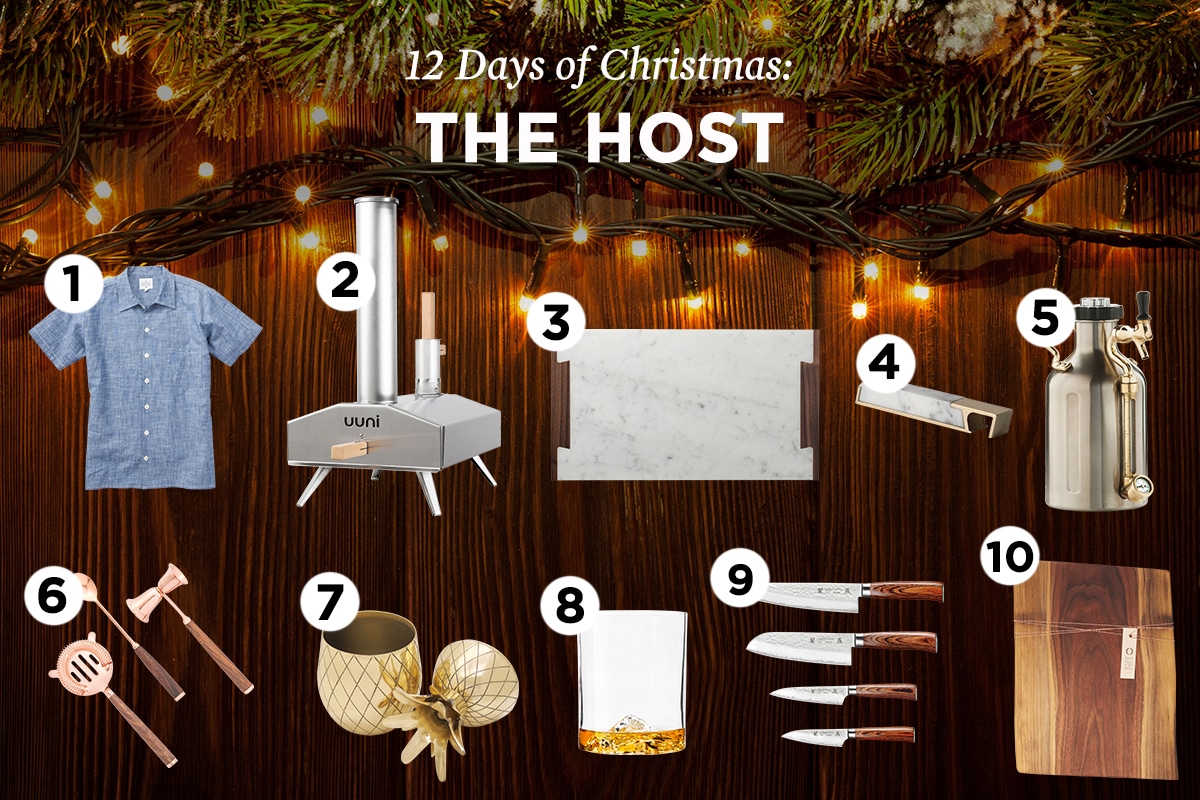 This guide — from Huckberry's Gifts for the Host Shop — plays double duty in that it provides ideas for both the man in your life who likes hosting parties and get-togethers, as well as ideas for gifts to give the hosts of the various soirees you might attend this holiday season. Remember, a gentleman never arrives empty-handed!
The 12 Days of Christmas: Gifts for the Host
1. Chambray Chef Shirt. Chef Timmy Malloy wanted a hardwearing, American-made shirt that could stand up to the pressure of Chopped, but was still breathable enough for Hell's Kitchen. So the gents at Taylor Stitch delivered with a tailored chef shirt that takes you from the kitchen to the dining table with both function and style.
2. UUNI Pizza Oven. Give the gift of pizza with the award-winning UUNI wood-fired pizza oven. The UUNI 2S heats to a blazing 900°F for perfectly-cooked, wood-fired pizza in only 90 seconds — just in time to satisfy the craving. Best of all, UUNI comes with all the equipment you need to start making pizzas right out of the box.
3. Palate Serving Tray. The perfect backdrop for serving a delicious spread, this serving tray is crafted from waterjet-cut Carrara marble, some of rarest and most sought after marble in the world, and carved American walnut. It effortlessly fuses function with luxury.
4. Marble + Brass Bottle Opener. Handsome, premium materials combine into a satisfying bottle opening experience. In what may be the only bottle opener on the market with a dovetail joint, it brings beauty and satisfaction to the simple act of cracking open a cold one.
5. GrowlerWerks uKeg. Keep your best brew fresh and on tap — for weeks. This mini keg comes in the size of half-gallon growler and is jam-packed with utility: double-walled, vacuum-insulated stainless steel, VPR cap (for adjustable carbonation), pressure gauge, dispenser tap, even an interchangeable tap handle for personalization. The uKeg does it all.
6. Copper Bar Set. Handmade tools for the home bartender. This bar set has the tools you need to take your mixology game to the next level: long spoon, coil strainer, and two-sided jigger. They're all made of stainless steel and copper plated, and feature a solid wood handle.
7. Pineapple Tumbler. The pineapple has long been recognized as a symbol of hospitality and warm welcome. Welcome others to your home with this two-piece copper pineapple tumbler, a unique serving piece for a well-crafted cocktail.
8. Whiskey Peaks Rocks Glasses. A handsome set of four hand-blown whiskey glasses made from premium lead-free crystal. Featuring a raised topographic impression of America's greatest mountain peaks — Denali, Half Dome, Mt. Rainier, and Mt. Whitney — Whiskey Peaks will keep you inspired and sipping "on the rocks" whenever 5 o'clock calls.
9. Samurai Kitchen Starter Collection. Three-ply stainless steel gives these full-tang blades a superior construction. The Kitchen Starter Collection includes a full complement of kitchen knives that'll have you tackling kitchen tasks like a samurai in no time.
10. Walnut Cutting Board. Modern, organic beauty is what comes to mind when living and working with this live edge cutting board. Each one comes with its own beautifully unique walnut grain, making it useful not only for cutting, but dish presentation as well.

Tags:
12 Days of Christmas