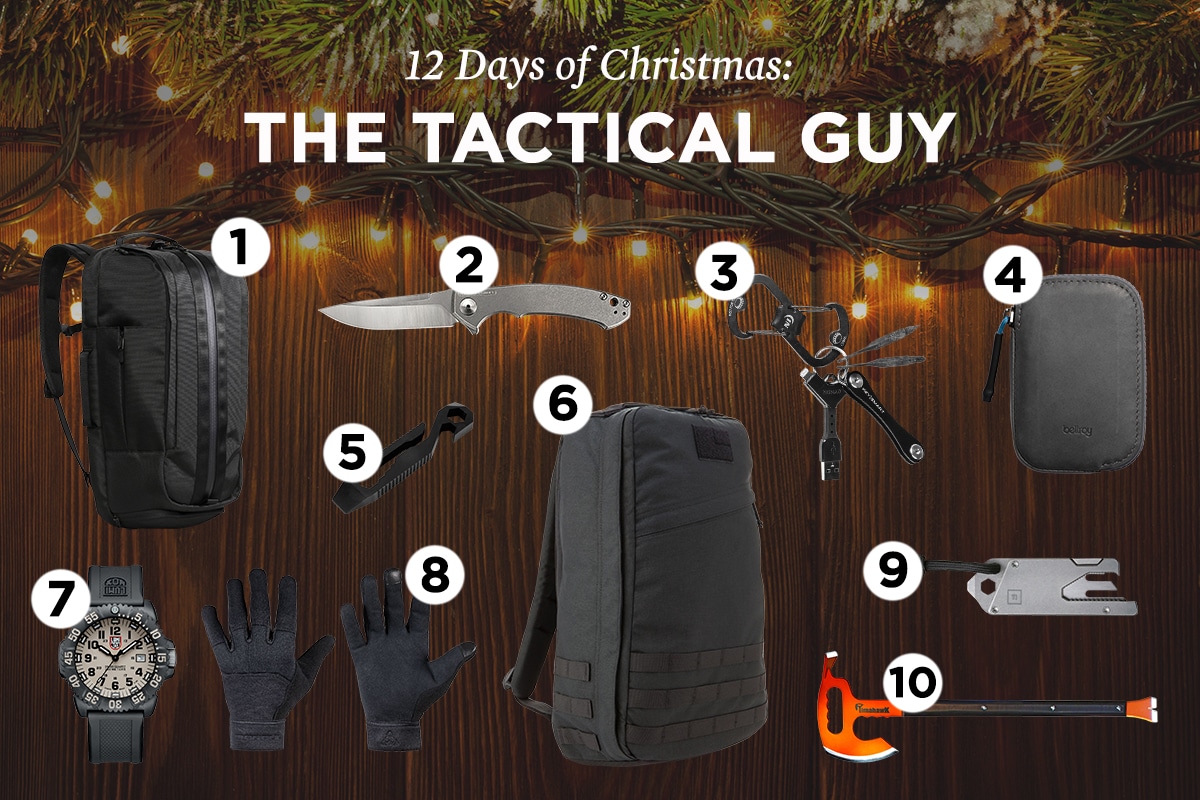 "Tactical" has come to be used (and overused) to mean lots of different things. But one the word's original definitions really works best: "adroit in planning or maneuvering." Tactical gear is that which is practical and functional, and prepares you to successfully navigate any situation or environment. Here are 10 such pieces of gear from Huckberry's Gifts for the Tactical Guy Shop.
The 12 Days of Christmas: Gifts for the Tactical Guy
1. Aer Duffel Pack. An intelligent duffel with the carrying ease of a backpack. This bag is designed to simplify the way you carry, by allowing you to stash your gym and office essentials in one bag. The vertical zipper gives you full, easy access to the interior while the backpack straps make it comfortable to carry.
2. Zero Tolerance Titanium Flipper. Zero Tolerance offers American-made, high-performance knives, overbuilt to conquer anything. The Titanium Flipper has a compact silhouette, and the lightweight-yet-stronger-than-steel titanium handle makes it the perfect everyday carry choice.
3. Stealth EDC Kit. Whether you''re on the road or in the city, this practical, everyday carry kit will be your best ally. Features a S-biner with bottle opener, Keysmart, screw keys, and a USB phone charger. Never be left high and dry again. 
4. Bellroy All Conditions Wallet. The All Conditions wallet protects your everyday essentials from literally anything you can throw at it — rain, snow, blood, sweat, tears — and keeps right on keepin' on until the day is done. It has space for all your wallet essentials, and a little extra, while keeping them protected from any outdoor or urban adventure.
5. Griffin Pocket Tool. A pocket-sized tool that packs a ridiculous amount of function into a handheld form. It has a sleek profile that incorporates more than 11 tools in one: screwdriver, bottle opener, a variety of hex wrenches, and more. 
6. GORUCK GR1. Andy Forch, Huckberry co-founder, calls this his favorite backpack on the planet. That's reason enough for you to get your hands on one. It's built for cities, war zones, and beyond, and made in the U.S. from Special Forces-grade materials. The GR1 also sports a lifetime guarantee.
7. Luminox Navy SEAL Colormark. For 20 years Luminox has made watches that pass the test of special forces, police and fire departments, and professional divers around the world. Entirely Swiss-made, their timepieces have precision movements, superior construction and 24/7 readability with an always-on lume that lasts for up to 25 years.
8. Magpul Technical Gloves. Lightweight, versatile and ready for action, Magpul is far superior to your "standard issue" gear. These Technical Gloves are the most lightweight and tactile glove in the Magpul lineup. They offer abrasion protection and maximum dexterity with a "second skin" fit.
9. Big Idea 13-in-1 Tool. This minimalist tool packs a ton of features into a slim design. You'll barely even notice it in your pocket until it saves the day in sticky situation. Includes classic tools like screwdrivers, bottle opener, and hex wrenches, but also measurement cues, a mini pry bar, and even a razor blade insert. 
10. Timahawk Survival Axe. If you had to choose one tool to have on a deserted island, this would be it. It's an all-in-one survival tool on steroids. With multiple ways to pry, chop, slice, cut, and hammer, you'll be hard-pressed to find a task that the Timahawk can't handle.
Tags:
12 Days of Christmas
Last updated: December 1, 2017