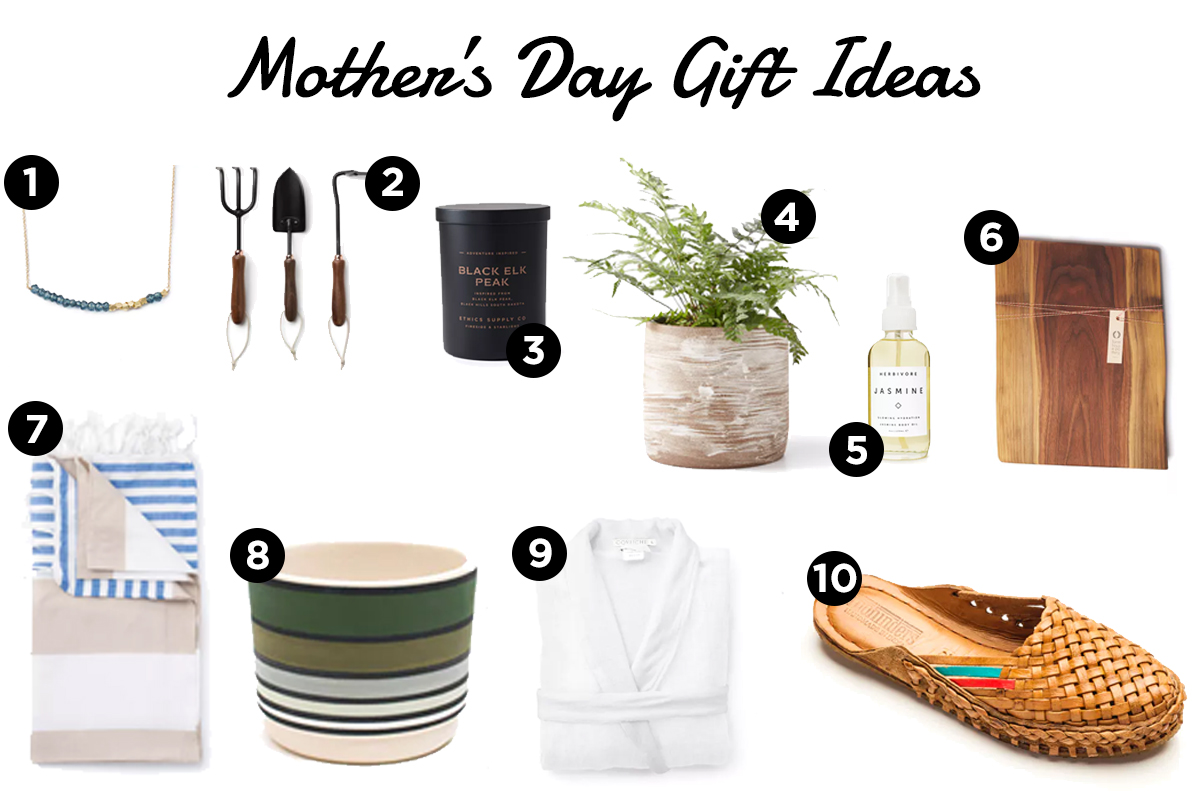 While flowers make for a lovely Mother's Day gift, why not change it up this year and grab your mom, wife, grandmother, or mother-in-law something that will last longer than about a week? Huckberry has an excellent Mother's Day shop in which you're sure to find something that'll please the wonderful mothers who make an impact in your life.
If you order by the end of Tuesday, May 8, your order will arrive on time, and to help you out with costs, Huckberry is offering FREE shipping to AoM readers today and tomorrow (May 7th & 8th). Just enter the code "AOMMOM" at checkout.
Not sure what to get her? Take a look at 10 sure-fire picks:
Top 10 Mother's Day Gifts
1. Morse Code "Mother" Necklace. Julia Szendrei's romantic-themed morse code necklaces have been a hit with AoM readers looking for a unique gift for their significant others, and now she's offering one that spells out "Mother." Besides the cool hidden message, the jewelry offers a nice-looking, offset pattern of blue topaz and gold.
2. Barebones Classic Gardener Set. The essentials a green-thumbed Mom needs for planting and tending her garden. Includes a cultivator, spade, and square hoe.
3. Black Elk Peak Candle. Ethics Supply Co makes adventure-inspired candles that bring authentic scentscapes of the outdoors into your home. This particular candle has notes of wild sarsparilla and birch tree, inspired by South Dakota's Black Elk Peak.
4. Alpine Winds Planter. With a design inspired by intense mountain-top winds, this hand-thrown, -painted, and -etched planter will not only look good on a shelf or mantle, but will subtly inspire adventure as well.
5. Jasmine Body Oil. A little pampering goes a long ways, and this luxurious moisturizing oil fits the bill. All of Herbivore's products are made with all-natural ingredients for the safest skin care products around.
6. Walnut Cutting Board. Modern, organic beauty is what comes to mind with this live edge cutting board. Each one comes with its own beautifully unique walnut grain, making it useful not only for cutting, but dish presentation as well.
7. Mediterranean Turkish Towel. Made from premium Turkish long-fiber cotton that's extra strong, super absorbent, and quick-drying. Plus, the towel packs down to the size of a burrito to fit comfortably in almost any bag with plenty of room to spare — making it an excellent option for traveling.
8. Claystreet Small Planter. This limited-edition planter is exclusive to Huckberry. Though it features West Coast-inspired cactus-like colors, the hand-painted geometric patterning ensures it will look good no matter where Mom lives.
9. Coyuchi Linen Terry Robe. A soft, airy robe made from linen and lined with plush cotton terry. So comfy she'll be searching for any excuse in the book to slip it on.
10. Mohinders City Slipper. Handmade in rural India, these leather and rubber slippers — called such because they slip on, not because they're made for padding around indoors — are both durable and flexible. The woven water buffalo leather provides a stylish and unique look that isn't found elsewhere, and the natural rubber sole provides comfort all day long.