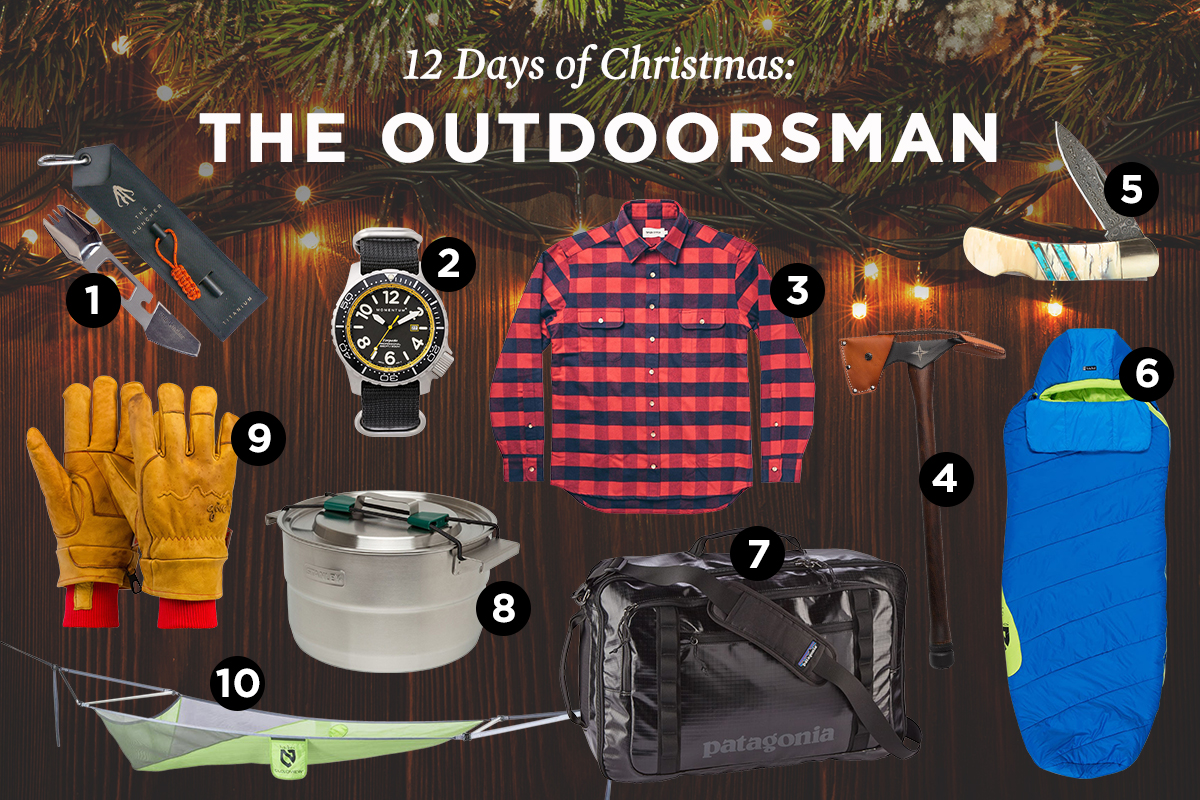 Welcome to AoM's 12 Days of Christmas! We've partnered with Huckberry to bring you 12 straight days of awesome gift guides and giveaways. Each day will feature a different Huckberry shop with 10 gift ideas, as well as a giveaway. The giveaways will run until midnight each day, and the winner will get to choose an item of their choice from that day's featured shop.
Whether you're a hiker, camper, climber, or paddler, the great outdoors calls to each and every one of us, albeit in different ways. No matter your flavor, Huckberry's Gifts for the Outdoorsman Shop has something that's sure to please. Below are 10 of our favorites, but be sure to browse the entire shop for even more gear for your next adventure.
The 12 Days of Christmas: Gifts for the Outdoorsman
1. Full Windsor Multi-Tool Utensil. Full Windsor took the spork, an item already built to maximize utility, and packed it to the brim with 10 additional functions — can/bottle opener, fire flint, peeler, box cutter knife, and more — that'll come in handy no matter the environs.
2. Momentum Watches Torpedo Blast 44. Engineered for reliability in the field, and won't break the bank. Outside Magazine named this to their best watches of 2017 list, and it will be sure to make it to the top of yours too.
3. Taylor Stitch Yosemite Shirt. Made from heavy-duty, perfectly brushed flannel in a classic red buffalo check. Also features lockstitched buttons that are nearly unbreakable. A practical shirt for any outdoor adventure, but the tailored fit also ensures it looks darn good in urban settings too.
4. Barebones Pulaski Axe. A solid steel core connects the axe head to the pommel for superior strength and durability, and the dual blades — both an axe blade and a horizontal blade — make it a versatile tool for outdoor work.
5. Santa Fe Stoneworks Woolly Mammoth Knife. The handle is made from freakin' wooly mammoth tusk. It doesn't get much manlier. And it's not just about looks; the Japanese-sourced Damascus steel will hold up to any kind of abuse you put it through.
6. Nemo Equipment Sleeping Bag. This sleeping bag strikes the perfect balance between trail performance (i.e., it's lightweight and easily packable) and comfort. The unique spoon shape gives some extra space at the elbows and knees for getting positioned just right.
7. Patagonia Black Hole Bag. Patagonia's classic soft-side suitcase design, now with their toughest and most reliable fabric to date. Features weatherproof and water-repellent exterior, ripstop polyester construction, and compartments for everything one might need.
8. Stanley Base Camp Cook Set. The 19-piece dishware set includes everything needed to cook and eat a variety of meals in any camping situation, nested into a tidy single pot for the easiest, most transportable dishes around.
9. Give'r 4-Season Gloves. Heavy-duty, waterproof, and insulated, these bad boys are built to withstand anything, from grabbing a burning log out of a fire to ice fishing in below-zero temps.
10. Nemo Equipment Cloudview Hammock. Specially designed to stay open when you're lying in it, meaning it won't envelop its user in hammock material. Features a no-spill cupholder, tablet/phone pocket, and the most durable mesh material on the market.
Giveaway
The Prize
Any item available in Huckberry's Gifts for the Outdoorsman Shop.
Enter the Giveaway
If you are an email subscriber, do not reply to this email to make your entry. You must click on the title of this post, which will take you to the post on our web page where you can make your entry. Use the form below to enter. Don't forget! You have multiple ways to enter! The more of them you do, the better your chances are!
The 12 Days of Christmas Giveaways '17 – Outdoorsman

Deadline to enter is noon tomorrow (Central Time), December 12th, 2017.
Tags:
12 days of christmas 2017