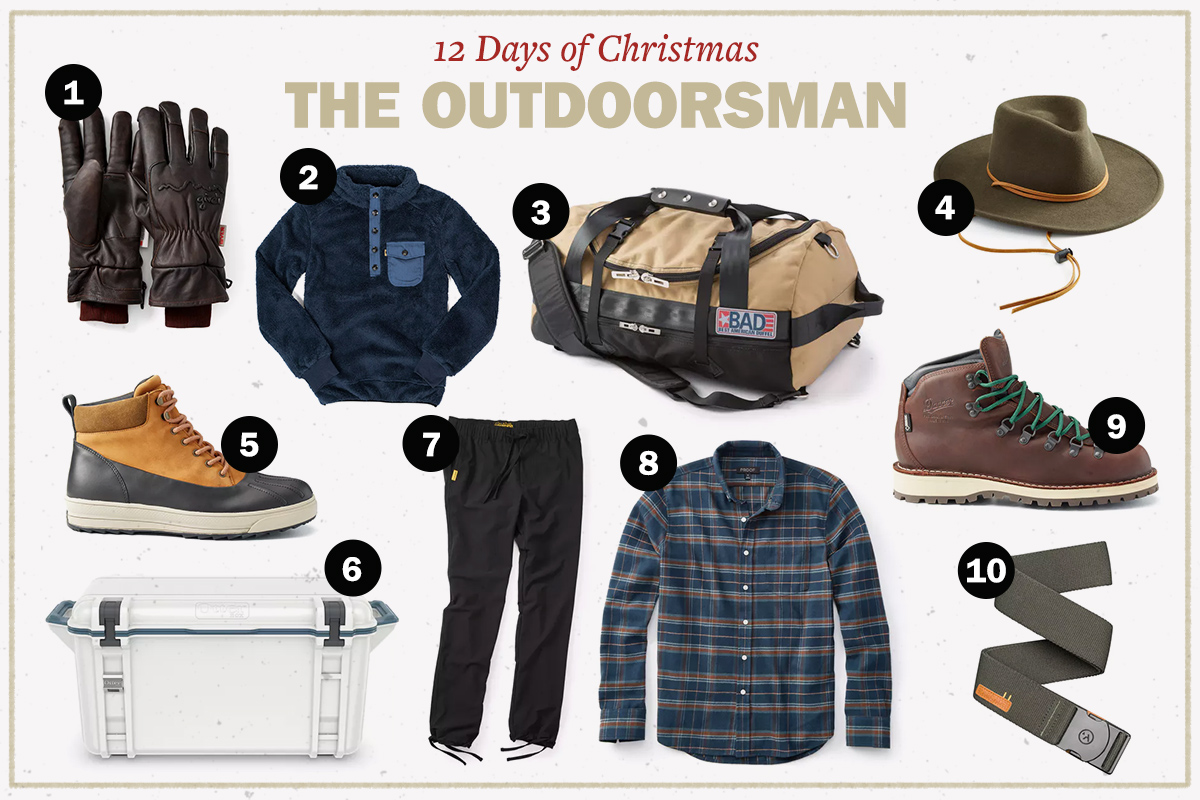 Welcome to AoM's 12 Days of Christmas! We've partnered with Huckberry to bring you 12 straight days of awesome gift guides and giveaways. Each day will feature a different Huckberry shop with 10 gift ideas, as well as a giveaway. The giveaways will run until 12pm CT the next day, and the winner will get to choose an item of their choice from that day's featured shop.
Whether you're a hiker, camper, climber, or paddler, the great outdoors calls to each and every one of us, albeit in different ways. No matter your flavor, Huckberry's Gifts for the Outdoorsman Shop has something that's sure to please. Below are 10 of our favorites, but be sure to browse the entire shop for even more gear for your next adventure.
The 12 Days of Christmas: Gifts for the Outdoorsman
1. Give'r 4-Season Gloves. Heavy-duty, waterproof, and insulated, these bad boys are built to withstand anything, from grabbing a burning log out of a fire to ice fishing in below-zero temps. In an exclusive hickory color for Huckberry.
2. Buffalo Jackson Kodiak Fleece. Buffalo Jackson's apparel is made to stand not only the test of time but also the test of adventure. This plush and cozy pullover makes for a stylish fall outerwear piece or an insulating layer come winter.
3. BAD Bags Backpack Duffel Hybrid. BAD Bags (which stands for Best American Duffel Bags) makes rugged packs from durable materials. Combining tough nylon fabric with double stitching on every seam, and seat belt webbing reinforcement throughout, this bag can truly stand up to any test it's put through.
4. Stetson Mojave. The legendary Stetson hat in an exclusive color for Huckberry. Though the company has been around since 1865, the felt has modern technology that makes it breathable, moisture-wicking, quick-drying, and even crushable for convenient packing.
5. All-Weather Duckboot. This boot excels in all conditions thanks to fully waterproof full-grain leather, waterproof suede, waxed laces, a breathable interior, and a sneaker-like sole that provides all-day comfort.
6. OtterBox Cooler. Known more for their legendary, ultra-durable phone cases, OtterBox also makes a mean cooler. With two inches of refrigerating insulation, your ice and drinks will stay cool for up to two weeks. Seriously.
7. Coalatree Trailhead Pant. Durable, smartly built, and ridiculously comfy, these highly functional trail pants are up for a long hike in the mountains, but casual enough for a picnic with friends.
8. Proof Heatseeker Flannel. While it might look like your favorite flannel, this shirt is softer and packs a technical punch like a mid-layer you'd wear on a hike. Built from a brushed thermo-regulating fabric, it keeps your temperature in check like merino wool and is machine washable.
9. Danner Mountain Pass Boots. Full-grain leather upper, Vibram outsole — you know the details on these famed boots. Now, though, you can get them in this colorway made exclusively for Huckberry and inspired by the high mountain passes of the Cascade Range.
10. Arcade Adventure Belt. The ultimate adventure belt. Weatherproof all around, with a lightweight polymer buckle that's durable as all get out. Made with stretchy elastic, this belt will go anywhere you can, and can even be thrown in the wash afterwards.
The Prize
Any item available in Huckberry's Gifts for the Outdoorsman Shop.
Enter the Giveaway
If you are an email subscriber, do not reply to this email to make your entry. You must click on the title of this post, which will take you to the post on our web page where you can make your entry. Use the form below to enter. Don't forget! You have multiple ways to enter! The more of them you do, the better your chances are!
12 Days of Christmas: Gifts for the Outdoorsman

Deadline to enter is 12pm tomorrow (Central Time), December 12th, 2018.