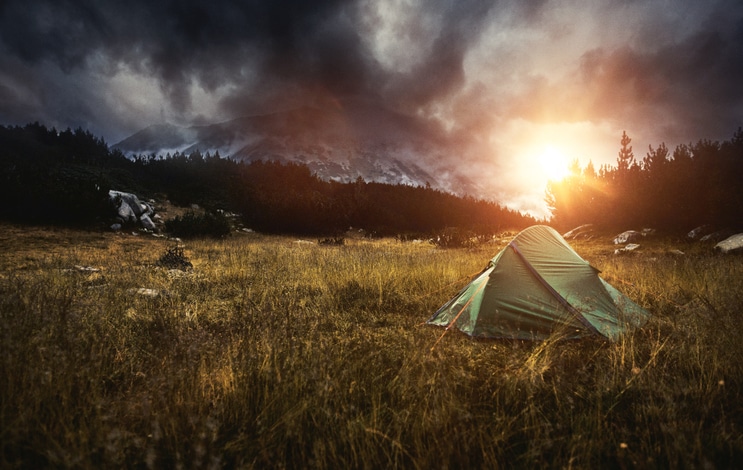 Summer is coming to an end, which means the end of hot, buggy days and nights here in Oklahoma, and the end of the impossibility of enjoyably camping around these parts.
It's the beginning of crisp autumn days and nights, and the beginning of our favorite time of year to camp.
Problem is, it's the favorite time of year to camp for thousands of other folks, too.
When you try to reserve a campsite ahead of time for the weekends of peak seasons, you're likely to find them all booked. If you just show up to a campground and hope to find an opening, you may circle around endlessly, searching (possibly in vain) for an available spot.
Even if you do snag a campsite, your camping experience is likely to be pretty mediocre. People blare their music, your tent basks in the warm glow of the yellow halogen floodlight from the restroom, and you fall asleep to the soothing sound of RV generators. How refreshing!
On top of that, you had to pay for that subpar experience when you paid your campsite fee.
The crappiness of campground car camping is why we previously swore it off in favor of backpacking instead. With backpacking, you beat the crowds and don't have to pay a fee to camp.
But I've recently been looking into an alternative way to car camp that allows you to both escape the masses and camp for free.
It's called dispersed camping, and it's one of America's best-kept outdoor secrets.
What Is Dispersed Camping?
Nearly all National Forests and Bureau of Land Management lands allow for "dispersed camping."
Dispersed camping is camping outside of designated campgrounds.
You can drive along a forest service access road by a National Forest, find a spot you'd like to camp for the next few days, and set up your tent right there.
The upside of dispersed camping is that you increase your chances of getting away from the crowds and finding solitude in the great outdoors. It's also something you can do on a whim, without planning and booking things in advance (embrace your spontaneity!). And it's free. As Jeff More wrote in an AoM article on how to plan an impromptu weekend road trip, dispersed camping is "truly a win-win-win."
There is a catch: When you disperse camp, you sacrifice access to amenities like potable water, picnic benches, grills, and toilets. There's no running to the ranger's office in the morning to grab a coke from the soda machine. You've got to bring in all your food and drink, and pack out all your trash.
You're entirely on your own with dispersed camping. It's a primitive experience. But for a lot of folks, that's just another win.
How to Find Dispersed Camping Areas
As mentioned above, dispersed camping is available in nearly all National Forests and BLM lands. While there may be some areas that are designated "no camping," pretty much anything else is fair game.
But there are millions and millions of acres of federally-owned land out there. How do you find a good spot for dispersed camping?
First, purchase and look over some Forest Service maps which are available at National Forest district offices and online through the USGS store. These maps will give you the general location of roads, trails, and other recreation sites. Since water isn't available on tap when you're dispersed camping, you'll ideally want to camp near a natural source. And if you want to do some hiking, be sure to choose a spot where you'll be able to easily pick up the trail.
If you're not sure where to even start looking, Jeff suggests thinking about your favorite National Park to visit; these parks "are often surrounded by National Forest land, and I would recommend scouting the Forest Service roads outside the entrance for a spot to your liking. Some of the back roads that I've found are my favorite places in the American West — many more so than the actual main drags of the big, crowded parks."
You can also try calling the district office for a National Forest to see if the ranger there has any suggestions. Jeff notes that because rangers have other duties besides manning the phone, you may need to wait for your call to be answered. But he's found that "The US Forest Rangers I have met have all been very friendly" and that some were able to recommend great "places for me and friends to camp and plink. Be specific and tell them you are looking for 'dispersed camping' spots; otherwise, they may think you are calling to find out about established campgrounds as most visitors do. Dispersed camping is generally allowed anywhere off the main road and away from civilization, but some spots are topographically and geographically better suited than others — a spot with a clearing big enough to see the Milky Way, an accessible stream, and a berm to shoot against is basically heaven to me."
Another resource for finding dispersed camping areas is the website freecampsites.net. You can type in any location in the United States and find nearby dispersed camping options (not all the sites listed are on public lands; you'll need to home in on which are).
Also check out Dyrt. It's a premium service that allows you to locate dispersed camping locations on federal land. It offers filtering features and enables you to search for dispersed camping areas offline, so you can find a place to camp even when you don't have service.
Finding good dispersed camping spots may require some scouting and trial and error. As Jeff notes, it "will take some work at first (and you'll probably make a few mistakes along the way), but discovering them is part of the adventure."
Know the Rules
General guidelines. You've got a considerable amount of freedom when you're dispersed camping. But with that freedom comes responsibility. The agencies that manage federal land depend on dispersed campers following the outdoorsman's code to ensure they respect the wilderness and don't disturb the natural environment.
The US Forest Service offers a list of their dispersed camping regulations here. A few worth highlighting:
Dispersed camping must not occur within 100 feet of water sources (rivers, streams, ponds, or wetlands) or within 100 feet of any road or system trail.

In areas closed to the use of vehicles off forest roads, where developed parking sites are not provided, and where not otherwise prohibited, direct access to a suitable parking site within 300 feet of the road is permitted.

Campsites can be occupied for no more than 14 days, then the site must be moved at least 3 miles away. Camping is also limited to a total of 28 days in a 60 day period.
The BLM has slightly different regulations for dispersed camping. The rules can differ from office to office, so check your local office for camping limitations.
Fires. Be aware of burn bans and other fire restrictions in the area you plan on dispersed camping in. Follow them. When you build a fire, practice good firemanship skills by not leaving fires unattended and ensuring fires are completely out before you leave the area.
Jeff adds that you may "need to get a fire permit (check the regulations in your state), which is as simple an affair as swinging by a US Forest Service office (or going online) and getting a little slip signed; once you've got that in hand, you're good to go for the rest of the calendar year. The USFS permits are good for all USFS lands, so even if I pick up a permit in, say, the Los Padres National Forest, I can use it if I camp up in the Inyo National Forest too."
Firearms. In general, firearms are allowed in National forests and on BLM land, and so is target shooting, as long as you follow some guidelines. Tragic accidents can happen when you're plinking in a public place, so remember this maxim: "No backstop, no shot."
Other restrictions on carrying firearms are dictated by state law and can thus vary. Know the relevant regulations for your area.
Leave No Trace. When possible, choose an area that looks like it's already been used for camping and use an already established fire ring instead of creating a new one — no need to cause any more impact on the land. Pick up your trash. Leave the area better than you found it.
Dispersed Camping Tips
Plan for water. Remember, with dispersed camping, you're responsible for your water. There's no spigot for you to fill up your canteen. Pack in your water and plan where you'll get water when you run out. Have a plan for water purification.
Plan for human waste. You're not going to have a toilet while dispersed camping, so you'll have to make a cathole. Bring the necessary supplies.
Pack out your trash. You can burn paper, but pack out all your plastic packaging and bottles and whatnot.
Don't get eaten by animals. Store your food in a bear can or a bear bag. Make sure to include other smelly items like toothpaste, deodorant, and lotions. Bears are attracted to that stuff, too.
Keep your distance from wild animals. Know what to do if you get attacked by wild animals like bears or mountain lions.
If you're looking to do some car camping but want to avoid the crowds and fees at traditional car camping sites, check out dispersed camping. Also check out Jeff's article for more tips on how you can use dispersed camping to hit awesome destinations as far as eight hours away, all within a weekend's timeframe.