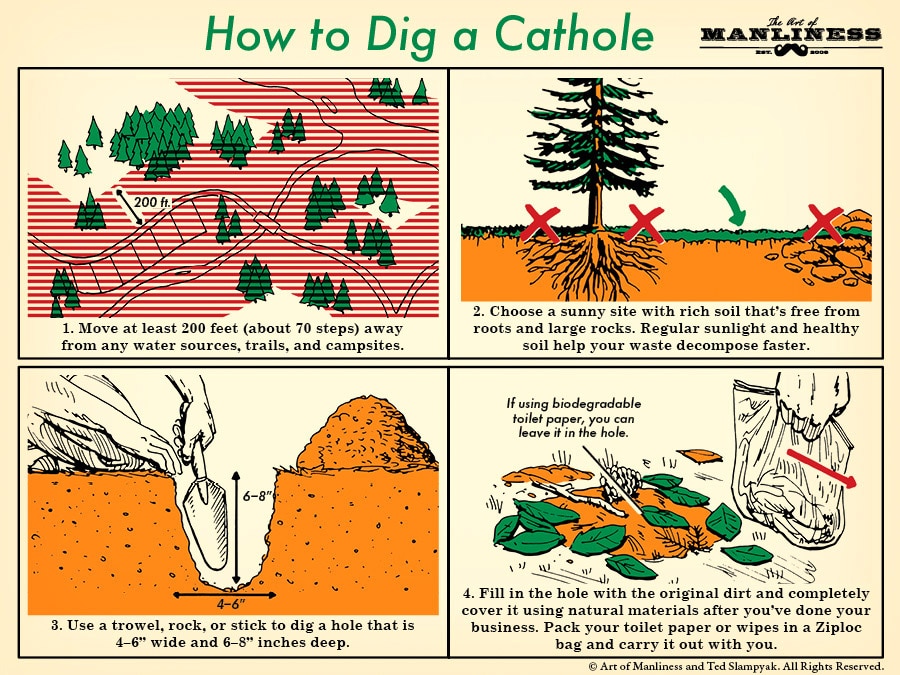 When nature calls and you're in its house, no toilets are going to spring up out of the ground ready to use. A good outdoorsman knows to dispose of their waste properly, using Leave No Trace ethics to dig a cathole in an appropriate location. Properly executed, a cathole ensures that your business decomposes quickly so your favorite trails and outdoor havens stay clean and tidy.
Move at least 200 feet (about 70 steps) away from any water sources, trails, and campsites.
Choose a sunny site with rich soil that's free from roots and large rocks. Regular sunlight and healthy soil help your waste decompose faster.
Use a towel, rock, or stick to dig a hole that is 4-6″ wide and 6-8″ inches deep.
Fill in the hole with the original dirt and completely over it using natural materials after you've done your business. Pack your toilet paper or wipes in a Ziploc bag and carry it out with you. 
Like this illustrated guide? Then you're going to love our book The Illustrated Art of Manliness! Pick up a copy on Amazon.