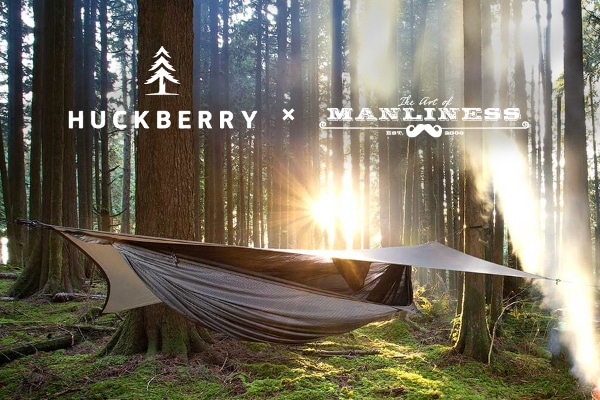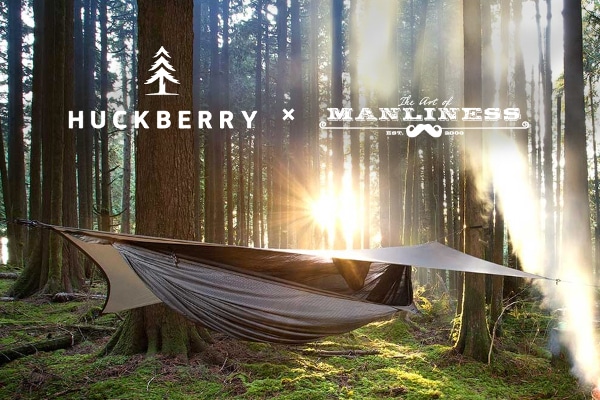 Editor's note: This promotional post was written by the guys at Huckberry and the AoM team.
When you think about camping, what image comes to mind? Probably a tent. Tents and camping trips have truly become inextricably linked over the decades.
But recently that image has started to change, as an alternative way to camp has emerged: the hammock. No, not your backyard hammock with its woven net and wooden spreader bars that love to flip you over. Rather, a hammock made especially for sleeping.
Such hammocks have been common in Central and South America for a long time, but are now undergoing numerous advancements in design and materials, and becoming more and more popular with car campers and backpackers the world over.
Why? Because hammock camping offers a bunch of distinct advantages:
More comfort. Say goodbye to sleeping on rocks, roots, mud, bugs, and sloping, uneven ground. Hammock camping allows you to rise above it all. Learning to sleep comfortably in a hammock has a learning curve, but once folks get the, er, hang of it, they report getting the best night's sleep in the outdoors they've ever experienced. Some even prefer their hammock to their bed at home. So if you want to hit the trails each morning well-refreshed, and return home feeling rejuvenated instead of exhausted, go with a hammock.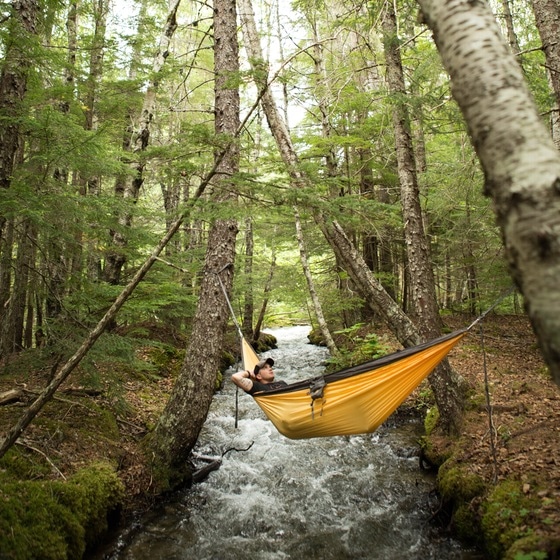 More versatility. Hammocks offer more freedom of location when it comes to where you'll lay your head at night: tie your hammock up between trees and rocks, beneath piers, over a stream, on a hill, next to a waterfall…you can even string it up between two car racks. Plus, a hammock does double duty on your trips — not only serving as a bed for sleeping, but as a chair and a lounger. Take a nap, read, and relax in your hammock during the day. And of course it can serve the same purpose when you get home; while a tent sits in your basement between trips, you can use your hammock all the time for relaxing in the backyard (or even inside).
Easy to set up. Not every camping hammock is easier to set up than a tent (depends on the hammock and tent you're comparing), but many are definitely super speedy. Hennessey Hammock, for example, can be hung in just two minutes. No more struggling with tent poles and stakes.
Lightweight and space saving. Camping hammocks like the Hennessey include a rain fly and mosquito netting, and yet still weigh under 3 lbs. It's so comfy you can forgo the pillow and sleeping pad you would have brought in order to sleep comfortably in your tent too. And the great thing about camping hammocks is that you can break them into individual components and only take the things you need. If you're camping in a warm, bug-free area on a clear night, for example, all you'll need to bring is something like the Grand Trunk Double Parachute, which weighs only 28 ounces, and packs down to the size of a softball.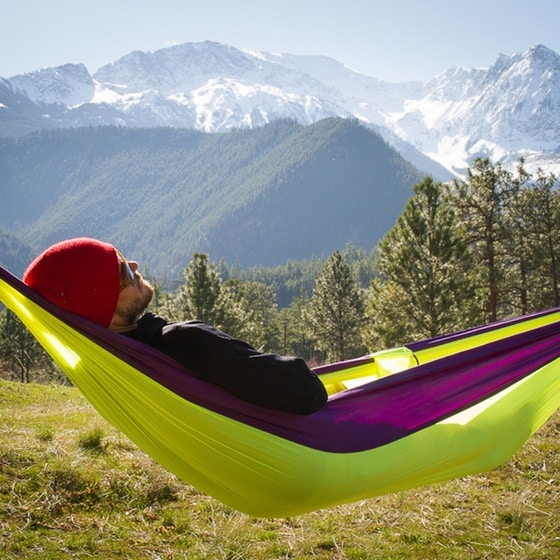 More openness. Adventurers like Alastair Humphreys aren't fans of tent camping, as you're essentially trading a sturdy roof at home for a thinner roof in the woods. If your goal with camping is to get as much nature and fresh air as you can, sleeping in a hammock is the way to go. You'll rock to gentle breezes, fall asleep while watching the stars, and open your eyes to the sky. If the forecast calls for rain, or you'd like to sleep past sunrise, just put a rain tarp over your hammock.
Great value. Many camping hammocks offer super sturdy construction and materials and are as rugged as many high quality tents on the market. The Roo, for example, is made with their proprietary diamond ripstop fabric, high tensile strength thread, triple stitched seams, and reinforced stress points, which is why they feel confident offering a lifetime warranty on it.
3 Considerations for Hammock Camping Success
While hammock camping can be fun, relaxing, comfortable, versatile, convenient, and affordable, it also has its own drawbacks and considerations to keep in mind:
Insulate. In warm temps, the air circulation provided by a hammock will keep you cooler than sleeping in a tent. But in colder weather, tent camping offers an advantage in that the ground acts as insulation, returning the heat you give off. When you're sleeping in a hammock, your body heat escapes out the bottom and is lost; this is the cause of what's called "Cold Butt Syndrome" — the top of you is warm because it's covered in blankets, but your bottom is chilled.
You can feel chilly at any temperature under 70 degrees or so. To prevent CBS, you need to line your hammock with a rugged sleeping bag or insulated blanket — this one from Rumpl is our favorite. Or you can also put what's called an "under-quilt" on the bottom of the outside of the hammock to add a layer of insulation.
On a warm night, you won't need insulation, and can feel cozy with just a light blanket, like the La Playa.
Sleep diagonally. Most people think you sleep in a hammock with your head and feet parallel to its ends. But this gives you an enclosed, "banana" effect that feels a little claustrophobic and puts your body in an uncomfortable position for sleeping. Instead, you want to lie in the hammock at a slight angle , which will allow you to lay in a much flatter and more ergonomic position. Choosing a hammock like the Hennessey with a built-in asymmetrical design makes getting and staying in this diagonal position even easier and more comfy.
If you find you still have discomfort in your neck or knees, use a small pillow, like this washable, polyester, microsuede foam one from Nemo, underneath either, or both areas. You can also use rolled up clothes as a pillow, to save space.
Practice your hang. Much of your comfort level in a hammock comes down to how well you hang it and achieving the perfect amount of sag, and that comes down to a combination of height, angle, and the distance between your anchor points. Once you've got a good hang, a hammock like the Hennessey that comes with a ridgeline (a cord that stretches above the hammock) helps lock that ideal sag in place, so you don't have to fiddle with it each night.
It may take a few tries to figure out how to get this ideal hang/sag, but once you do, instead of sleeping being what you least look forward to when camping, it'll become one of your favorite parts!
_____________________
For easy-to-understand, accessible tips on how to hang a hammock, as well as everything else about hammock camping, we recommend checking out The Ultimate Hang, which includes especially handy illustrations.
And to get hammocks, and all the other camping gear you need for your next trip at a discount, join the 1 million+ members of Huckberry's adventure community. We deliver the coolest gear at the best prices, inspirational stories, and a hell of a lot more to your inbox every week. Membership is free and takes seconds.