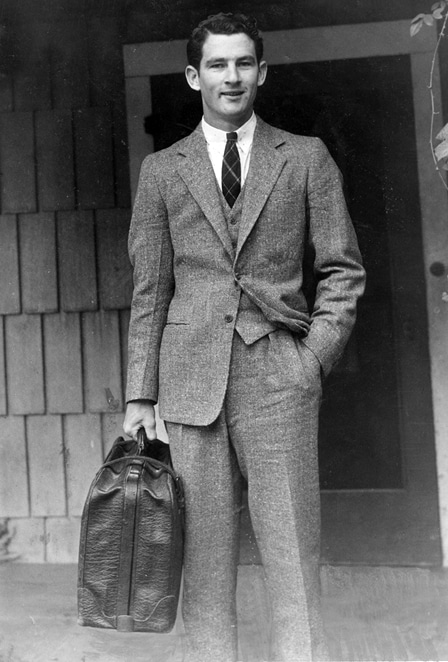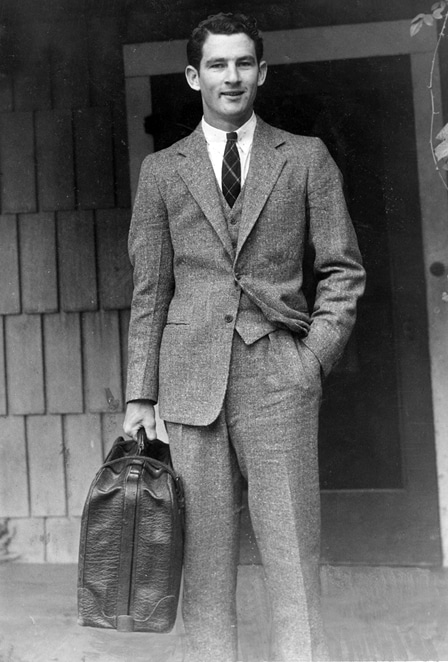 Packing for a week-long business trip can be an intimidating task. You want to ensure you bring enough clothes that you'll have appropriate outfits for all the different events, meetings, and activities you'll be attending. Yet you also want to conserve space and not end up schlepping too much. Plus, you want everything you bring to arrive safely with minimal wrinkling and damage.
Below, I'll walk you through how to address these concerns and more, so that the next time you need to pack your bags for a business trip, you'll know exactly what you need to bring, and how to fold, pack, and carry it all efficiently.
Choose Your Weapon: Taking the Right Bag
"One trip, one bag" is a good rule at any scale.
In the case of a business trip, it's probably a necessity. Most of the time you'll be flying, limiting you to one big bag plus a carry-on and a "personal item."
You can get a little extra mileage out of the carry-on items, but the bulk of your clothing has to fit in one checked bag.
For the week-long trip you have three basic bag options:
Bag Option #1: The Hanger Bag
A hanger bag is a wide, flat bag with an internal strap for hangers. It's designed so that you can store several suits and shirts on their hangers, then fold them in half and buckle or zip the whole thing closed.
The advantage of the hanger bag is that it's a lot easier on your clothes. Apart from a loose, gentle doubling-over at the middle, the suits and shirts aren't getting folded. There's less pressure on the places where you tucked sleeves or collars in, meaning less wrinkles when you get to your final destination.
The disadvantage is storage space. Clothes on hangers take up more space than clothes folded up and tucked into a suitcase. Even a big hanger bag isn't going to hold much beyond two suits and three or four shirts, and they tend to be short on space for other items as well, like shoes and Dopp kits.
Pros: Easy on clothes, professional-looking, lightweight
Cons: Minimal storage space, awkwardly broad shape
Bag Option #2: The Classic Suitcase
A traditional suitcase has a stiff frame that keeps it in a rectangular shape. That makes it easy to pack and stow, but also means your clothes have to be folded to fit the compartment.
Suits that go into suitcases usually have to be folded: first the trousers are doubled over and laid in, then the jacket goes on top with the arms crossed over its chest with the bottom folded up as needed. Shirts are usually folded like they would be on a department store shelf, with the collar and top few buttons facing up and the sleeves and lower shirt folded away beneath them.
A hard-sided (or at least hard-framed) suitcase, especially one with wheels, is easy to get around an airport and protects the clothing inside it. It also gives more room for items like toilet kits and shoes than a hanger bag would.
Pros: Lots of storage space, good protection for the clothes, portable
Cons: Requires folding, which can wrinkle and/or damage nice clothing
Bag Option #3: The Duffel Bag
A duffel is a tube-shaped, soft-sided bag with no internal frame. You throw everything into its one large compartment and go. Most have both a handle on top and a shoulder strap, making them convenient to carry. Having to heft one will give you a bit of a workout, and motivates you not to overpack, which is why one of Walker Lamond's rules for his unborn son is "Never pack more than you can carry yourself, and a man's luggage doesn't roll."
Duffels are the easiest bag to pack, but the hardest on your dress clothes. Even if you fold everything carefully, the soft sides mean the contents are going to wrinkle and lump up almost right away. They're also less professional-looking, unless made of dark canvas with good leather handles. Colored nylon duffels are good gym bags, but not very business-like.
Pros: Easy to pack, tons of storage space, more forgiving of odd-shaped items
Cons: Unprofessional, wrinkles the clothes inside
Any of the three styles of bag will do — it's just a matter of what characteristics are most important to you.
Beyond the Laptop: Maximizing Your Carry-Ons
Assuming a typical airline, you get to take two items onto the plane with you: a carry-on and a "personal item." Some airlines now charge for the carry-on, in which case you might try to get away with putting everything you need in a laptop bag; in that case you're probably limited to a laptop computer and its peripherals, some paperwork, and maybe a book/e-reader/tablet and a granola bar.
If you do get a carry-on, make the most of it.
The best option is to get a small rolling suitcase built to the exact dimension requirements. Most major luggage companies make "guaranteed carry-on" models. Get one in black or navy blue for a professional look and use it to carry not just a book or two, but a spare shirt, your Dopp kit, any umbrellas or rain gear, and other small items. That spares your good suits and shirts being wrinkled by other, oddly-shaped items down in the checked luggage hold. And should your checked baggage get lost, you'll still have some essentials for your important meeting the day after you arrive.
For obvious reasons, any valuable electronics should come in your carry-on or "personal item" bags. Try to save space by eliminating redundancies. For instance, if your phone has the battery life and storage space to double as your e-book reader or MP3 player, don't bring both.
What to Bring
A week-long trip doesn't mean seven individual outfits made from entirely unique items. You'd need a truly oversized suitcase for seven suits, seven shirts, etc.
Instead, the ideal business trip suitcase is filled with interchangeable items. At most you should be bringing a jacket and a pair of trousers for every other day, rather than every day, mixing and matching to create different effects.
Of course, some items — socks and underwear particularly — should be packed in one-per-day amounts. Unless you have convenient access to a hotel laundry, it's usually worth bringing one dress shirt per day as well, though "traveler" dress shirts made from quick-drying materials can be laundered and dried in hotel sinks, reducing the need.
In general, a recommended load for a full week of business events in varying formality would look something like this:
2 suits — 1 charcoal gray and 1 navy blue (you bring two colors for mixing and matching — the navy blue jacket on some suits can be used as a blazer with different trousers, and so on)
2 pairs odd trousers — a pair of khakis and a pair of gray flannel slacks are good defaults
1 blazer or sports jacket — it's not vital, especially if you have suit jackets that can be worn as blazers, but it's nice to have one that's very clearly not part of a suit for casual events
7 long-sleeved dress shirts — at least three or four in plain or very lightly-patterned white, and the remainder in light colors for casual and evening settings
1 dark, solid-color polo shirt — up the amount to three or four and reduce the amount of dress shirts by one or two if you're traveling somewhere very hot or plan on playing a lot of golf
2 pairs dress shoes — one black and one brown; wear one on the plane to save room
2 dress belts — matching the shoes
4-7 pocket squares — you could get away with just one white pocket square in a pinch, but they're so small you might as well bring some variety
5-7 neckties — one for every day isn't a necessity, but they don't take up much room
7 pairs dress socks — be sure that you have socks to match each trouser color
7 pairs underwear — whatever your preference is; it's also always a safe bet to pack an extra pair or two, just in case
Wool overcoat — in winter/fall weather only; wear it on the plane to save room
Plain black umbrella — can usually go in the carry-on
Dopp kit — all the basics, in one zippered bag in the carry-on or checked luggage
Dark, solid-color swimsuit — never underestimate how much business gets done in hotel spas
Pajamas — likewise, never plan on sleeping naked, even if you're supposedly getting your own room
Other items will be dictated by necessity: the electronics and papers you bring, any sporting clothes the specific trip requires, and so forth. If you fancy a hat, wear it on the plane to save room.
You don't want to weigh your suitcase down with anything needless, so check your itinerary when you plan your wardrobe. If you know there'll be a few days off where you won't have to wear a dress shirt and tie, don't bring them for that day. Throw a set of lightweight casual clothes in there instead, or wear your khakis and a previous day's dress shirt with the sleeves rolled up.
The Art of Efficient Packing: How to Load the Suitcase
The goal of packing a suitcase is simple: no wasted space.
Empty space is room for your clothes to jostle, settle, and inevitably wrinkle. Fill it to the brim, but systematically.
Every suitcase is different, but you can usually plan on working in three basic layers:
Layer 1: Jackets and Trousers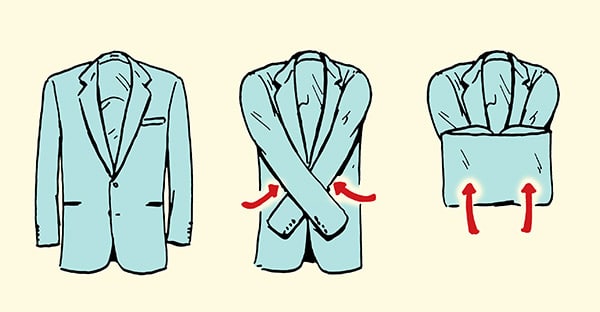 The first things to go in are the jackets and trousers. Trousers will be doubled over just like they would be on a hanger and laid flat in the bottom.
Jackets are made as square as possible by crossing the arms over the chest. If the case is big enough they can then lie flat; if it's not, the bottom has to be folded up until it fits. Alternate the way the jackets lie so that the collars aren't all in one big pile; that way the layers stay more even.
Layer 2: Shirts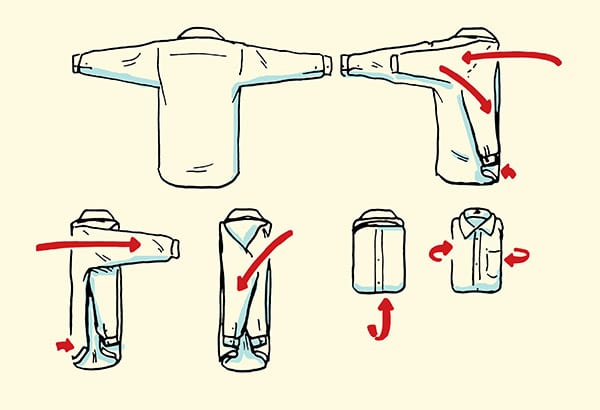 Dress shirts are also folded to make them as rectangular as possible. Fold the shirt vertically into thirds, with the middle third (the width of the collar) on top, then fold horizontally, again with the collar on top. It should look just like it would on a store shelf.
These shirt-squares get arrayed on top of the jackets and trousers, working from one wall of the suitcase to the other to fill it in a broad layer. It may take a few layers, so lay shirts on top of one another as needed, again alternating the direction the collars lie.
Layer 3: Sundries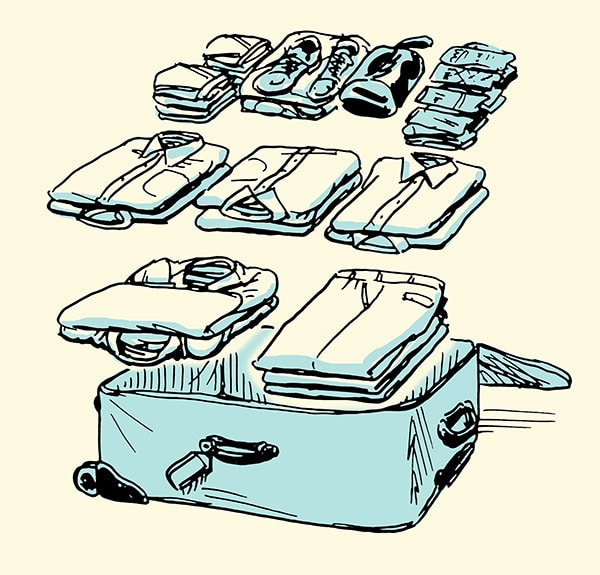 Everything else goes on top as neatly as possible. You may not want to put shoe soles directly onto your shirt fronts, so slip them in a plastic bag (or in their own cloth bags if you have it).
It's easiest to lay the big, odd-shaped items like shoes and Dopp kits in the center, then fill in all the cracks with socks, underwear, neckties, pocket squares, and so on.
Ideally, you should finish off Layer 3 with a mostly-flat array of socks, underwear, shoes, and other sundries, piled just high enough to touch the inside of the suitcase when you zip it up. Again, the less empty space there is, the less everything can bounce around.
And once that's done, you're ready for seven days of full business dress — just be sure to request and use an iron at the hotel if needed!
____________________________
Written By Antonio Centeno
Founder, Real Men Real Style
Click here to grab my free ebooks on men's style