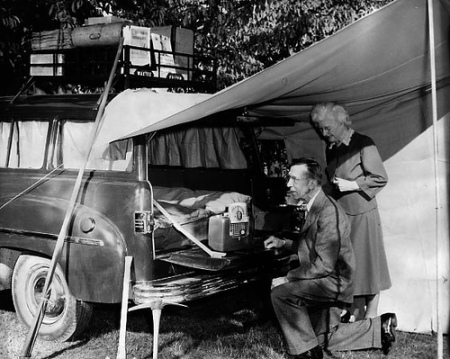 Last week we encouraged men to spend time in the great outdoors. It's a thought that surely has occurred to many of you before, but it seems most of us can't find the time to do it. According to a recent study, Americans are spending 25% less time in the outdoors than they did in the 1980's.
The great thing about camping is that it is the most economical way to get away from it all, and even a weekend can do wonders for your spirit. But just planning for a weekend trip seems like too big of a hassle sometimes. In truth, it always seems like a bigger hassle in your head than it turns out to be. And there are several things you can do to make camping trips easier, and consequently, more frequent. Here are 5 ways to streamline your camping trip and keep it hassle free:
1. Find your campsite online. One of the reasons people don't camp more often is that they don't know where to go. Thankfully the internet has made finding a camping spot far easier. All states operate websites about their state parks. Most have a map that allows you to click on the general area nearest you. Search for a park that sparks your interest and read about what it offers. Your choice of park will be based on your personal desires. Some parks offer amenities like toilets, water pumps, and showers, while others are more remote and rustic. Some parks sit on a lake and are known for their fishing, but lack hiking trails. Some offer special activities like kayaking and rock climbing. Some are designed to attract families and have swimming pools and mini-golf, and consequently lots of kids running around. Pick a park that offers the kind of setting and activities you are looking for.
If you plan on hiking, check out reviews on sites like alltrails.com; it'll give you an idea of what the hike is like, so you can pick one that's right for what you're looking for.
Also, consider the distance. You don't want the tiredness that results from long drives to cancel out the rejuvenation camping affords. For a weekend getaway, I would recommend not traveling any farther than 3 hours from your home.
If you are having trouble picking a park, visit a local camping and outdoor supply store. Generally, the employees there are outdoor enthusiasts and will be able to give you some good advice.
2. Reserve your campsite before leaving. This is recommended for state parks, and essential if you will be visiting a popular national park like Yosemite. Popular parks can fill up faster than you might imagine. The last thing you want to do is drive for several hours only to find there are no campsites left. Many state park websites allow you to book online. If not, all you have to do is call ahead.
3. Keep most of your camping stuff in one big storage tub. Part of the hassle of putting a camping trip together is having to rummage through the attic and make last minute runs to the store to gather all the supplies you'll need. To avoid this annoyance, simply keep most of your camping equipment in a big plastic storage tub. Once you have your camping tub loaded up, whenever the urge to tear out into the woods strikes, you can just grab it and go. Keep the following supplies in the tub. Specific supplies may vary according to what kind of camping you'll be doing, where you're going, and what season it is. But this covers the basics:
tent
sleeping bags
sleeping pads
first aid kit
lantern
flashlight
extra batteries
small whisk broom
tarp
wet wipes/paper towels
matches
bug repellent
trash bags
plates & utensils
cooking supplies (this can be skipped, see #5 below)
4. Create a permanent checklist that you can consult before each trip for the things that won't fit in a tub or need to be packed right before the trip. This list might include:
sunscreen
camp or lawn chairs
clothes
food
firewood (if you don't think there will be enough at your campsite to gather)
toothbrush
cooler
food/drinks
books/games
5. Avoid cooking elaborate meals. Now admittedly, one of the joys of camping is cooking delicious campfire chow. But cooking supplies can add a dozen or more things to your list of supplies, and you'll have to bring stuff to clean the pots and pans. It can be a significant hassle. So save camp cooking for a week-long trip. If you just want to get away for the weekend, plan 2 meals that involve no cooking supplies and no clean-up. Here is the menu my wife and I always use when we go away for a Friday morning to Sunday afternoon trip:
Friday night meal: foil dinners. We put together the foil dinner before we leave and then put it in the cooler. To cook, you simply place the foil packet on the coals of the fire. The only thing you need is a fork.
Saturday night meal: hot dogs. No tools needed here. Simply roast your dog on a stick. Few things are easier to prepare and taste better than campfire weenies.
For dessert on both nights, we eat s'mores. And the rest of the time we just snack on energy bars, trail mix, and chips. No pots, no pans, no clean-up.
As an alternative to this meal plan, consider freeze dried or dehydrated camp food. The food is lightweight and eminently packable. And all you need to bring is a pot to boil the water.
Listen to our podcast on the history of camping in America:

Related Articles