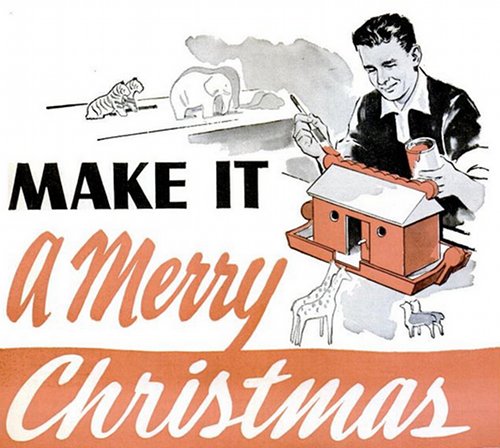 Buying any of the items from our holiday gift guides will surely make some man's Christmas. But in my experience, the gifts that mean the most are the ones people make for you. Anyone can open their wallet and plop down cash for a nice present. But knowing someone spent their time crafting something just for you is truly special.
Plus, in a still-struggling economy, many homemade gifts can be made on the cheap and help you cross numerous people off your list without going into debt.
Over the years we've published several how-to guides on how to make various items that are not only fun to use yourself, but would also be great Christmas presents. Below, we've gathered the best ones into one big list. These DIY gifts are things that men will enjoy both making and receiving. Some of these homemade gifts are really easy and inexpensive to make, while others require a bit more skill, time, and investment in materials. We've made sure to indicate the difficulty level, time required, and cost on each one so you can gauge whether a project will fit in your wheelhouse, schedule, and budget. (Numbers are rough estimates and will depend on what materials and tools you already have on hand and your skill level.)
There are many more DIY projects and crafts I hope to get to this coming year, and the years after that. So each holiday season we'll update and republish this list with links to more ideas!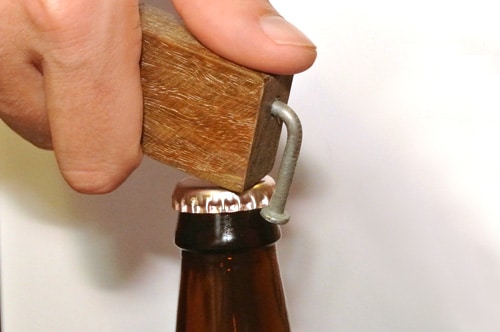 Difficultly Level: Medium
Time Required: About an hour
Cost: $5
These handsome and rustic handmade bottle openers make great gifts for the craft beer or soda connoisseur in your life. Not only do they open bottles, they even catch your bottle cap as you remove it and stick to your fridge for easy access. You could easily make one out of scrap wood that you have lying around the garage or shop — this is a truly frugal crowd-pleaser.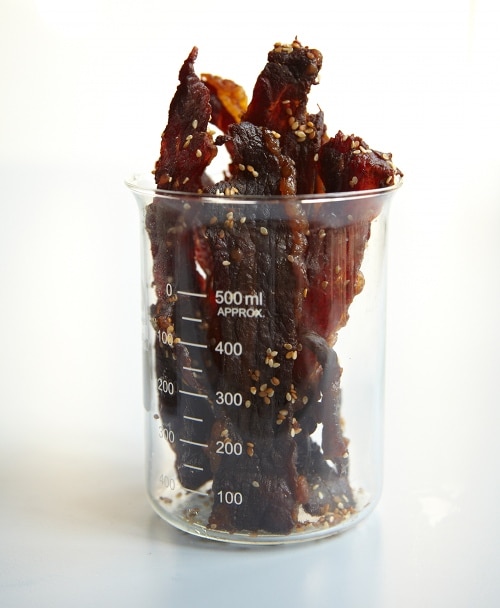 Difficulty level: Easy
Time Required: 15 minutes plus 24 hours for marinating and up to 24 hours for drying and cooling
Cost: Varies
Beef jerky is a great manly stocking stuffer. Homemade beef jerky is even better. Check out this recipe from Tim Ferriss on how to make the best beef jerky in the world. Experiment with different spices to create a unique flavor perfect for your recipient's palate.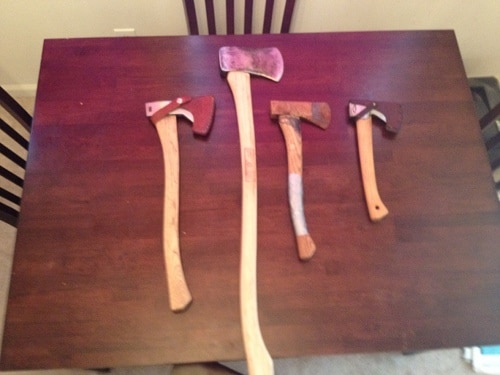 Difficulty level: Medium
Time Required: Varies

Cost: $10-$20
Heirloom axes are all the rage these days, but buying a new one can set you back more than 200 smackaroos. Yeesh. So why not restore an old one to be like new instead? With a bit of elbow grease and time, you can give someone a handsome and fully functional heirloom quality axe for less than $20. This is the perfect gift for a suburban man with an inner Paul Bunyan.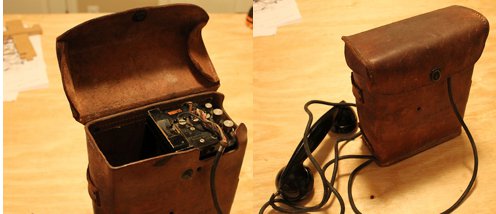 Difficulty Level: Hard
Time Required: 4 hours to several days, depending on skill level
Cost: $50-$150
Perfect for the World War II buff in your life. Pick up an old WWII surplus field phone on eBay and turn it into a Bluetooth handset that can be used to make and receive calls. Your recipient will feel like Eisenhower commanding the troops on D-Day whenever he's calling Terminix to reschedule his extermination service. This project requires moderate soldering skills and some rudimentary knowledge of electronics, hence the "Hard" difficulty rating.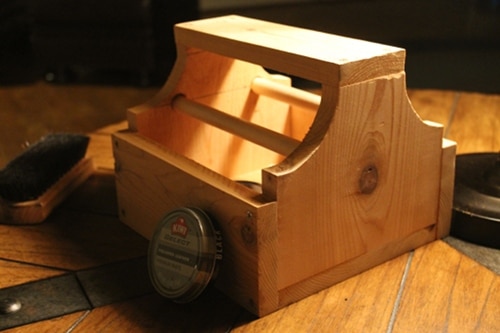 Difficulty Level: Easy
Time Required: About an hour
Cost: $10
Every man needs a shoe shine box. If you know a gent without one, make him this nifty shine box based off a design from a 1950's Popular Mechanics article. This shoe shine box is pretty simple. What makes it "nifty" is the two free-turning dowels placed inside the box. After you've given your shoes a good polishing, the dowels serve as rollers for your polish cloth for buffing your shoes to a mirror shine. This is a cheap and easy project to try. I've had several readers send me pics of their finished shoe shine boxes and they all look great. If you decide to do this project, send me a pic via Instagram or Twitter. I'd love to see it. (That goes for these other projects too!)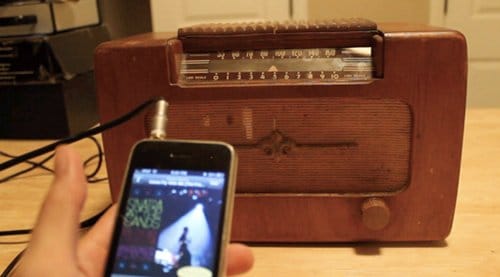 Difficulty Level: Hard
Time Required: Hours to weeks, depending on skill level
$30-$100
Earlier this year, I inherited my Grandpa's old 1940s Philco radio. It worked, but only played AM radio. I thought it was a shame that it didn't get more use than it did, so I asked my electrical engineer brother-in-law to help me mod it so I could play tunes from my iPhone on it. With his help, I now have an audio device with 1940s charm and 21st century technology.
This project requires some soldering and basic electrical engineering know-how. If you lack the necessary soldering skills and electrical knowledge, expect to spend a few days or weeks as you wire things correctly through trial and error. The biggest expense will be the vintage radio. You can find them at your local antique stores for about $30 to $50 depending on their condition. My brother-in-law also created a pre-made amplifier just for this project that sells for $26, if you want to make things easier on yourself.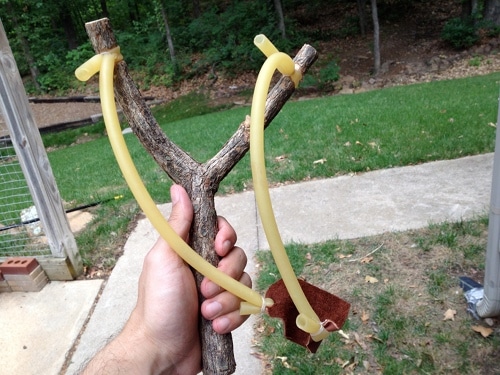 Difficulty Level: Easy
Time Required: About an hour
Cost: $5
A great gift for kids and big kids (i.e. grown men) alike. This sling shot cost me less than $5 to make and took just an hour of my time. You'll get serious "Cool Uncle" points if you make this for your nephew or niece.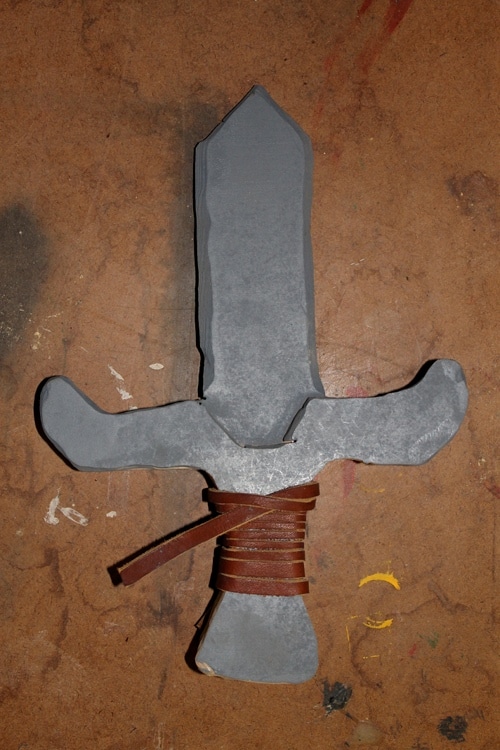 Difficult Level: Easy
Time Required: An hour
Cost: $15
Yeah. I made that crappy looking wooden sword, but my then 18 month old son loved it. This would make a great gift for your young nephew or son. It's not hard and costs less than $15. And with the materials you buy for that $15, you can make multiple swords and cross off multiple kids on your list. You can get as elaborate as you want with your design. Unfortunately, I'm not that creative or crafty, so Gus had to settle for Dad's dopey-looking sword made with love.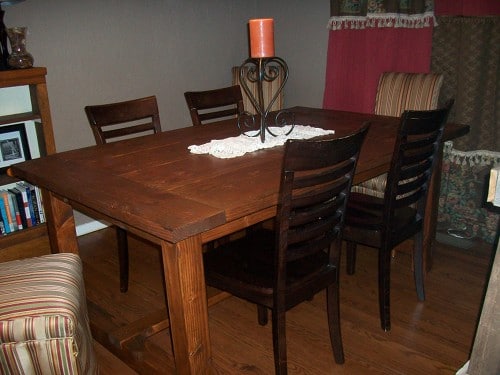 Difficulty Level: Hard
Time Required: Two weeks
Cost: $125-$200
Want to really impress your wife this Christmas? Make her a dining room table with your own two hands!
A few years ago, AoM read and fellow Okie, Tuck Oden showed us how to do just that. I have been surprised and delighted by the number of men who actually took action on that article and made this table. I still get emails from folks showing off the manly fruits of their labors. Tuck's total cost for wood, hardware, and stain was less than $200, and that included the chairs he bought for it.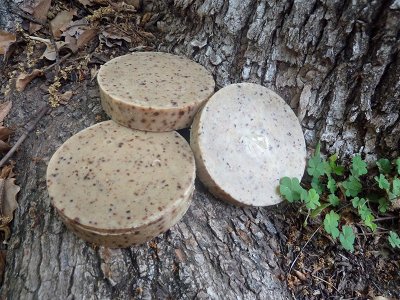 Difficulty Level: Medium
Time Required: It takes about two hours to make a batch, but you'll then need to let them "rest" for four weeks so saponification can occur.

Cost: 75 cents a bar
Soaps created just for men are big right now. I seriously get a package in the mail every other week filled with manly smelling soaps from some new company hoping to cash in on this male grooming boom we're currently experiencing. Instead of forking over $9 for a bar of artisan man-soap, make a big batch of your own for less than $.75 a bar. AoM contributor Bryan Schatz showed us how to create a manly bar of soap filled with coffee grounds and walnuts — it smells good and can easily clean off whatever gunk you get on your hands.
If you've seen the movie Fight Club, you'll know that soap making is a dangerous and volatile process. So take your time and use adequate protection while making your manly, coffee-scented soap.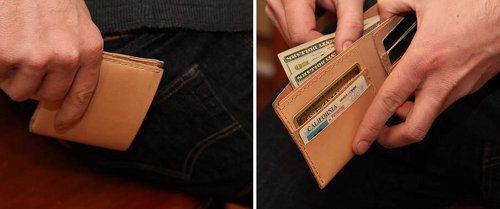 Difficulty Level: Medium
Time Required: 2-3 hours
Cost: Varies

Wallets have been popular Christmas gifts for men for a century. Instead of buying an expensive one from the wallet rack at some department store that will wear out in a few years, make someone a wallet that will last their whole lives. The fine gents at Bison Made gave us step-by-step instructions last week on how to make a handsome and incredibly durable wallet. They even provide a printable blueprint that you can use to measure and cut your leather.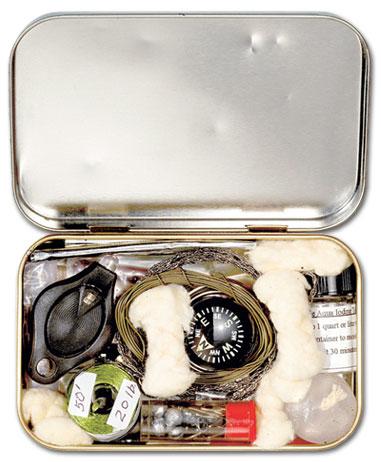 Difficulty Level: Easy
Time required: Varies
Cost: Varies
The draw of the transformed Altoids tin is hard to put your finger on. Part of it is the satisfying challenge of fitting as much as possible into a small space. Part of it is the delight of being able to carry something cool in your pocket. But any way you slice it, an Altoids tin that's been converted into something new is a true crowd-pleaser; the post we did on 22 Manly Ways to Re-Use an Altoids Tin has become one of our most popular posts of all time. Any of the kits on that list would make an awesome gift or stocking stuffer. My favorite is the survival kit pictured above, but the games chest, s'mores kit, mini flashlight, first aid kit…well, yeah, truly any of them would make a super cool present for family and friends. And many only require assembly — no skill needed!

Difficulty Level: Easy
Time Required: 2.5 hours
Cost: $5-$10
Make somebody feel like a spy with a secret book safe. This is one of my favorite projects that we've done on AoM. I still use the book safe that I made two years ago for the original post. Creating a secret book safe only costs a few bucks and takes a couple of hours. Select a book to use that reminds you of the recipient — this gift is bound to delight.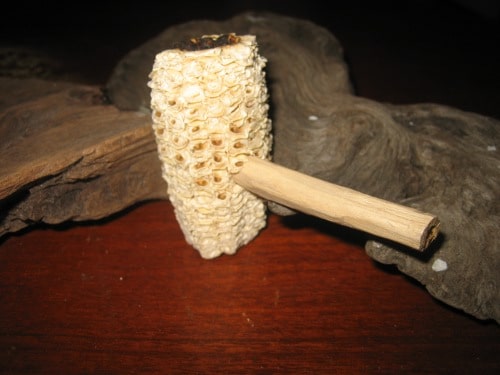 Difficulty Level: Easy
Time Required: If you use artificial ways to dry out the corn cob, it can take about a week for the cob to fully dry. After drying out the cob, expect to spend two hours fashioning together the other parts of the pipe.
$1
If you know a man who smokes an occasional pipe, help him get into the spirit of the season by fashioning him the same kind of pipe that old Frosty the Snowman used. All that's needed to make a genuine corn cob pipe is an ear of corn, a branch, a pocket knife, and a drill. Shouldn't take you more than a few hours to make.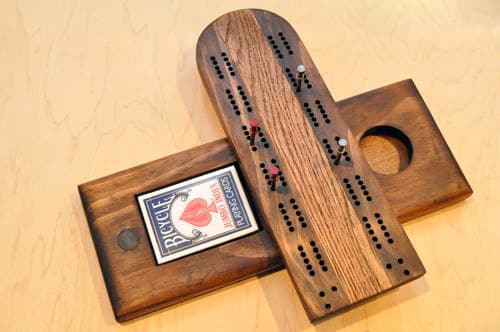 Difficulty Level: Hard
Time Required: 5 – 10 hours, depending on your skill level
Cribbage has a storied and manly history, and it's the perfect game to play on a cold and snowy Christmas evening. Help another person carry on this manly tradition by making a handsome cribbage board for them. Ethan from One Project Closer showed us how in this step-by-step guide.