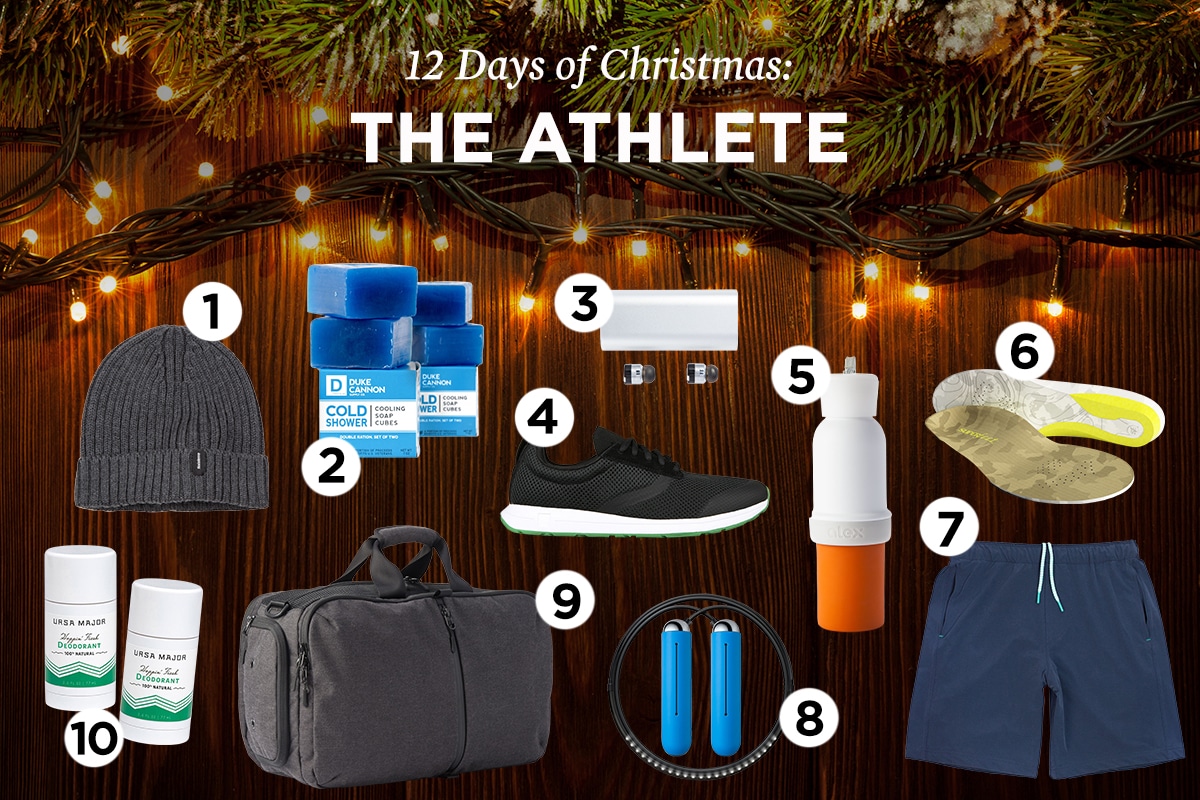 If you know a guy who's a regular at the gym (or hopes to be in the new year!), give him something that will improve the before, during, or after of his workout. Below you'll find 10 items from Huckberry's "Gifts for the Athlete" Shop designed to do just that.
The 12 Days of Christmas: The Athlete
1. Finisterre Fisherman's Beanie. A comfy, warm beanie made from the best wool around. Perfect for those cold, pre-dawn workouts in your garage gym or rucks around your neighborhood, this beanie features a knit pattern and does exactly what it's supposed to do: keep the chill out and the heat in.
2. Duke Cannon Cold Shower Cooling Soap. After working up a sweat, wash away the stink and grime with this soap. Made with mint and menthol for a powerful cooling effect, it'll leave you feeling clean and refreshed.
3. Schatzii Bullet 2.0 Wireless Headphones. 100% wireless stereo earbuds for the ultimate in on-the-go audio, the Bullet 2.0 is a set of stereo earbuds that provide absolutely clear music and voice audio for any activity without falling out of your ears.
4. YORK Athletics Henry. A lightweight, durable trainer for everyday running. The Henry' s responsive midsole provides excellent ground feel and gives the sneaker a more natural feel underfoot. Sports a solid rubber outsole for traction, durability, and a seamless heel to toe transition, and a minimal, breathable mesh upper to provide exceptional ventilation. 
5. ALEX Bottle. Between the sustainable materials, patent-pending Clean Seam Technology which makes it the easiest-to-clean bottle on the market, and striking design, the bottled water industry's flimsy, disposable plastic bottles of questionable provenance don't stand a chance.
6. Superfeet Trail Insole. Superfeet wants you to have the best insole experience, period. That's why their designs are built on the principles of podiatric medicine and have set the standard for support and cool comfort.
7. Myles Everyday Short. The Everyday Short sports a minimalist design with clean lines and a tailored fit, so even though you can put 'em through the paces of a brutal workout, they'll also look dang good during down time.
8. Tangram Factory Smart Rope. It's that time of the year when we all hit the gym or the pavement to get a ahem jump ahem start on our resolutions. Enter Tangram's Smart Rope. Its sleek design is jam-packed with technology that accurately catalogs your fitness performance mid-air. Fully charge in just 2 hours, and will last 36 hours of active jumping.
9. Aer Gym Duffel. When you grab the Aer Gym Duffel on your way out the door, you'll hit the gym, hit the office, and make it back home without wanting for a thing. There's a compartment for everything and it's designed to carry all your gym gear and a change of clothes, all wrapped up in a bag that offers smart functionality and a refined look.
10. Ursa Major Hoppin Fresh Deodorant. A robust, all-natural deodorant that eliminates underarm odor while absorbing excess moisture and soothing sensitive skin. And, it smells like a forest.