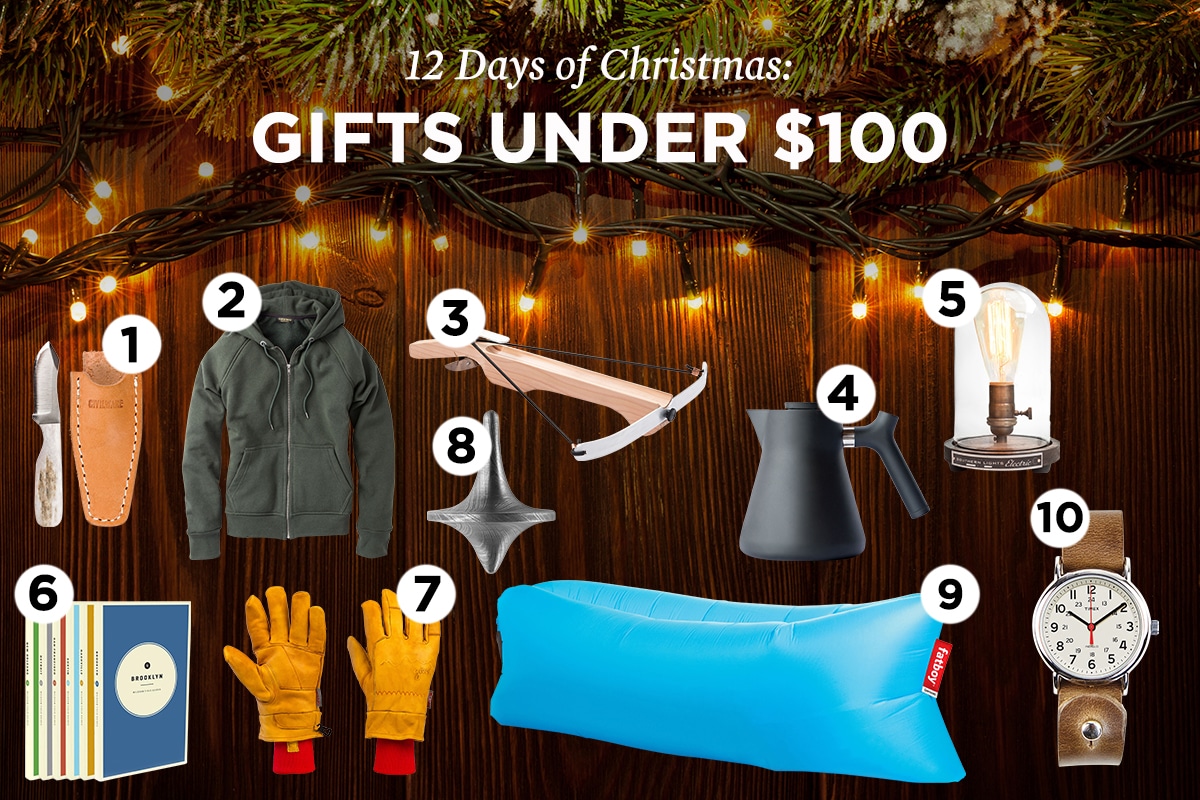 If you're looking for a gift that sits between 10 fins and a C-note, check out Huckberry's $50-$100 Gift Shop. Here are just 10 of its highlights:
The 12 Days of Christmas: Gifts $50-$100
1. Civilware Knife. Civilware believes in craftsmanship, modern design, indestructible materials, and most importantly, delivering a product that does what it was intended to do for a lifetime. Minimized to maximize, this knife is designed to be there when you need it without weighing you down. 
2. Flint & Tinder 10-Year Hoodie. The uncompromising construction starts with unshrinkable 23 oz fleece from South Carolina, heavy-duty zippers from Georgia, and twill tape from Philadelphia. It's all expertly cut, sewn, and washed in LA into a premium sweatshirt that'll grow with you, the way your favorite sweatshirt should — softer with wear and backed by the stories of a decade. 
3. MMX Marshmallow Crossbow. Your targets don't stand a chance against the Marshmallow Crossbow or "Mallow Bow," a wooden toy made in Vancouver using old school woodworking techniques. From up to 60 feet away, it'll beeline regular-sized marshmallows wherever you aim them. 
4. Fellow Tea Kettle. An all-in-one tea steeping system to help you achieve your perfect cup every time. Includes an integrated tea filter and built-in thermometer to adjust your water temp as needed. As a bonus, the sleek matte exterior will look nice on your range.
5. Southern Lights Electric Bell Jar Lamp. Add industrial charm to any home or office. This beautifully rustic lamp is composed of a vintage style socket, cream cloth covered cord, and an inline switch. It is a great way to show off an exposed filament Edison-style bulb. 
6. Wildsam Field Guide Collection. Wildsam's series of field guides are small books that pack big on soul, local lore, interviews, memoirs, hand-drawn maps, personal essays, and more. Cities included are: Brooklyn, Nashville, Austin, San Francisco, Detroit, and New Orleans.
7. Give'r 4 Season Gloves. Heavy-duty, waterproof, and insulated, these bad boys are built to withstand anything, from grabbing a burning log out of a fire to ice fishing in -25 degrees.
8. Damascus Top. This top is no mere child's toy. Each is precision-machined from solid blocks of pure metals and alloys and is guaranteed to last for life. Make it a part of your EDC and you'll have a perfect conversation starter everywhere you go.
9. Fatboy Couch. Weighing in at just over 2 pounds and packing down to the size of a bag of tortilla chips, this couch inflates with the flick of a wrist, and may just be one of the coolest pieces of gear out there. Its nylon ripstop fabric construction makes it tough enough to endure a bonfire at a rocky beach, and water resistant enough for a quick swimming hole float. 
10. Timex Weekender. Timex's classic watch, with its vintage-style face and Horween leather strap, is bold without being loud. It fits just about every getup except for track-and-field jumpsuits.
Giveaway
The Prize
Any item available in Huckberry's $50-$100 Gift Shop.
Enter the Giveaway
If you are an email subscriber, do not reply to this email to make your entry. You must click on the title of this post, which will take you to the post on our web page where you can make your entry. Use the form below to enter. Don't forget! You have multiple ways to enter! The more of them you do, the better your chances are!
12 Days of Christmas: Gifts $50-$100

Deadline to enter is midnight tonight, December 6th, 2016.