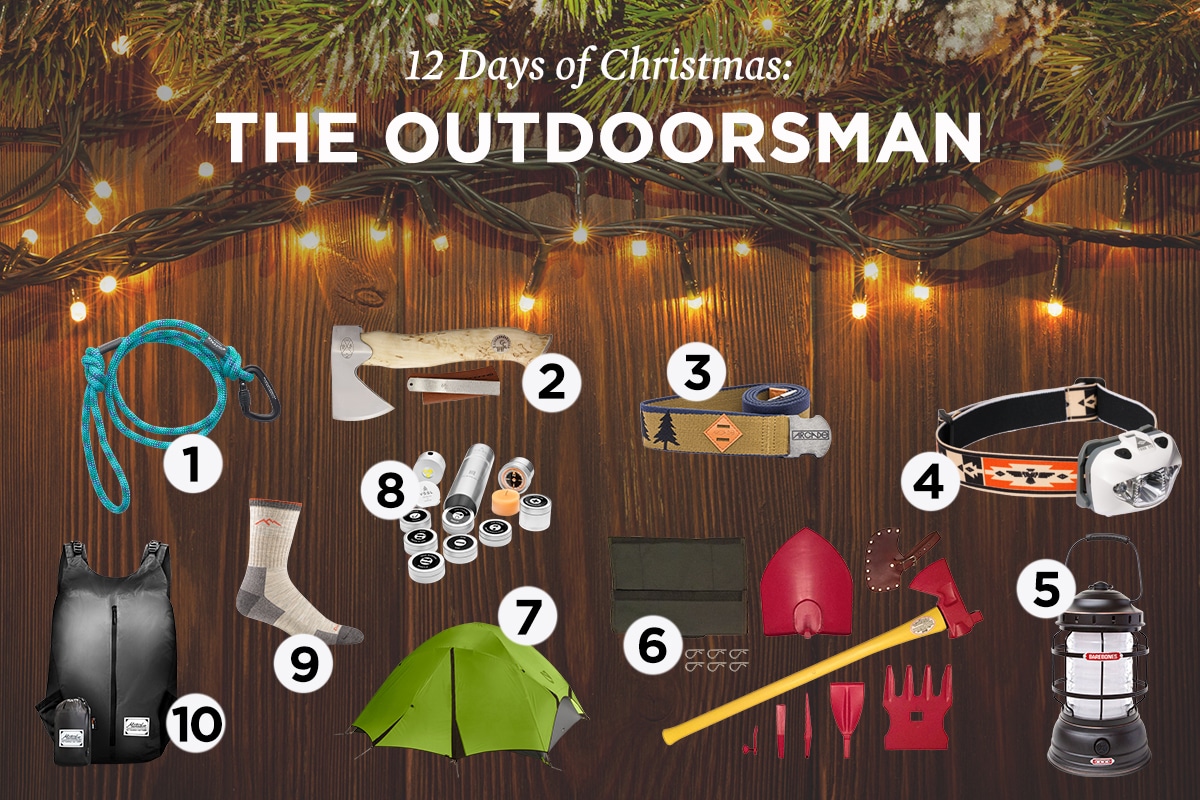 For those who hear (and harken to) the call of the great outdoors, below are 10 adventure-enhancing highlights from Huckberry's Gifts for the Outdoorsman Shop.
The 12 Days of Christmas: The Outdoorsman
1. Climbing Rope Dog Leash. For the dog person, Wolfpack Supply makes some of the toughest, most durable and coolest looking dog leashes out there. They're made from 100% climbing rope, rated to hold humans when they're hanging off the side of a cliff, and feature heavy duty carabiners to keep your dog securely on the leash at all times.
2. Karesuando Arctic Hunting Axe. Karesuando hand-crafts knives north of the Arctic Circle in Sweden. Made from natural materials native to the region, the Arctic Axe is a rugged tool built with local birchwood, reindeer antlers, and a stainless steel blade.
3. Arcade Blackwood Adventure Belt. Inspired by adventurous lifestyles, these belts are created to be comfortable, durable, and original. The Blackwood belt sports a simple tree pattern for those who know that the best stuff always happens near a campfire and a pitched tent.
4. Third Eye TE14 Headlamp. A rugged headlamp for any situation, the TE14 combines all of the features even the most demanding adventurer could want, combined with stylish headbands. Whether you're camping, cooking out, or taking a late night walk, the TE14 will light your path.
5. Barebones Forest Lantern. This is a small lantern with lots of light. With a long-lasting rechargeable battery, comfortable handle, and built-in charging port for other gadgets, it's hard to beat the Forest Lantern for outdoor illumination. As an added bonus, due to the the steel construction and gentle light from the LED emitter, the lantern will never become hot to the touch.
6. Forrest Tool Co. Multipurpose Axe Kit. This multipurpose tool is a combination of seven different tools packed into one compact, portable package. It includes an ax, shovel, pick and more. A truly versatile piece of camping and outdoors equipment.
7. Nemo Equipment Losi Tent. No matter where you rest your head out there, Nemo has got you covered. The award-winning Losi series is the crown jewel of Nemo's tents, comprising the culmination of years of careful research and refinement. It has more liveable space and strength than any other freestanding backpacking tent on the market.
8. VSSL Camp Supply Kit. Because you should always be prepared. VSSL packs a lot of gear into a compact, rugged kit. It includes essential outdoor gear for short excursions: LED flashlight, compass, whistle, candle, water purification tablets, matches, signaling mirror, and much more.
9. Darn Tough Hiking Socks. In a Vermont factory, Darn Tough is making not only some darn tough socks backed up by their no-strings-attached lifetime warranty, they're making them darn comfortable too. Their hiking sock is well-cushioned and specifically designed for hikers seeking comfort and performance.
10. Matador Packable Backpack. Matador's Packable Backpack offers superior performance in the smallest possible package. It packs away to fit in the palm of your hand and unpacks into a 24-liter pack with a waterproof main compartment. Perfect for stashing in a bigger backpack for use as a day pack on outdoor adventures, as well as globetrotting travel.