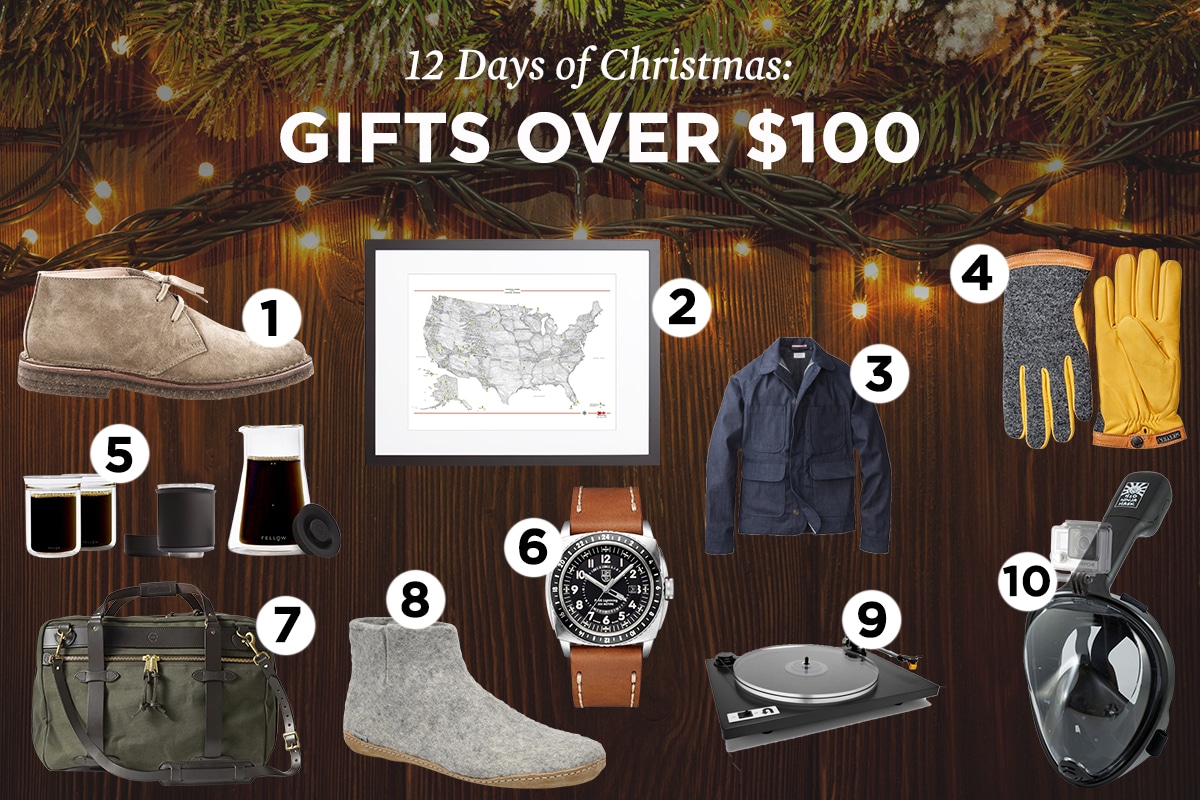 For the final day of the series, we're going out with a bang by featuring Huckberry's Gifts Over $100 Shop. If you know someone who's been especially nice this year, treat them to one of the below items or any of the quality gifts in this top-notch shop.
The 12 Days of Christmas: Gifts Over $100
1. Astorflex Greenflex Chukka. Handmade in Northern Italy by a family that's been making boots for six generations, these boots are handsome as hell and represent the best value on the market. It all starts with premium European leather that's aged for 30 days, then softened with all-natural ingredients to produce a supple suede.
2. Huckberry National Park Map. Designed by extraordinary illustrator Jeremy Collins exclusively for Huckberry, this National Parks Map displays the location of our nation's greatest treasures in a handsome hardwood frame. Show your love for our nation's natural beauty right on the walls of your home.
3. Apolis Denim Chore Coat. This rugged selvage denim coat from Apolis will not only withstand any chore you can throw at it, but will look darn good walking down the street with your date to go to dinner and a show.
4. Hestra Deerskin Gloves. Hestra has been making gloves since 1936 and they know what they're doing — every single pair of their gloves are made in their own factories and they personally source all materials. The Deerskin is a classic sport glove that combines wool and leather to keep your hands warm during cold winter days.
5. Fellow Stagg Pour Over System. The pour-over, perfected. A complete set of essentials to make coffee at home that rivals your local cafe's favorite brew, including a dripper and double-walled cups.
6. Luminox P-38 Lightning Watch. Luminox watches are Swiss-built, made to be used and abused, and include a lume that glows unaided for up to 25 years. The P-38 is inspired by the famed WWII fighter plane, with a face designed to look like vintage controls, and a leather strap to match the jackets and caps they wore in battle.
7. Filson Pullman. Seattle-based Filson is renowned for making the highest quality bags (and clothing) around. The Pullman travel bag is made to fit perfectly under the seat of a Pullman railroad car — that is, just as much packing space as you'd need for a long weekend away.
8. Glerups Boot. The felted wool uppers wick moisture for dry, comfortable feet. Its double-layer wool insole is soft and comfortable as heck. Each pair of Glerups is handcrafted in Denmark, and will hold up to any chilly environ you can give it.
9. U-Turn Audio Orbit Plus. Need something for the music buff? With the Orbit Plus, you get high-performance sound without the unnecessary features that only exist to boost a sales brochure. It plays records, and it plays them well. Each turntable is assembled by hand in Massachusetts.
10. H2O Ninja Mask Snorkel. For all your tropical adventures. The full face design of this snorkel lets you breathe naturally, while the GoPro mount makes it easy to capture stunning footage of the oceanic flora and fauna you'll be scoping with its wide-angle view.