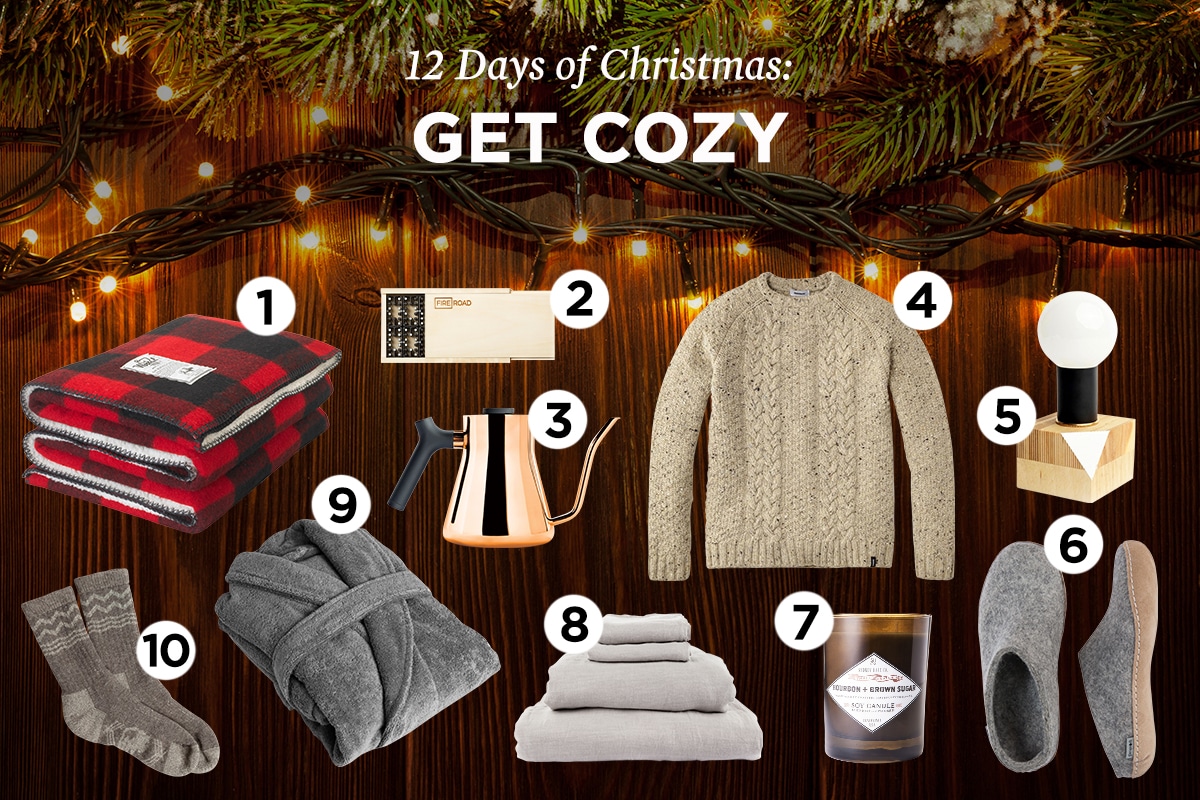 In wintertime generally, and around the holidays especially, one gets the urge to get cozy — to cuddle up with a main squeeze, don warm garments, sit by the fire reading a book, or just generally settle in for a long winter's nap. Today's gift guide features items culled from across Huckberry's offerings and centered on this very desire.
The 12 Days of Christmas: Get Cozy
1. Woolrich Rough Rider Blanket. The first stop on Woolrich's way to legendary status was supplying blankets for soldiers in the Civil War. And since 1830, they've continued to supply the highest-quality woolen blankets to Americans. Exhibit A is this Rough Rider which features a classic pattern that'll look great draped over your couch, and a soft sherpa backing that will feel great next to your face. This blanket comes highly recommended by the McKays.
2. Fire Road Domino Set. A new take on a classic game. This domino set maintains the traditional number pattern, but innovates by using durable aluminum and a hollow body. Comes in a handsome wooden case so you don't lose a single tile.
3. Fellow Stagg Kettle. Like your coffee with style in the morning? If you make a French press or a pour over for your morning cuppa, the Stagg Kettle is an excellent addition to your routine. Enjoy a steady pour with its precision spout and keep track of the temperature with a built in thermometer. And of course the copper gives your countertop an extra splash of class.
4. Finisterre Westray Crew. A traditional fisherman-style cable knitted sweater made from 100% British wool, which has been minimally processed so that it retains a natural feel and smell.
5. Southern Lights Electric Modern Desk Lamp. Add some light (and inspiration) to your desk, study, or workspace with this uniquely designed lamp. The birch base adds an element of calm nature to your work, and using an incandescent bulb will add warmth to any space. Also highly recommended by the McKays.
6. Glerups Slip On. Hailing from Denmark — a country that knows a thing or two about how to stay cozy when it's cold outside — Glerups' slip-ons are handcrafted from 100% pure, natural wool, which naturally wicks moisture from your feet so they're always warm and dry.
7. Sydney Hale Bourbon & Brown Sugar Candle. Let the masculine scent of double-oaked bourbon and salted brown sugar caramel fill your home or office. This candle burns for 50 hours and is hand-poured in rural Virginia.
8. Matteo Linen Sheet Set. Upgrade your bedding with these linen sheets from Matteo. They're super soft and make for the most comfortable night's sleep you'll ever have. Skip the cheapo sheets from Kohl's, and make your bed a little extra cozy this Christmas.
9. Parachute Classic Robe. Every man needs a comfy robe he can wear around a cold house while he drinks his coffee and reads the morning paper. It's also nice to wear while you shave and brush your teeth in a cold bathroom. The Parachute is super soft, super warm, and is a real pleasure to don.
10. United by Blue Ultimate American Sock. This sock is made from bison down. Really. Compared to wool, bison down is warmer, better for moisture control, more durable and easier to care for. The Ultimate American Sock is built for comfort and durability, and you'll just feel awesome wearing bison on your feet.