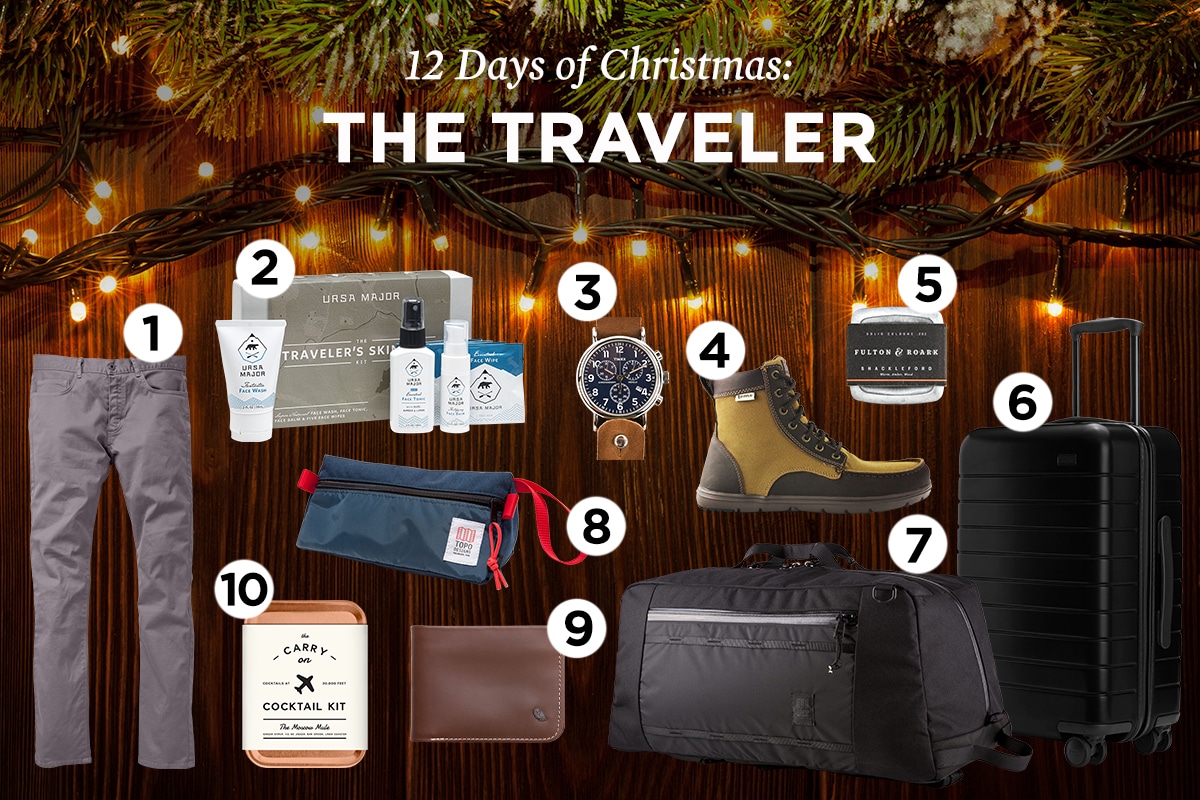 For the man with an insatiable wanderlust, give a gift that will help make his trips easier and more enjoyable. Below you'll find 10 great gift ideas from Huckberry's Gifts for the Traveler Shop that'll enhance a traveler's journeys and explorations.
The 12 Days of Christmas: Gifts for the Traveler
1. Flint & Tinder 365 Pants. Combine your favorite tailored chinos with the stretch of a performance pant, and you get the 365 Pant — a pant so comfortable, you'll want to wear them every damn day of the year. Suited for both work and play, these five pocket pants are primarily made with cotton, which is then reinforced with a bit of stretch Lycra for extra mobility.
2. Ursa Major Traveler's Skin Care Kit. The Traveler's Skin Care Kit includes everything you need to keep your skin in tip top shape while you're on the road: face wash, face tonic, balm, and hand wipes. Don't leave home without it.
3. Timex Chronograph. This is the same Timex Weekender you know and love, but now with a chronograph. Now your watch will not only be able to tell the time, but also measure distance and speed, all while looking darn handsome with its Horween leather strap.
4. Lems Shoes Boulder Boot. The Boulder Boot is stain- and moisture-resistant so it'll hold a clean and classic look for all the trails and puddles you can throw its way. But what we love the most is the boot's weight and versatility. At a featherlight 9.9 oz., the Boulder Boot is the perfect travel companion, as the heel and toe can be completely folded together to save space — making it great for stuffing into a pack during a hike and wearing around the campfire afterwards.
5. Fulton & Roark Solid Cologne. If you've tried bringing your favorite cologne on a trip, you know how messy it can get. With the solid colognes from Fulton & Roark, you can bring a scent on your next trip without the worry or the mess. Their colognes comes in a solid wax that you rub into your skin. The Shackleford scent provides a long-lasting woodsy smell.
6. The Carry-On. Inspired by true travel stories and made with only the best materials, the Carry-On is designed for you to be able to pack everything into one bag. Not only does it have an ingenious interior that lets you comfortably cram everything in and then some, but it also solves some of the age-old problems of travel (like sticky wheels) and some of the newer ones too (like dead phones — it has USB ports).
7. Topo Designs Mountain Duffel. The ideal haul bag. With a padded base and sides the Mountain Duffel keeps you protected from the gear you are carrying. The multiple internal and external pockets keep smaller items organized while the large main compartment can handle anything from ski boots to your trad rack.
8. Topo Designs Dopp Kit. Giant shave kits don't make sense when you're packing light. The triangular shape of this Dopp allows it to sit upright on small hotel shelves and provides easy access to everything you need. The size is small enough for the travel light crowd, but roomy enough to hold all you'd need to stay looking good on the road.
9. Bellroy Hide & Seek Wallet. The Hide & Seek is a natural starting point for those looking to slim their wallet. It's traditional in look, yet loaded with unique hidden features and compartments that will Houdini away your extra bulk. Cut from premium vegetable tanned cow leather, it'll protect your bills and plastic, as well as the photo of your sweetheart for years to come.
10. Carry-On Cocktail Kit. Share a toast at 30,000 feet. This Moscow Mule kit includes the tools to mix two cocktails mid-flight, including a bold and spicy small-batch ginger syrup. Also available in ones that'll make an Old Fashioned, Hot Toddy, and Bloody Mary.