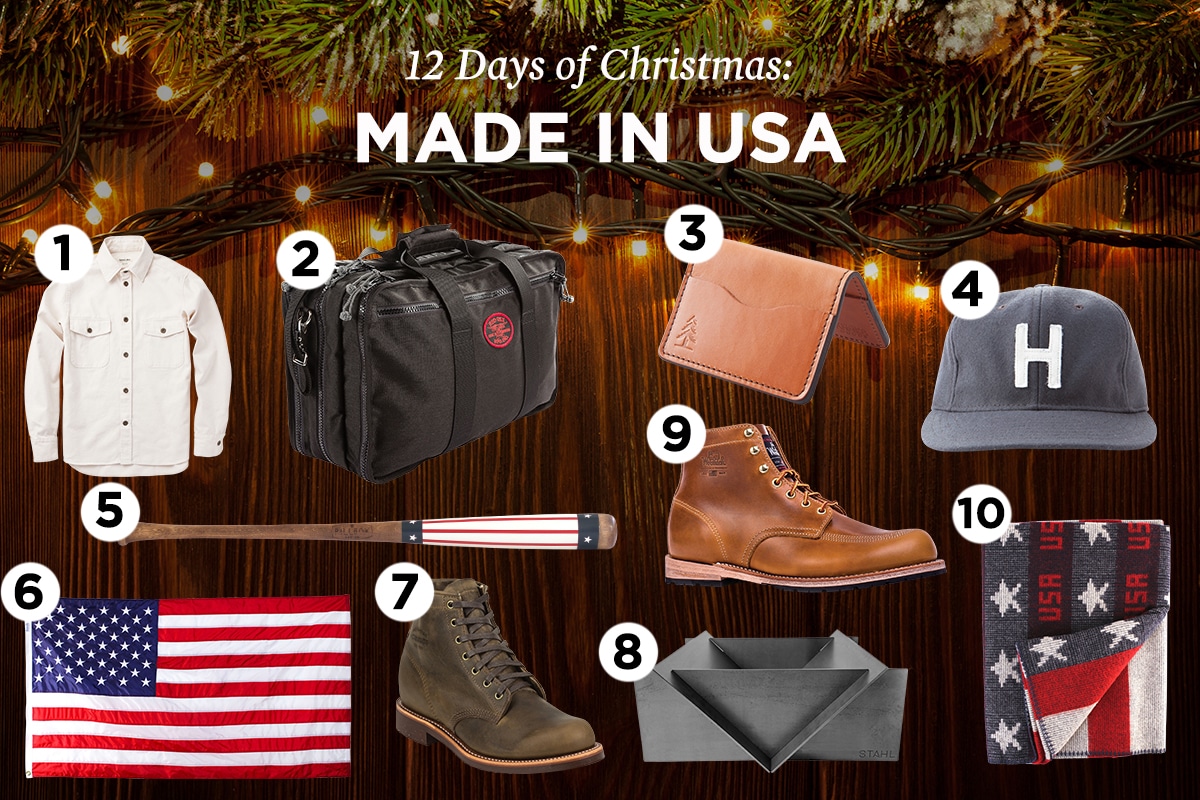 When you buy something Made in the good ol' USA, you know you're not only getting a quality item that's built to last, you're also supporting jobs here at home. For the man who appreciates American craftsmanship, here are 10 highlights from Huckberry's Made in the USA Shop (be sure to click the link to peruse the whole line-up).
As an added bonus, Huckberry is offering 15% sitewide TODAY ONLY using the promo code GIFT15. Don't miss out!
The 12 Days of Christmas: Made in the USA
1. Explorer's Shirt. Inspired by past adventures and the ones to come, Huckberry teamed up with Taylor Stitch to create travel shirts worthy of an expedition. Sewn from a hearty 10-ounce stonewashed duck canvas and equipped with heavy-duty brass buttons, —the only thing you'll be popping off during your travels is the cap of a cold one.
2. Red Oxx Air Boss. It's been called "the perfect carry-on bag." Made with tough-as-nails materials and loaded with travel-ready features, you'll never carry another bag on a plane (or in a car) again. Big enough to house all you need for a weekend away, and small enough to not give you trouble when those gate agents make you test your bag.
3. Tanner Goods Quad Wallet. The Quad Wallet, made from English Bridle Leather, is a minimalist folder that provides quick access to all of your essentials. Stamped with the Tanner Goods logo on one side and the Huckberry tree on the other.
4. Explorer's Cap. Huckberry teamed up with Ebbets Field Flannels to bring you these exclusive Explorer's Caps. They're just as comfortable around town as they are out in your favorite wilderness spots.
5. Pillbox Old Glory Bat. Each Pillbox baseball bat is crafted and hand-painted in Winona, Minnesota. Game ready and cut from the same stuff the pros use (solid maple y'all). Hang it on the wall or lather up the pine tar and put 'er to use in a pickup game with the folks around your cul-de-sac.
6. United States Flag. The famous stars and stripes. Made with colorfast fabric so it won't run or fade. What else is there to say other than USA! USA! USA!
7. Chippewa 6″ Service Boot. Built with American pride and handmade state-side with premium components, these boots have classic styling for everyday wear with features like Vibram outsoles, full leather welts so you can re-sole them again and again, and comfort insert insoles.
8. Stahl Firepit. Most fire pit designs are still stuck in the Stone Age. Stahl is changing that with an American-made, modern, ingeniously designed fire pit that can be assembled in under a minute without a single tool. Its steel is intentionally non-powder coated and free from artificial treatments, allowing the natural aging process to inform the character. This bad boy not only looks better with age, it lasts a lifetime.
9. Woolrich Yankee Boot. A pure expression of function and authenticity, the Yankee ankle boot is built in the tradition of the beautifully crafted American work boots of our forefathers. Made by hand in the USA, and proudly featuring premium Horween leather, Vibram outsoles, and all American-made components.
10. Woolrich Freedom Throw. Heritage and history are woven into this American-made blanket, which honors the Stars and Stripes and our brave men and women in the armed services. Woolrich has proudly produced blankets for the armed service branches dating back to the Civil War.