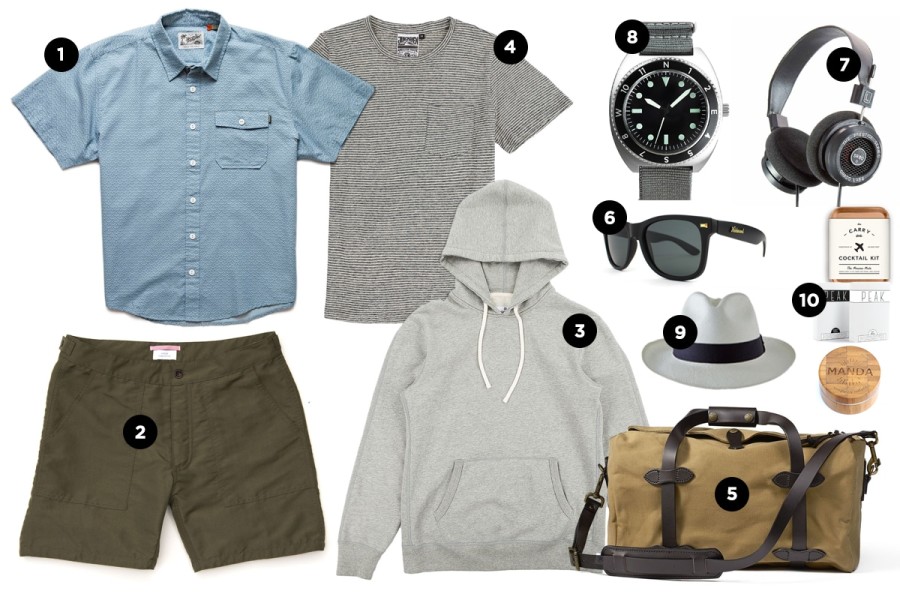 Editor's Note: This promotional gallery was put together by Huckberry Editor Jon Glatfelter.
Admit it — you've spent your fair share of time these past few weeks hunched over your desk at work, secretly mapping the fastest route from the front door to some warm weekend destination. It's okay. We're guilty of it too. Pro-tip #1: shift the browser window to the side of the screen with the most glare so your boss is none the wiser. Pro-tip #2: adjust Google Maps' time of departure for a more accurate read on expected traffic (I always forget that one). And pro-tip #3: start packing today. The fastest way to kill your spring getaway mojo is realizing the night before that the sole pair of shades to your name are the imitation aviators your buddy sat on last fall. So get a head start on your packing list and hack the hell out of that impending three — or ten — day weekend. We compiled the spring getaway list below to help get you outta dodge that much faster. All our choices are easily packable and super-versatile in the field. As always, we'll see you out there.
1. The Shirt: The key here is breathability and comfort — something you can wear to the beach and not get you turned away from the cantina later on. Try Howler's San Gabriel Shirt, whose clean lines and single pocket simplicity make it essential for wherever the sun shines. Made from a durable cotton-poly blend, it even features a sunglasses cleaning microfiber at the hem.
2. The Shorts: It's no secret that we're huge Apolis fans. And we can't think of a better introduction to the brand than the Transition Scout Short, which is an awesomely versatile essential. They're so good, you might find yourself wanting more than one color, but we promise you only truly need one pair of this versatile hybrid for those spontaneous days in and out of the water. United by Blue's Stillwater Boardshorts (navy and brown) are another smart, technical option with their 4-way stretch comfort and DWR finish for all things water.
3. The Warm Layer: Always a good idea to have a heavier layer for the plane ride and breezy island nights. We can't recommend enough Reigning Champ's Pullover Hoodie. 100% cotton construction, reverse flatlock seams, rib-lined hood and side panels — our neighbors to the north sure know how to build garments that insulate like champs. Other options here: RC's Power Dry Zip Hoodie, Navy Pullover, or Grey Crewneck.
4. The Base Layer: Wherever the road takes us, we need basics that can keep up day in and day out. Like Jungmaven's Hemp Pocket Tees. Don't be scared away by the hemp. It's sturdiness, sustainability, and soft feel has remained in vogue since Betsy Ross sewed the first Stars and Stripes with it. It's sure to last you as many springs as you have fingers.
5. The Bag: Even the most fair-weather traveler needs peace of mind that their gear is secure. Filson's Duffle will get it all there and back again for decades to come. Twenty-two-ounce rugged twill canvas, bridle leather straps, and a namesake with over a century of American craftsmanship in every stitch. Go Filson or go home.
6. The Sunglasses: Sunglasses are really good at protecting your eyes from the sun, but they're also great at getting scratched, and being left behind in restaurants. But Knockaround has built the perfect solution — the Fort Knocks. These super-affordable sunnies are built with lenses that feature both FDA-approved impact-resistance and UVA 400 protection — all held together by a sturdy frame cut with a classic wayfarer silhouette.
7. The Headphones: Grado Labs creates some of the best headphones for their price tags by hand in Brooklyn, New York. The SR80 series is proof of that. Audiophiles across the world have consistently praised it as one of the best headphones for under $100. They feature a lightweight construction, are comfortable on the ears for hours of listening, and have an open back design for clearer details even on low volume. Overall, a great value. Now about that road trip playlist…
8. The Watch: Here at Huckberry HQ, we love to geek out over our timekeepers. That's why we were so thrilled to debut our own watch last fall: the Field Navigator. It's an idealized version of the classic tool watch once used by Special Forces in the 60s and 70s. Our take delivers a minimalist, "sterile" presentation outfitted with best-in-class components for go-anywhere dependability. We think it's best paired with Maratac's silicone rubber watch strap.
9. The Hat: You don't need to be Havana-bound to pull off one of these iconic Panama Hats from Montecristi. Using only the highest quality Toquilla straw, each hat is hand-woven by master artisans in the brand's home base in Ecuador.
10. The Miscellany: And what pack list is complete without these travel essentials? Organic sunscreen, a deck of cards to pass the time, and a carry-on cocktail kit to reward yourself for surviving the long line in security.
______________________
Join Huckberry's 1 million+ adventure community. We deliver the coolest gear at the best prices, inspirational stories, and a hell of a lot more to your inbox every week. Membership is free and takes seconds.