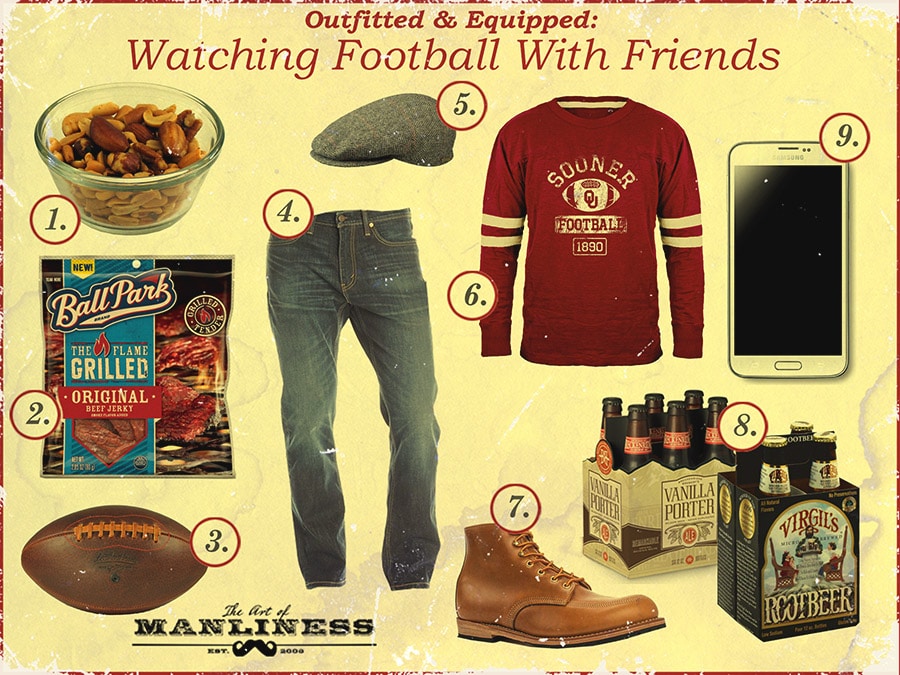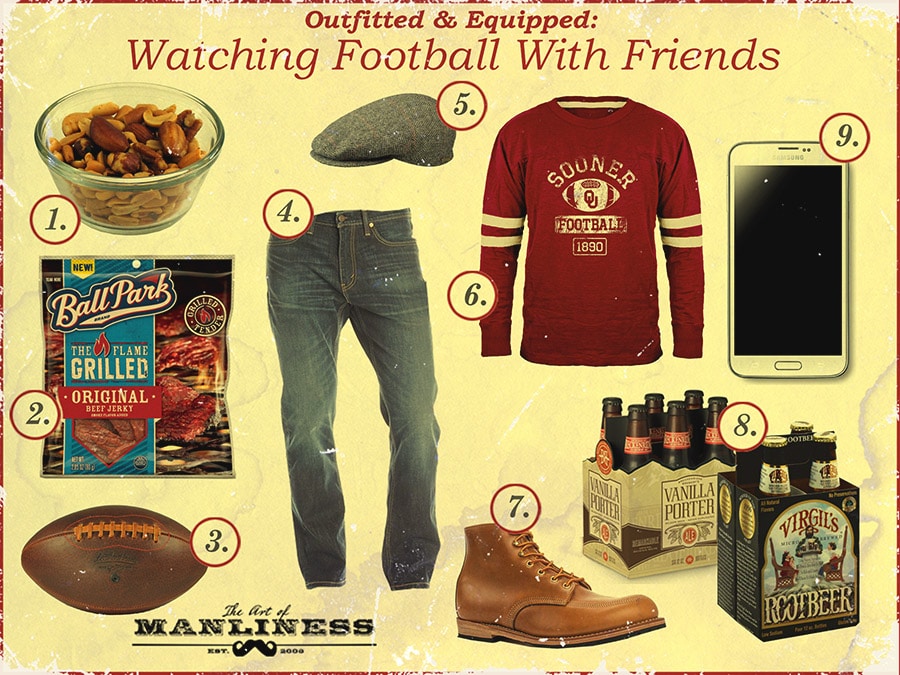 We're in the prime of football season, which means that with each week the games have more and more importance for the playoffs, and rivalries get even more heated. Gathering a group of friends to watch the game together — and with it, eat and drink to your heart's content — is one of the best parts of fall. Witnessing the feats of gridiron gladiators, and sharing in your team's ups and downs with your buddies, provides the perfect backdrop for bonding and relaxation.
Next time you head to or host a watch party, be sure to have these essentials on hand:
1. Snack #1: Mixed nuts. Tasty snacks are a big part of what makes watching football an enjoyable time. But a lot of game day snacks amount to just a whole lot of empty calories. So instead of drowning in potato chips, break out bowls of nuts and bags of jerky. Nuts are packed with fiber, protein, and other nutrients, and are just plain delicious.
2. Snack #2: Ball Park Flame Grilled Jerky. The summertime grilling season may be over, but you can bring the taste of outdoor BBQ right into your living room with Ball Park Flame Grilled Jerky. It's packed with protein and a delicious flame-grilled flavor. Plus, the texture is just right; dried to be tough and flame grilled to be tender. It's bound to be the edible highlight of your watching party.
3. The Halftime Entertainment: Handsome Dan Football. I don't know about you, but when I watch a football game on TV, it really makes me want to go outside and toss the pigskin around myself. This Made in America, handcrafted bad boy from Handsome Dan is admittedly expensive, but it will last forever, and double as a great decorative piece for your office or man-room.
4. The Pants: Levi's Men's 541 Athletic Straight-Fit Jeans. Fans of these jeans rave that they offer the perfect fit for the guy who doesn't skip leg day. They provide ample room in the thighs for those with mighty quads and they're also made with a tiny bit of elastic material so they have a little give. Plus the waist actually sits on your waist, instead of below it, so you can wear your jeans like a grown man. Finally, they come in a bunch of colors and can be had for less than $50. A total score for the squatting set.
5. The Cap: Stetson Flat Cap. Watching the game together is a casual event, meaning a hat is perfectly acceptable. Skip the backwards team cap, though, and go with something a little sharper. When the weather turns chilly, I like a hefty flat cap. It looks good and keeps your noggin warm when you go outside to play some football yourself.
6. The Shirt: Hometown Team Long-Sleeve. In my humble opinion, a grown man should never wear a sports jersey unless he's taking the field himself. But that doesn't mean you can't don something in support of your team. I personally prefer something vintage-y (no surprise there!) in look, to give it a little more of a classic feel.
7. The Footwear: Woolrich Yankee Boots. It's fall, bordering on winter, which means you can break out your rugged leather boots. They'll hold up to some tackle football in the yard, and look dang good when you go out later to celebrate your team's victory. This pair from Woolrich is handcrafted in the USA, and comes with a wool lining to keep your dogs cozy and warm.
8. The Beverages: Craft Beer & Soda. When the game is on, you don't want to be drinking some fancy cocktail. Beer and soda are the way to go, and pair excellently with your savory jerky and nuts. Pop the cap, drink, repeat.
9. The Fantasy Tracker: Your Smartphone. You're inevitably in a fantasy football league or two this year. Whether you're playing for cash or pride, keep track of the day's action on your smartphone. This is a rare situation where it's acceptable for all parties to have their devices out; you want to be able to not only make last-minute changes as needed, but know how you stand as the day progresses so you can talk smack to your opponents when the occasion calls for it. Take a tip from Buddy the Elf and call your pal a cotton-headed ninny muggins. It'll leave him speechless.