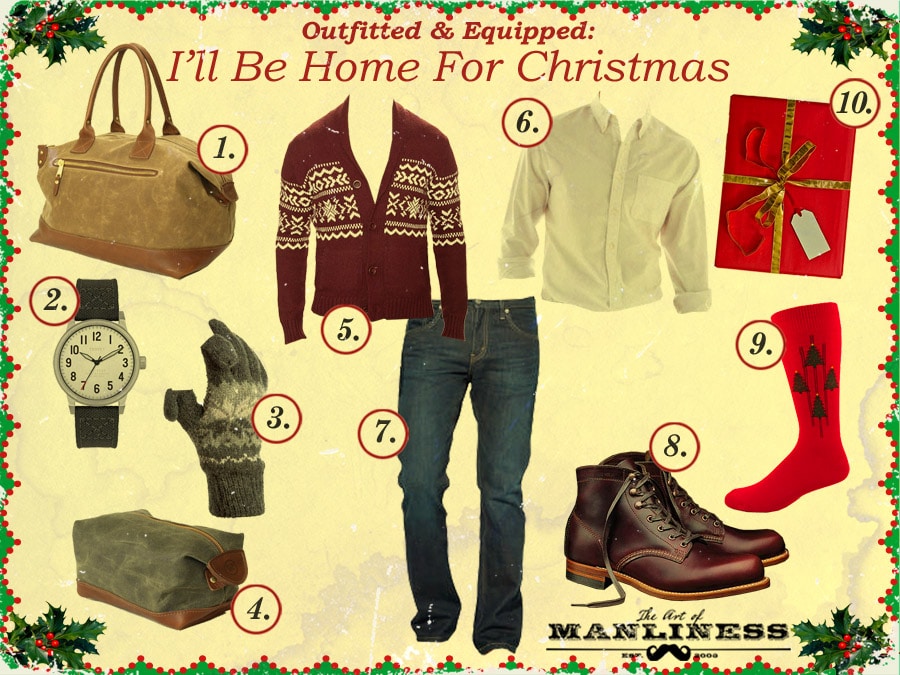 Many men out there will be heading home next week to celebrate Christmas with their extended family. If your folks haven't seen you in awhile, wear something nice when you fly in; you know your mom is anxious to see if it looks like you're healthy and doing well. It's also nice to don something that starts to get you in the holiday spirit and the "I'll Be Home For Christmas" state of mind. This get-up fits the bill nicely.
1. The Carry On. Blue Claw Ezeiza Weekender. You don't need a huge suitcase for a short trip home. A weekender bag is just the right size for a few days of clothes when you know how to travel light. This one has handsome, rugged style and is Made in America. Crafted from weather resistant 15oz-waxed canvas, full-grain, domestic leather, and lined with a lightweight but incredibly strong cotton ripstop, this bag is constructed to last a lifetime.
2. The Timepiece. Tsovet JPT-TF40. A classic-looking field watch that'll have you checking the time with manly style. The woven canvas band is backed with soft, yet durable Nuback leather so it feels nice on the wrist.
3. The Handwarmers. Freehands Ragg-Wool Gloves. These gloves will keep your hands warm when you're making your way from long-term parking to the airport terminal. Plus, their unique design allows you to peel back the fingertips, so you can look up your flight information without taking them off.
4. The Dopp. Blue Claw De Gaulle Dopp Kit. Every man needs a classic Dopp kit to pack his toiletries. This handsome Dopp is made from 15oz-waxed canvas and full-grain leather, and comes with a zipper longer than the body of the case to allow you to easily access your goods.
5. The Sweater. Life After Denim Ugly Christmas Cardigan. Every man should own a Christmas sweater. This is mine and I love it. I didn't want a hideously ironic Christmas sweater, but one that actually looked nice, and despite its name, this one fits the bill handsomely. It evokes the holidays without being in-your-face festive, so you can where it not just December 25th, but the whole holiday season. I'm a huge fan of cardigan-style sweaters in general, and they're particularly handy for traveling, when dressing in easy-to-remove layers is a big plus. Best of all, while this sweater isn't available anymore from the company that makes it, you can pick it up for half off the original retail price from Gilt.
6. The Shirt. Dockers Oxford. I generally like to wear button-down shirts under my cardigans, and a white Oxford goes nicely under my Christmas sweater. This one's on sale for $20. For a more casual look, go with a white Henley.
7. The Denim. Levi's 527 Bootcut Jeans. A pair of dark jeans goes well with the sweater, and whatever else you pack for your trip. These are just $40 at JCP.
8. The Footwear. Wolverine 1,000 Mile Boots. My go-to footwear. They're not cheap, but they'll last forever and they'll be the most versatile footwear in your closet. You can pair them with everything from t-shirts, to a sport coat, to a Christmas sweater.
9. The Toewarmers. Christmas Tree Socks. There's never a better time than the holidays to don a pair of novelty socks. These will give your get-up a subtle hint of festive cheer.
10. The Thank You. Present for the folks. You can pack a wrapped gift either in your carry-on or checked bag, but there's a small chance that TSA will have to open it to inspect what's inside (that chance is less when you check a bag). So it's probably best to wait to wrap it until you get to your destination. If the gift you come bearing is too big for your bag, you can always ship it ahead, or have it shipped directly to the recipient when you order it. To really travel light, get gift cards for your loved ones, or buy them an experience – like tickets to a NFL game.