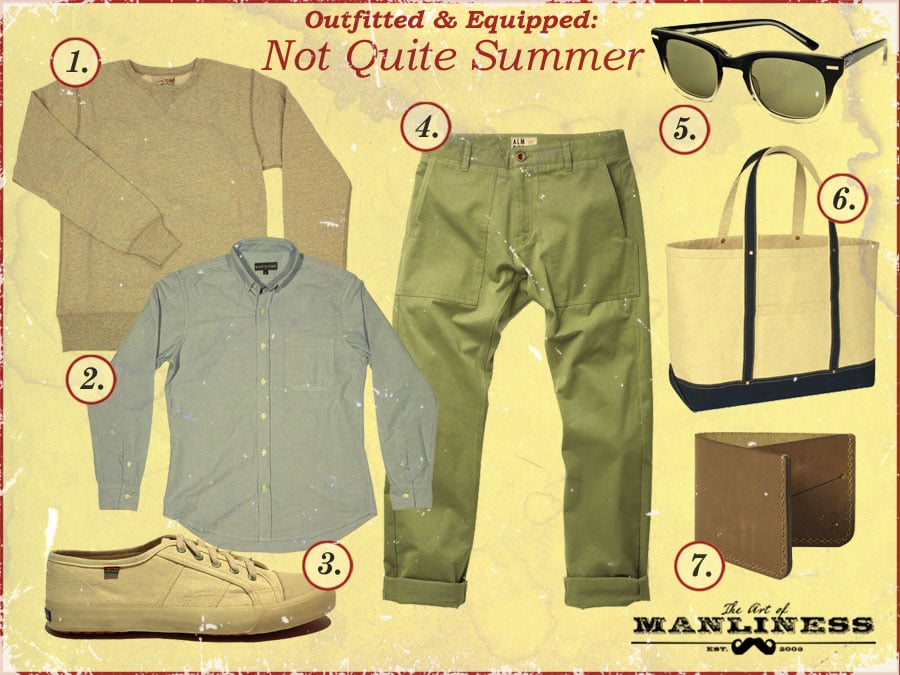 Editor's note: This gallery was curated by Brad Bennett. Mr. Bennett is the Founder and Editor of Well Spent, a site that features men's goods that are attractive, affordable, and made in the USA or similar first-world/non-sweatshop conditions. He will be putting together a monthly O&E for AoM's many style hounds to enjoy.

Spring. The great in-between season. It's getting warmer outside, but the weather can also surprise us with bouts of cold (and even snow!). Here's how to stay sharp and comfortable when you're out and about before summer hits full force.
1. The Sweatshirt. Archival Clothing Sweatshirt. Archival Clothing's Crewneck Sweatshirts are made to last in Portland, OR and only get better with age.
2. The Buttondown. Epaulet EPLA Oxford Shirt. As far as made-in-USA shirting goes, the EPLA Buttondown Oxfords from Epaulet are in a class all their own. American-loomed supima oxford cloth, cut and sewn in Los Angeles, enzyme washed for softness, and priced under $100.
3. The Kicks. Industry of All Nations Kenyatas Sneakers. The Kenyatas Sneakers from Industry of All Nations are responsibly made in Africa out of materials sourced from within the continent, including African cotton for the upper and laces, and natural rubber for the soles.
4. The Pants. Almond Twill Chino Pants. Not too slim, not too heavy, these American-made pants from Almond are a great option for spring and early summer.
5. The Specs. Shuron Freeway Sunglasses. It doesn't get much more classic than the US-made Freeway Sunglasses from Shuron (and their price ain't bad either).
6. The Bag. Parrott Canvas Tradesman Tote. The North Carolina-made Tradesman Totes from Parrott Canvas are family heirlooms waiting to happen. 22 oz. cotton duck body, 24 oz. waxed canvas on the handles, brass rivets at key stress points, and heavy-duty nylon thread throughout. Your kids will fight over this one.
7. The Wallet. Winter Session Billfold Wallet. Every Winter Session product is painstakingly handcrafted in the company's own Denver, CO workshop. The billfolds have a great minimalist design and are made out of 4 oz. veg-tanned Horween leather and Irish waxed linen thread.