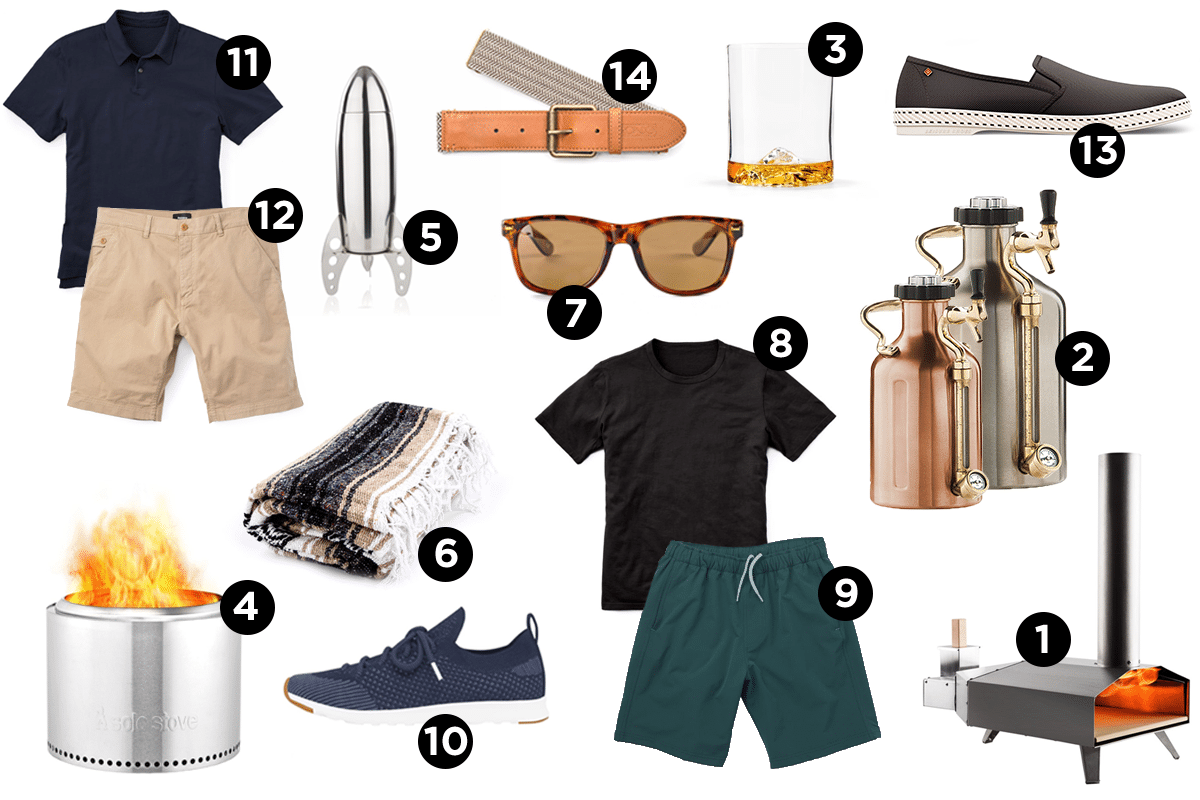 Editor's Note: This promotional gallery was put together by the gents at Huckberry.
With backyard cookout season coming in hot, we've put together this Summer BBQ Roundup to help you delight guests when you're throwing a shindig, and stay cool, comfortable, and looking sharp whether you're acting as the host, or relaxing as a guest.
BBQ Gear

These tools will enhance any backyard BBQ or outdoor get-together, and add something special to the event.
1.Ooni Pizza Oven. The Uuni 3 heats to a blazing 900°F for perfectly-cooked, wood-fired pizza in only 60 seconds. Best of all, Uuni comes with all the equipment you need to start making pizzas right out of the box. And at under 30 lbs, the Uuni is ready for travel to steal the show at your next picnic or campout.
2. Growlerwerks. We take our homebrews pretty damn seriously, and at the top of our wish list is Growlerwerks' original uKeg. This mini keg comes in the size of a half-gallon growler and is jam-packed with utility, keeping beer cold and fresh for weeks — at the home bar or on the move.
3. Whiskey Peaks. This handsome set of four handblown whiskey glasses is made from premium lead-free glass and features raised topographic impressions of America's greatest mountain peaks — Denali, Half Dome, Mt. Rainier, and Mt. Whitney. They'll keep you inspired and sipping "on the rocks" whenever 5 o'clock calls.
4. Solo Stove Portable Bonfire. The Solo Stove takes wood-burning fires up a notch with a stainless steel body and engineered airflow that burns wood more efficiently and with less smoke. It's a sleek centerpiece for any backyard, campground, or beach cookout. And it weighs just 20 lbs, so it can go nearly anywhere that you can.
5. Rocket Shaker from Viski. Upgrade your home bar cart with Viski's professional-quality, handsomely designed barware, like the Rocket Cocktail Shaker. It's a sleek, space-worthy shaker that deserves a prime spot in your home. Constructed from stainless steel, your cocktail game is about to be out of this world.
6. La Playa Blanket. You'll find these blankets from Morning Culture are perfect for just about anything, including stargazing on clear summer nights or watching a fireworks show. All La Playa blankets are made on in-home looms by artisans in Mexico from an outdoor-durable acrylic-cotton-polyester blend. Easily sits two adults.
Casual Apparel/Accessories
When the summer occasion calls for plenty of fun and activity, opt for a versatile get-up that will keep you comfortable, while looking good.
7. Knockaround Sunglasses. Fort Knocks sunglasses embody the classic design, strength, and color selection that have become synonymous with Knockaround. Inspired by the United States Bullion Depository in Fort Knox, Kentucky, the injection-molded frames feature gold bar detailing, articulating spring hinges, and a raised Knockaround logo.
8. F&T Supima Air Knit Tees. Made from 100% Supima cotton, which has stronger yet softer fibers than regular cotton, Flint and Tinder's Air Knit Tees are basic shirting, perfected. Cut and sewn in America.
9. Myles Shorts. Earning ringing endorsements from industry experts, the Everyday Short is our go-to summer bottom for its exceptional versatility. With a lightweight stretch fabric, water-repellent finish, and a tailored silhouette, they're perfect for both working out, and hanging out.
10. Native's Liteknit Sneaker. Each Liteknit Sneaker is built with a stretch material upper that's made with an intertwined, 3D elasticized knit we've never seen the likes of before, ensuring the sneaker is that much more breathable, flexible, and lightweight.
Slightly Dressier Apparel/Accessories
When you'll be hosting or attending a BBQ where you want to look a little sharper, easily trade your tee for a nice polo and a few more put-together accessories.
11. F&T Supima Polo. These are the softest, best fitting shirts we've ever worn. The secret sauce? Special and rare long-staple Supima cotton from California's San Joaquin Valley, which is knit with a new advanced technique called "Baby Jersey" that creates a luxurious and airy fabric. And they're preshrunk for a great fit.
12. Finisterre Coverack Shorts. The Coverack Shorts are a classic chino short with just a bit of stretch and utilitarian details. Its fabric is sourced from Spain, and each pair is then sewn and finished in Portugal with bound internal seams for stretch and comfort. The 9" inseam offers a just-above-the-knee fit for superior range of motion and a classic look.
13. Rivieras Classic Slip-On. Rivieras' low-profile slip-ons pay homage to the Mediterranean menswear classic of the '50s, but have upgraded canvas, stitch-work, and soles. This is an exceptional leisure shoe for summer and beyond.
14. Arcade Belt. Arcade's line of Crossover belts are specifically designed to go from the office to the outdoors. The Tailor features a classic herringbone pattern paired with rich full grain leather and brass accents, which will gain a handsome patina with age.
_______________________

Join Huckberry's 1 million+ adventure community. We deliver the coolest gear at the best prices, inspirational stories, and a hell of a lot more to your inbox every week. Membership is free and takes seconds.