Editor's Note: This promotional post was put together by the gents at Huckberry.
Maybe you're just discovering a wealth of trails outside your front door. Or maybe you're a veteran of the nearby foothills, experienced in technical terrain and conquering Strava segments. Either way, stepping outside to indulge in fresh air and untapped miles can be mind-clearing, soul-reviving, and well, fun (something we all love). To help you make the most of these adventurous outings and meditative wanders, we offer the following recommendations of our favorite day-hike-elevating clothing and gear.
The Clothes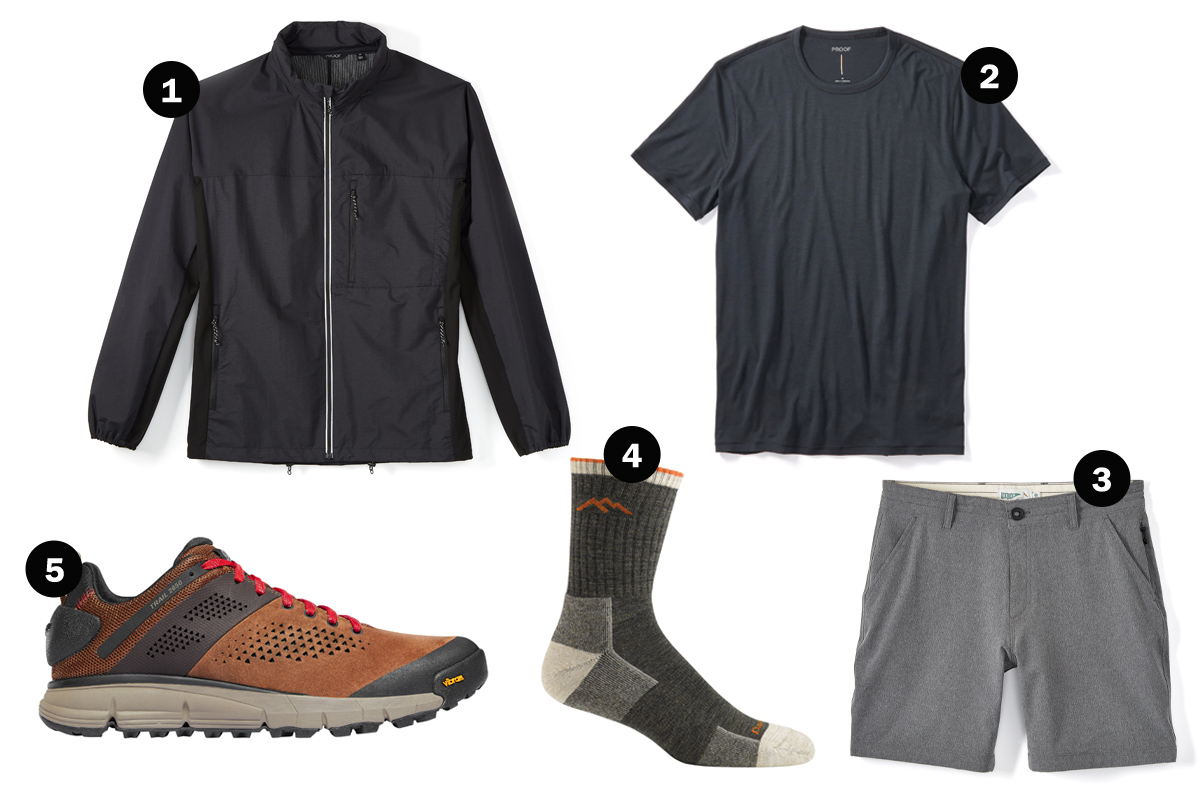 1. Proof Shift Packable Shell. Hiking at altitude? You'll be glad you packed this shell — a lightweight, style-forward layer that offers warmth and protection from the elements without hogging your daypack's limited storage space. Even if you're not traversing mountainous terrain, long summer days do tend to cool off. It's our ideal just-in-case layer.
2. Proof 72-Hour Merino Tee. We've worn this tee on multi-day excursions to Mexico City, Iceland, and the Swiss Alps — all without a single outfit change. That is to say, this temperature-regulating, odor-resistant tee can most definitely handle a single day's worth of adventure while keeping you feeling comfortable and smelling fresh.
3. Wellen Cruiser Hybrid Short. Hybrid shorts are your summer wardrobe's secret weapon. Especially on a hike, when you may encounter a lake or stream that just cries out to be jumped into. These technical shorts have the functionality of a full-on boardshort, and dry quickly so you can get back on the trail post-cannonball.
4. Darn Tough Socks. The Hiker Micro Crew Cushion is a cushioned sock specifically designed for trekkers seeking comfort and performance. You know these guys deliver when there's a no-strings-attached lifetime warranty.
5. Danner Trail 2650. Inspired by trail running shoes, this low-profile hiker combines a durable leather and lightweight textile upper with a trail-focused Vibram outsole. So whether you're hiking 20 minutes or 20 miles, these ultra-lightweight hikers won't weigh you down.
The Gear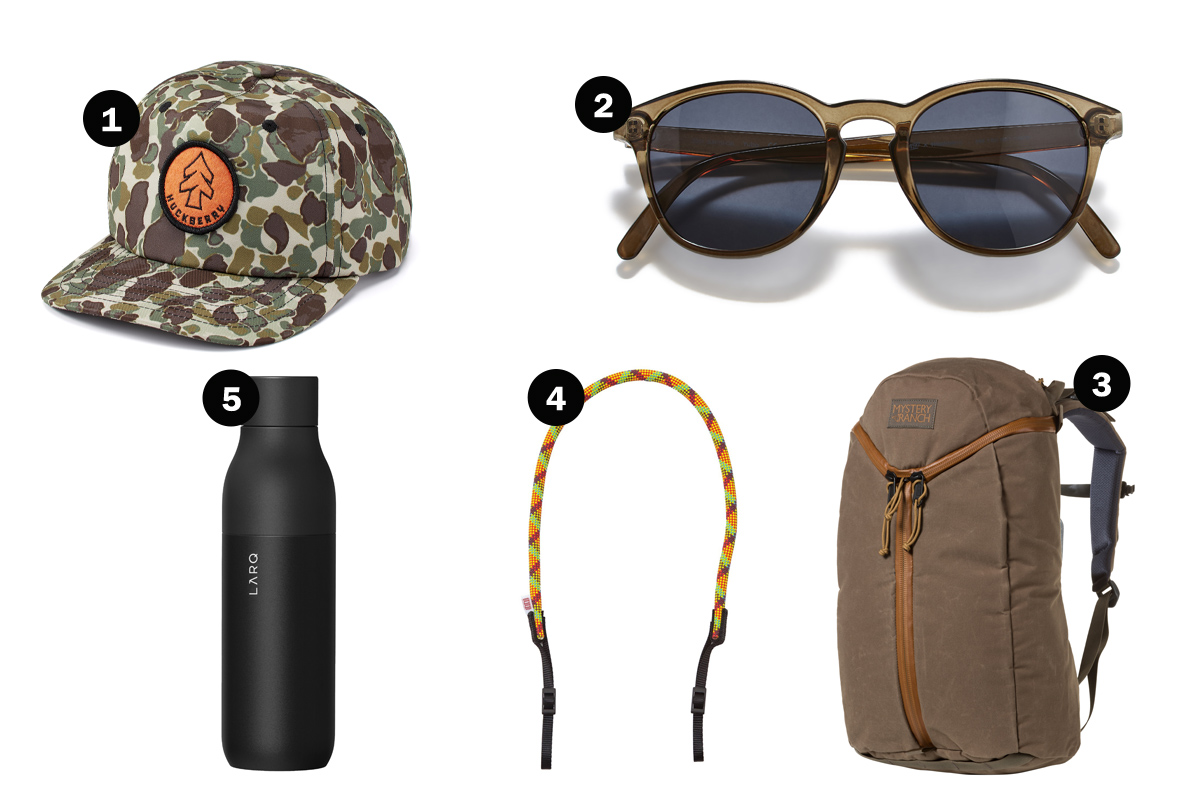 1. Huckberry Snapback. Call us biased, but this Huckberry hat does a great job keeping you cool, with a lightweight breathable construction and adjustable snapback design. Get dirt and sweat on it, shove it down into the bottom of your bag, use it to dump river water on your head — this hat wasn't meant to be babied.
2. Sunski Yubas. Leave your $400 shades at home and don these polarized Sunskis for less than $60. With style-forward frames made from super lightweight, 100% recycled materials, they're perfect for all-day wear. They stay put when you're breaking a sweat out on the trail and look sharp when you're back home.
3. Mystery Ranch Urban Assault. The Urban Assault bag is inspired by military assault rucksacks and is the epitome of clean, functional design. What makes it truly unique is the 3-zip closure that makes everything easily accessible — like your water, layers, and fuel — so you can keep ticking off those mile markers.
4. Topo Designs Camera Strap. If your passion for photography extends beyond iPhone portrait mode, then you might consider this camera strap to protect your gear from gravity. This one comes from our Colorado-based friends over at Topo Designs. They've built it with heavy-duty climbing rope that's designed to secure your rig at all times.
5. Larq Water Bottle. If we're being honest, most of us probably don't clean out our water bottles near enough between uses. Larq is here to eliminate that pesky chore with their state-of-the-art water bottles that self-clean 99.999% of bacteria out, thanks to the built-in UV-C LED purification system. No more funky odor or built-up bacteria.
_____________________
Join Huckberry's 1 million+ adventure community. We deliver the coolest gear at the best prices, inspirational stories, and a hell of a lot more to your inbox every week. Membership is free and takes seconds.