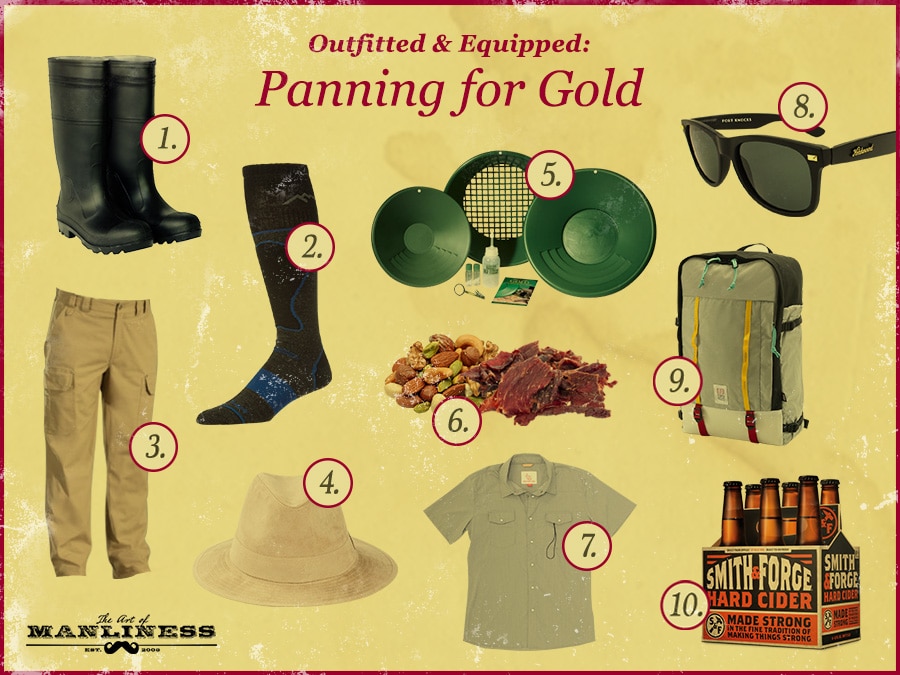 This post is brought to you by

Smith & Forge Hard Cider

. Strong, sturdy, not too sweet. It's cider the way it's supposed to taste. Please enjoy our ciders responsibly.

What's this?
At one time, gold panning was an occupation (if typically a temporary one). Pioneering men would bravely venture out to the mountains, often coming from thousands of miles away, in hopes of striking it rich by finding gold in unexplored streams and valleys. While it's no longer a good idea to pin your hopes of wealth on prospecting (nor was it particularly a good idea 200 hundred years ago!), it can make for an enjoyable hobby and weekend activity. Like many hobbies, being properly outfitted and equipped can make a big difference in your success and enjoyment. Below we share some ideas for what to wear and bring along on a gold-panning adventure.
1. The Footwear: Rubber Boots. When panning for gold, you're often going to be wading in small streams. You aren't going to want ratty old sneakers that'll just soak your feet. Some rubber boots are going to be your best bet. This generic, no-frills pair is affordable, but comfortable enough for you to be panning all the day long.
2. The Socks: Darn Tough Ski Socks. It might seem counterintuitive to wear ski socks during a warm-weather gold panning expedition, but I wear ski socks for a variety of outdoor pursuits. The calf height ensures that your boots aren't rubbing against your legs, and the thin but padded material wicks away moisture while keeping your feet warm (but not too warm). The best part about Darn Tough brand? They have an unconditional lifetime guarantee. If the socks ever wear out, send 'em back, and they'll send you a new pair. Perfect for wading in streams and getting rich. Be sure to bring an extra pair in case they get wet!
3. The Pants: Duluth Trading Co. Fire Hose Work Pants. Even in the warm summer months, I prefer to wear pants on outdoor adventures. They protect your legs from brambles, insects, and the general itchiness of plants rubbing against your legs. These work pants from Duluth Trading Co. are the perfect pair to aid you in your gold-seeking. With plenty of utility pockets, an extra "crouch" gusset, and even some built-in spandex, you'll be comfortably kneeling, scooping, and bending the whole darn day.
4. The Sun Protection: Malcolm Crushable Travel Hat. A wide-brimmed hat is good to have when out in the wilds. It adds sun protection not only for your eyes, but also keeps your face and neck from frying like bacon. This hat by Original Chuck is a microfiber and suede blend, meaning it looks sharp on your noggin, but is also totally crushable so that it can be stowed in your pack without losing its shape.
5. The Prospecting Supplies: Garrett Gold Pan Kit. Skip the fancy metal pans and expensive gold panning gear. According to experts, plastic does just fine, and is actually better because it's lighter-weight, cleans easier, and helps the gold stand out more because it's not blending in with another metal. This basic kit includes 2 pans, a screen (called a classifier grid), a snifter bottle, and vials for the gold you find.
6. The Snacks: Nuts, Beef Jerky. While gold panning isn't necessarily labor-intensive (though it can be), you'll still want plenty of sustenance for your outing. Salty, protein-rich snacks like nuts and jerky will keep you energetic and prevent the sugar crashes that come with sweets.
7. The Shirt: Western Rise Eureka Shop Shirt. You'll want a shirt that keeps you cool, keeps you dry, and provides the hardiness to stand up to your prospecting. The Eureka Shop Shirt from Western Rise fits the bill. Its features are built for the fisherman, but are equally applicable to the amateur gold miner: antimicrobial, water-resistant, quick dry fabric, built-in SPF protection, and even a hidden lanyard for keeping your gold vials close at hand.
8. The Shades: Knockaround Fort Knocks. When in the great outdoors, I much prefer these plastic, extremely affordable shades to the triple-digit aviators that you'd sport for dates or after-hours networking events. They hold up well to a little wear and tear, and look darn good on your mug too. Beats the $15 pair from a convenience store any day.
9. The Pack: Topo Designs Mountain Daypack. You'll want a hefty pack to store your panning supplies (and gold stash!), snacks, beverages, and extra socks. This 26-liter daypack from Colorado's Topo Designs has plenty of internal storage, a nylon exterior, loops for extra gear, and large side pockets for water bottles (or cans of Smith & Forge!). Because after all that panning and jerky eating, you're going to be thirsty and ready for some refreshment:
10. The Beverage: Smith & Forge Cider. Whether you struck gold or not, you still have reason to celebrate: you spent a satisfying day working hard and hanging out in the great outdoors! Unwind with a Smith & Forge Hard Cider, inspired by the cider our forefathers drank. It's the kind of beverage the gold prospectors of yore would have enjoyed.