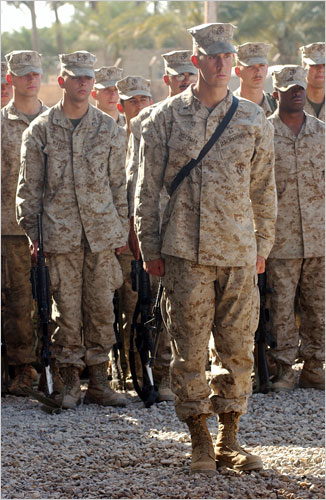 This is a different kind of Manvotional…a short audio interview rather than a piece of text. But I heard it on To the Best of Our Knowledge and found it so powerful I knew I had to share it here.
In the clip, Steve Paulson interviews Donovan Campbell, currently an author and business executive and also a veteran of three combat deployments — two in Iraq and one in Afghanistan. In 2004, Campbell was serving as a Marine platoon leader at the beginning of the insurgency in Ramadi. His platoon saw a ton of combat, and half of his unit would eventually be wounded. Campbell pledged to get all his men home alive, but during an attack, one of Campbell's men was killed. Paulson and Campbell revisit an interview they did four years ago about the tragic incident, and Campbell speaks about meeting the killed Marine's mother, and apologizing to her for failing to bring her son home. He speaks stirringly about how a leader must take responsibility, even if he's not directly to blame for something:
I still own my responsibility in the failure to bring him home. It may not have been my fault, but it was my responsibility. I was the leader and there was only one person to look to, when you, for everything that your men do or fail to do, and that's the leader…That's the right mentality to have, even though you may err on the side of carrying too much weight. Particularly as I've seen leadership as applied in, well, at least in my context in the business world, I think that the Marines get it right, and they got it right by teaching me from the get-go that hey, it is your job as a leader to accept responsibility, that's what you do, particularly to accept responsibility for failure. And when you're given these forty young men, we're going to tell you your life is no longer about yourself, it's about taking care of them and achieving your mission. That's a, I realize now that that's a rare philosophy, and that's a rare leadership model. We say that life is not about you anymore. The minute you pin on the rank, and the minute you accept that paycheck, you accept responsibility and you accept a commitment to something greater than yourself. And I think that applies just as much now as it did then.
If you've got about ten minutes, listening to the whole short interview is definitely worth your time.