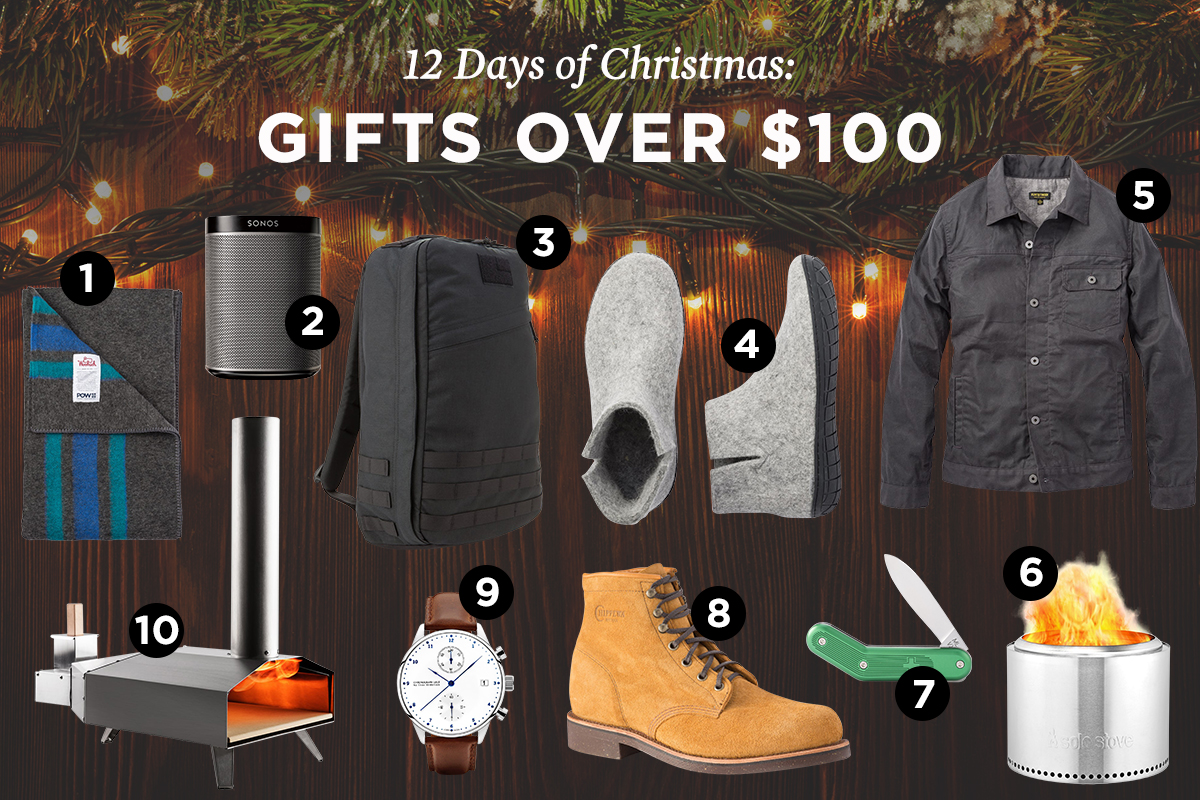 Welcome to AoM's 12 Days of Christmas! We've partnered with Huckberry to bring you 12 straight days of awesome gift guides and giveaways. Each day will feature a different Huckberry shop with 10 gift ideas, as well as a giveaway. The giveaways will run until midnight each day, and the winner will get to choose an item of their choice from that day's featured shop.
For the final day of our 12 Days of Christmas Giveaways, we're going out with a bang by featuring Huckberry's Gifts Over $100 Shop. If you know someone who's been especially nice this year, treat them to one of the below items or any of the quality gifts in this top-notch shop.
The 12 Days of Christmas: Gifts Over $100
1. Woolrich Camp Blanket. These blankets are made by the oldest continuously operating woolen mill in America. The Camp Blanket is a rugged and warm wool blanket that's suitable for the couch or the campsite.
2. Sonos Play:1 Speaker. This is Sonos' smallest speaker, but it packs a powerful sound into its small chassis. It's a perfect fit for bookshelves, counters, and other snug places. Combine it with other PLAY speakers for a complete home sound system.
3. GORUCK GR1. Andy Forch, Huckberry co-founder, calls this his favorite backpack on the planet. Brett loves his too. That's reason enough for you to get your hands on one. It's built for cities, war zones, and beyond, and made in the U.S. from Special Forces-grade materials. The GR1 also sports a lifetime guarantee.
4. Glerups Camp Sole. Hailing from Denmark — a country that knows a thing or two about how to stay cozy when it's cold outside — Glerups' shoes are handcrafted from 100% pure, natural wool, which naturally wicks moisture from your feet so they're always warm and dry.
5. Flint and Tinder Waxed Trucker Jacket. Made with waxed, weather resistant sailcloth, this trucker jacket is soft right out of the box, and can be worn with just a tee underneath since both the body and sleeves are fully lined with soft cotton flannel.
6. Solo Stove Bonfire. Having an "in-ground" fire pit is cool, but so is having a portable bonfire. The Solo Stove Bonfire is a sleek centerpiece for any backyard, campground, or beach cookout, and since it weighs just 20 pounds, you can take it nearly anywhere.
7. Malvaux Number 1 Knife. Leave it to the Swiss to improve upon one of longest-standing designs in history. With an ergonomic handle and a superb simplicity, this knife is just about perfect. The exclusive Forest Green color isn't available anywhere else.
8. Huckberry X Chippewa Roughout Service Boot. Roughout leather — the underside of full-grain leather — has been called suede's "badass cousin." It doesn't need polishing, will hold up to the elements better than other leathers, and it comes in the form of the legendary 6″ Service Boot from Chippewa.
9. Vintage 1815 Chronograph. Vintage inspired and built to last, the 1815 Chronograph is a throwback to the invention of the chronograph in 1815, and designed for you to rely on for decades to come.
10. Uuni Pizza Oven. Give the gift of pizza. This oven heats to a blazing 900°F for perfectly-cooked, wood-fired pizza in only 90 seconds — just in time to satisfy the craving. Best of all, UUNI comes with all the equipment you need to start making pizzas right out of the box.
Giveaway
The Prize
Any item available in Huckberry's Gifts Over $100 Shop.
Enter the Giveaway
If you are an email subscriber, do not reply to this email to make your entry. You must click on the title of this post, which will take you to the post on our web page where you can make your entry. Use the form below to enter. Don't forget! You have multiple ways to enter! The more of them you do, the better your chances are!
12 Days of Christmas '17 – Gifts Over $100

Deadline to enter is noon tomorrow (Central Time), December 13th, 2017.
Tags:
12 days of christmas 2017