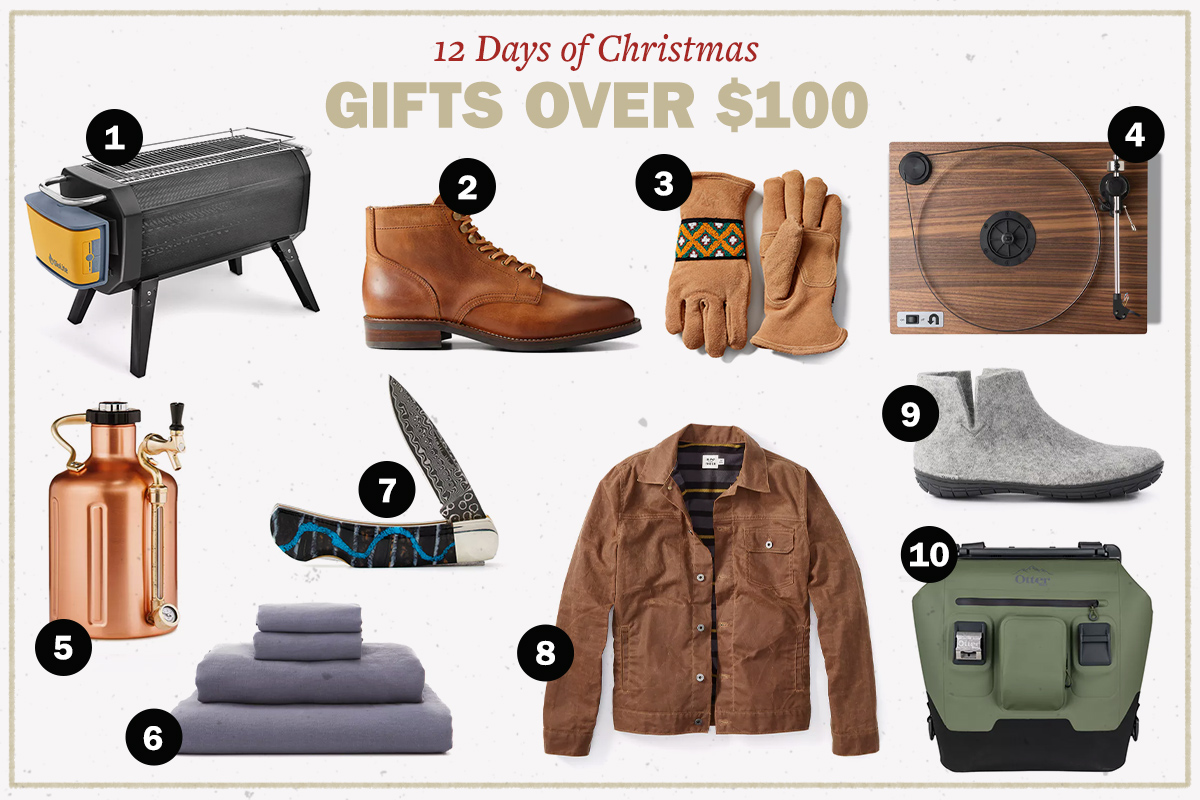 Welcome to AoM's 12 Days of Christmas! We've partnered with Huckberry to bring you 12 straight days of awesome gift guides and giveaways. Each day will feature a different Huckberry shop with 10 gift ideas, as well as a giveaway. The giveaways will run until 12pm CT the next day, and the winner will get to choose an item of their choice from that day's featured shop.
For the final day of our 12 Days of Christmas, we're going out with a bang by featuring Huckberry's Gifts Over $100 Shop. If you know someone who's been especially nice this year, treat them to one of the below items or any of the quality gifts in this top-notch shop.
The 12 Days of Christmas: Gifts Over $100
1. BioLite Portable Fire Pit. Firepit and grill in one portable package, with less smoke and more fire. Engineered to blow air into the fire through precision-placed airjets to create a uniform temperature, improve combustion, and reduce smoke.
2. Rhodes Dean Boot. To make the ideal everyday boot, Rhodes partnered with a third-generation, family-run bootmaker in northern Portugal. Each pair is expertly handmade to exacting standards from fine calf leather that gets better with every step you take — and fully resoleable for your lifetime.
3. Astis Glove. Handsewn in the USA from high-quality suede leather and decorated with high-quality, hand-stitched beadwork on the gauntlet. Lined with Polartec high loft insulation, they're warm and soft, making them comfortable for all-day wear no matter the situation.
4. U-Turn Audio Orbit Plus. Need something for the music buff? With the Orbit Plus, you get high-performance sound without the unnecessary features that only exist to boost a sales brochure. It plays records, and it plays them well. Assembled by hand in Massachusetts.
5. GrowlerWerks uKeg. Give the gift of fresh beer! This mini keg is jam-packed with utility: double-walled, vacuum-insulated stainless steel, VPR cap (for adjustable carbonation), pressure gauge, dispenser tap, even an interchangeable tap handle for personalization. The uKeg does it all.
6. Matteo Linen Sheet Set. Upgrade your bedding with these linen sheets from Matteo. They're super soft and make for the most comfortable night's sleep you'll ever have. Skip the cheapo sheets from Kohl's, and make your bed a little extra cozy this Christmas.
7. Santa Fe Stoneworks Damascus Knife. The handle is made from freakin' wooly mammoth tusk. It doesn't get much manlier. This particular version also has a beautiful turquoise inlay. And it's not just about looks; the Japanese-sourced Damascus steel blade will hold up to any kind of abuse you put it through.
8. Flint and Tinder Waxed Trucker Jacket. Made with waxed, weather-resistant sailcloth, this trucker jacket is soft right out of the box, and can be worn with just a tee underneath since it's fully lined with soft cotton flannel. Perfect for unpredictable, fast-changing environs where you're regularly adding and subtracting layers.
9. Glerups Camp Boot. Hailing from Denmark, Glerups' shoes are handcrafted from 100% pure, natural wool, which naturally wicks moisture from your feet so they're always warm and dry.
10. OtterBox Trooper Soft Cooler. OtterBox's epic toughness, in a carryable, soft-sided cooler that can keep ice for up to 3 days. Makes for a great option for hike-in campsites, or just a day at the lake when a heavy hard-sided cooler is too much.
The Prize
Any item available in Huckberry's Gifts Over $100 Shop.
Enter the Giveaway
If you are an email subscriber, do not reply to this email to make your entry. You must click on the title of this post, which will take you to the post on our web page where you can make your entry. Use the form below to enter. Don't forget! You have multiple ways to enter! The more of them you do, the better your chances are!
12 Days of Christmas: Gifts Over $100

Deadline to enter is 12pm tomorrow (Central Time), December 13th, 2018.