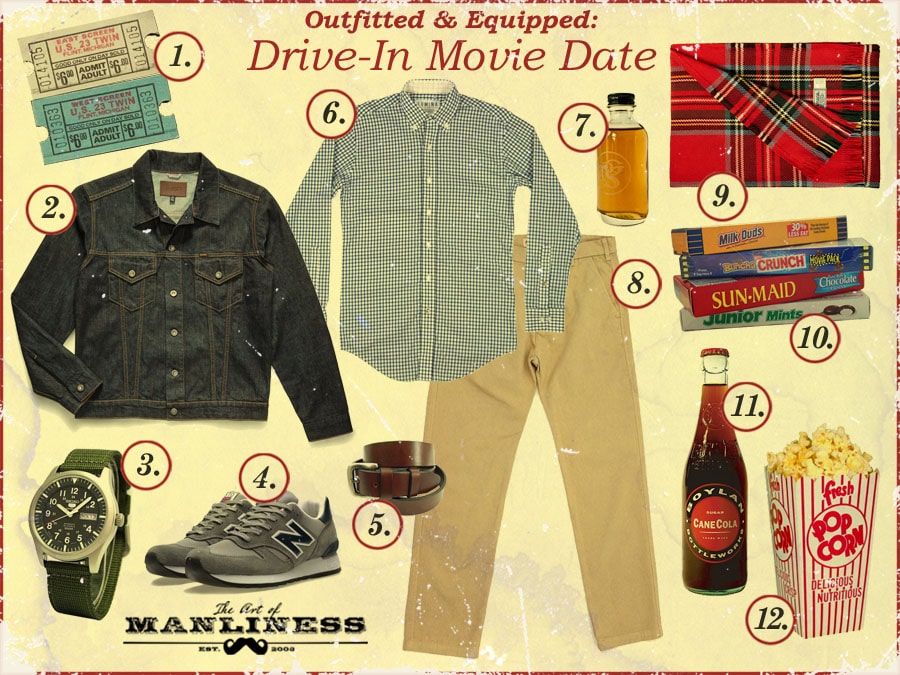 How does Outfitted & Equipped work? The FAQ.
Editor's note: This gallery was curated by Brad Bennett. Mr. Bennett is the Founder and Editor of Well Spent, a site that features men's goods that are attractive, affordable, and made in the USA or similar first-world/non-sweatshop conditions.
Ah, the drive-in theater. A piece of distinctive Americana that brought together two of our nation's passions: cars and movies. At their peak in popularity during the 1950s, there were more than 4,000 drive-in theaters across the country, some of which could hold as many as 3,000 cars. Due to the rise of multiplexes, home theaters, and soaring real estate costs, that number dwindled rapidly in the subsequent decades.
But they're hardly completely dead. Around 400 drive-ins still dot the country, and there's a good chance there's one or twenty (lucky you, California) in your home state. Check a website like this one to see if there's a theater close by.
Going to a drive-in movie is one of the 18 things every man should do this summer. But the experience is even better if you bring a swell gal along! While seeing a flick at the local multiplex doesn't make for such a great date, as you're consigned to sit silently side-by-side for two hours, going to a drive-in together allows you the privacy to talk, and uh, neck (drive-ins weren't called "passion pits" back in the day for nothing).
Make the date seem extra special by wearing a classy get-up like you'll find above. It's great for having dinner out before, and looking sharp while you watch the flick. The nights in many parts of the country are still pretty chilly, and such an outfit is very versatile for adapting to different temps. As such, it's a great option for both early summer and early fall.
1. The Tickets. Drive-in movies can make for a bargain of a date (especially a double or group date), as you sometimes pay by the car load, rather than by the person. Even when each individual does have to buy a ticket, you get to see a double (or triple) feature for the price of a single flick at a normal theater!
2. The Jacket. Bluer Denim MJ70 Jean Jacket. The MJ70 Jean Jacket from Bluer Denim is made in Los Angeles out of denim that's loomed in North Carolina. It's always good to bring a jacket on a date, sport coat or otherwise. It gives you ample pockets to hold your date essentials, and something to offer your lady in case she gets chilly.
3. The Timepiece. Seiko Made in Japan Automatic Military Watch. You won't find a much a better bang-for-your-watch-buck than the Made in Japan Automatic Military Watches from Seiko. Stainless steel case, replaceable nylon NATO strap, water resistant to 100m, and a reasonable price.
4. The Footwear. New Balance M670 Sneakers. These M670 Sneakers from New Balance are reissues of a style that was originally released in 1984, and are made in the company's Flimby factory, which is one of the last still-operational sneaker manufacturing facilities in the UK.
5. The Belt. Orion Harness Leather Belt. Orion's American-made leather belts are as hard-wearing as they are affordable. This particular model has a brushed gunmental buckle, measures in at a perfect 1.25″ width, and costs just over $40.
6. The Shirt. Lumina Clothing Navy Check Graham Shirt. Made in South Carolina out of lightweight 100% cotton poplin, the slim-fit Graham Shirt from Lumina Clothing is a great button-down for the spring and summer months. If the weather is warm, simply roll up your sleeves.
7. The Manly Scent. Portland General Store Whiskey Cologne. Not only do Portland General Store's colognes smell incredible, they're also made entirely from all-natural ingredients. Their Whiskey scent (my personal favorite) combines wood and amber with spice and floral for a fragrance that's both unique and masculine.
8. The Pants. Mollusk Twill Pants. What's better than a pair of American made, 100% cotton twill trousers? A pair of American-made, 100% cotton twill trousers that are on super sale. These Twill Pants from Mollusk look great, fit great, and are now only $52 a pair.
9. The Cushioning. Amana Tartan Plaid Blanket. For viewing a drive-in film, you basically have three options: 1) Sitting in the seats inside your car, 2) sitting in the bed of your truck or the open hatchback of your car, or 3) sitting in camp chairs outside your car. Keep in mind that nearly every drive-in theater runs the sound through a FM radio these days, so if you're going to sit outside, you may need to bring a separate battery-powered stereo with you. If you're going to choose options #2 or #3, you'll need some blankets/pillows to sit on (and cuddle with). These Amana blankets are made in Iowa with comfortable, cool cotton.
10. The Snacks. Another reason a drive-in date is a good bargain is that you can bring your own snacks. Be sure to grab your favorite movie candy from a drugstore on the way.
11. The Beverage. Boylan's Cola. Bring your own drinks as well. Make 'em a little special, like Boylan's old school, cane sugar-sweetened cola. Came in second place in the AoM cola taste test.
12. The Buttery Goodness. You can bring your own munchies, but it's always nice to get some hot, freshly popped popcorn from the snack bar. Supports the drive-in theater too, and they could use all the help they can get!