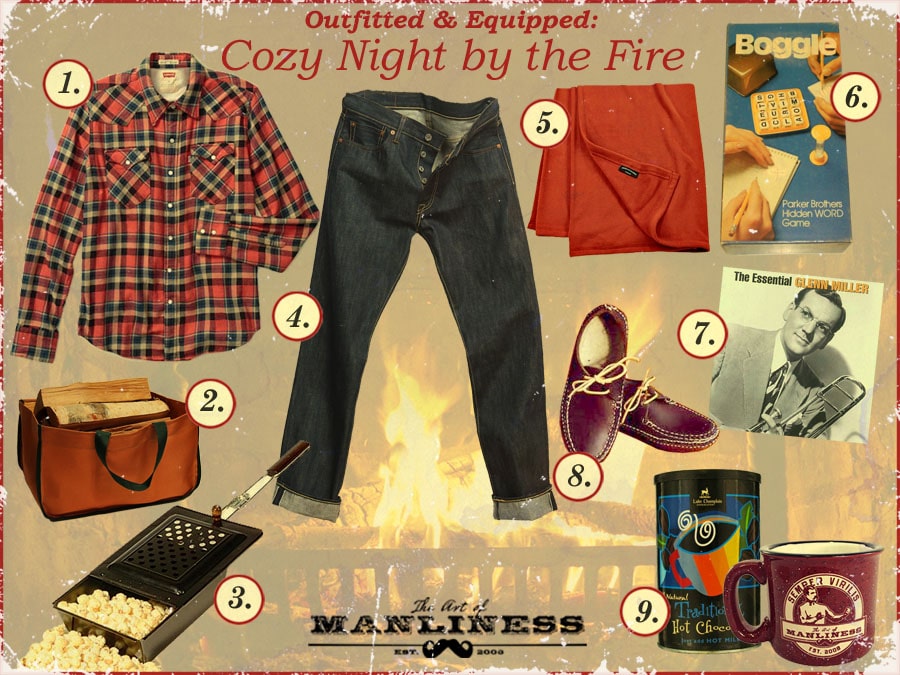 Sitting in front of a warm, glowing fireplace is truly one of the best parts of the season. The heat from the flames and the crackling of the logs seem to tap into the primordial part of one's spirit, conjuring a sense of comfort and safety that was felt by our ancestors for millennia. This feeling is only heightened around the holidays, as it mixes with the good cheer and nostalgia in the air.
The aura of relaxing comfort that emanates from one's fireplace lends itself particularly well to being shared with others – especially your main squeeze. So for your next date night, instead of going out amongst the hustle and bustle of holiday shoppers, stay in for a cozy night by the fire. Here are some things that will make the evening especially enjoyable and romantic:
1. The Shirt. Barstow Western Shirt. You don't need to get all duded up for an in-house date night, but you should still wear something handsome that will make the evening feel special, and make your date want to do some hardcore snuggling. This classic-looking shirt reminds me of my forest ranger grandfather (another fireplace fan) and will look equally handsome on the modern man.
2. The Warmth. Seasoned firewood + carrier. One of the banes of using a fireplace is having the smoke go into your house, instead of up the chimney. There are several things you can do to troubleshoot this problem (look for a whole post of tips later today), one of which is making sure your wood has been properly seasoned. Wood with even a little moisture creates much more smoke — get it as bone-dry as you can.
You'll want to keep the fire roaring all night, so also have a carrier to bring in bundles of firewood from your stock outside. This is a nice, sturdy made-in-America one at a good price.
3. The Cooker. Popcorn Popper/Chestnut Roaster. There's nothing like whipping up a snack right in the fireplace. An old fashioned popper lets you pop your kernels right over the flames. It can also double as chestnut roaster, making for the perfect edible accompaniment to "The Christmas Song." If you've never roasted chestnuts before, here's a primer on how to do it. In looking at the various campfire roasters out there, many can be had for cheap, but people complain in reviews about their flimsiness. Jacob Bromwell makes the only American-made one I know of, but the price they're currently charging — $125! — is astronomical. It seems to have more than doubled since we partnered with them on that how-to post. But I did some digging and found that it can still be had at a reasonable price in a few spots: on Amazon for $45.99 (only 2 left in stock!), and on Lehman's for $39.95.
4. The Pants. Levis 501s. You can't beat a classic. Straight leg fit with a button-fly. Get 'em in a dark wash — they'll look spiffier whether you're sitting by the fire with your gal or going out in something a bit more dressy.
5. The Cuddler. Blanket. You'll want a nice soft blanket to cuddle under. This soft, oversized fleece one is handcrafted in America, comes with a lifetime guarantee, and is offered at a very reasonable price for something domestically made.
6. The Entertainment. Analog game. To while away the time, play a board or card game. Kate's and my favorite? Boggle.
7. The Ambiance. Classic tunes. You can't go wrong with the Glenn Miller station on Pandora. The perfect mix of romantically nostalgic tunes. Post-Thanksgiving I recommend the Pandora's White Christmas station. Classic holiday cheer.
8. The Footwear. Arrow Company Moccasins. There is only one appropriate footwear choice for a cozy night by the fire: moccasins. For those who like a minimal moc without all the fluffy fleece inside, these ones are handmade in Hudson, Massachusetts and are handsome enough to double as a driving shoe for errands around town.
9. The Beverage. Art of Manliness Mug + Hot Chocolate. To wash down your popcorn or chestnuts, make up a couple mugs of hot chocolate (it is an aphrodisiac, after all). And of course the only appropriate vessel for such a manly beverage is the Art of Manliness mug. Even your lady will love handling its heft. For the mugs' contents, try Lake Champlain Hot Chocolate, made in the best state in the union, Vermont.