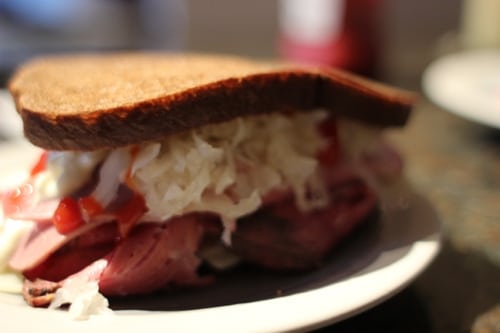 Welcome to the first day of the Art of Manliness Month of Sandwiches!
A few weeks ago I published my suggestions on upgrading the humble bologna sandwich. At the end of the post I asked readers to leave a comment with their favorite sandwich recipe. 483 of you deliciously delivered. Jeremy (AoM's newish editor and community manager) and I then combed through all of the sandwich submissions and picked 20 that we're going to highlight during April. Each weekday this month you'll find a new delicious sandwich recipe complete with photo instructions on how to construct it. I'm really looking forward to this. I've already made a few of these user-submitted sandwiches and all of them have been fantastic. Hopefully you'll glean some new ideas to add to your sammich repertoire.
At the end of the series we plan to compile all the sandwich submissions into an epic man-sandwich recipe book.
A note to all those who shared a sandwich I'm going to be highlighting: I know I won't make it as well as you, with all your exact signature touches. This is just one guy's first-time go at it.
Today's Sandwich: The Breakfast Reuben by Dan W.
I love breakfast and I love Reubens, so I had high hopes for this sandwich. Did Dan W. let me down? Let's find out.
The Ingredients
Rye bread. Marbled is Dan's preferred rye of choice, but he says dark or light rye work great, too. I couldn't find any marbled rye, so I just went with dark.
Swiss cheese or emmentaler (I used Swiss)
1 egg
Pastrami, corn beef, and roast beef (I just used a bit of pastrami and corn beef)
Horseradish sauce
Ketchup
Sauerkraut
Step 1: Fry Your Egg
Step 2: Place Cheese and Egg on Piece of Rye Bread
Step 3: Layer Meats and Kraut
Step 4: Add Ketchup and Horseradish Sauce
Step 5: Top with Bread
Step 6: Eat!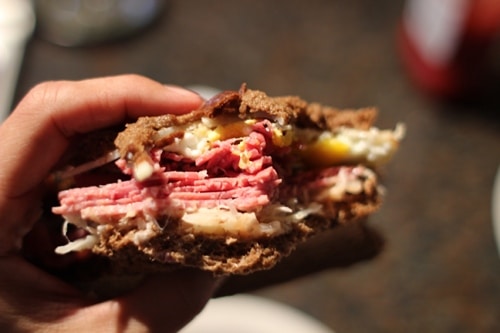 Taster's Thoughts
This is a solid sandwich. Savory and filling. The addition of a fried egg to a traditional Reuben sandwich is a deft touch. Despite being called the "Breakfast Reuben," I probably wouldn't eat this sandwich for breakfast. It's too salty for my tastes to start my day off with. It's a great sammy for a lazy Saturday lunch, though. Two thumbs up!
Tags:
Recipes