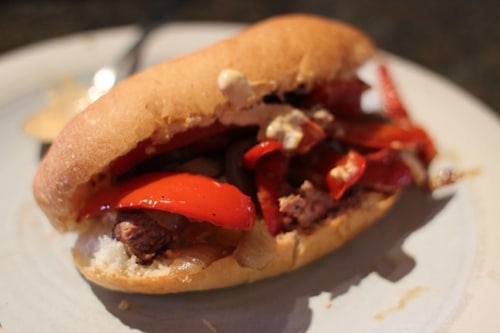 Welcome to Day #5 of the AoM sandwich project. Last month we asked readers for their best sandwich recommendations. Out of 483 submissions, we picked 20 to highlight here on the site each weekday during the month of April. At the end, we'll publish all the entries into an epic man-sandwich cookbook. Enjoy.
Today's Sandwich: The Drunken Steak Sandwich by Adam

Adam submitted an interesting take on the traditional steak sandwich, and by interesting, I mean all the ingredients are saturated with Rickard's beer. This looked a bit more challenging to make than the other sandwiches on the list, so I thought it would be fun to highlight a more complex creation. And since I'm actually a teetotaler myself, I figured it would be humorously ironic to cook with more beer than I'll drink in a lifetime. Will inebriating the ingredients make a ho hum steak sandwich really hum? Let's find out.
Ingredients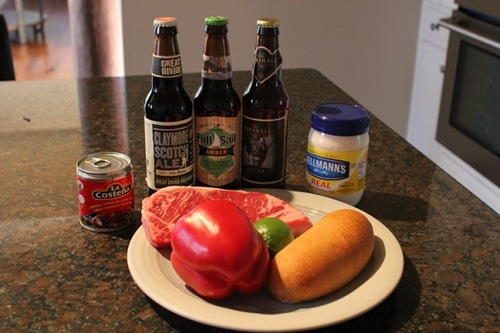 Rickard's Red (or any amber ale. I couldn't find Rickard's here in Tulsa, so I went with Full Sail Amber.)
Rickard's Dark (or any dark ale. I used Claymore's Scotch Ale from Great Divide Brewing in Denver, CO.)
Rickard's White (or any citrus ale. I used a Pale Ale from Marshall's here in Tulsa.)
Steak (I went to the grocery store at a weird time. Only thing they had was strip steak and filet mignon. I bought the strip.)
White onion (not pictured)
Red Pepper
Chipotle peppers
Lime (not pictured)
Mayo
Soy sauce (not pictured)
Cilantro paste (I didn't use this ingredient as I'm not a huge fan of cilantro)
Baguette (couldn't find a baguette, so I substituted a sausage roll)
Step 1: Marinate Steak
Step 2: Prepare Chipotle Mayo
Step 3: Cook Onions in Dark Ale
Step 4: Cook Red Peppers in Citrus/White Ale
Step 5: Grill Steak
Step 6: Slice Steak
Step 7: Slather Chipotle Mayo on Roll or Baguette
Step 8: Stack on Steak, Onions, & Peppers
Taster's Notes
This was a great sandwich. So much going on here flavor-wise. The smoky spiciness of the chipotle mayo went wonderfully with the beer-accented meat, onions, and peppers. I think if I were to make it again, I would have used flank steak instead of strip. I also think it would have been better with a baguette as called for in the original recipe.
The only downside to this sandwich is the length of time it takes to create. Not counting the few hours I marinated the steak, total prep time was about 40 minutes. Of course, things always take longer the first time you make them, so I'm sure I could reduce the time with practice. Nevertheless, as I typically turn to sandwiches as utilitarian, quick-to-assemble lunchtime grub, this would be one I'd personally save for dinner. A side of steak fries would go well with this sandwich. Natch.
Tags:
Recipes