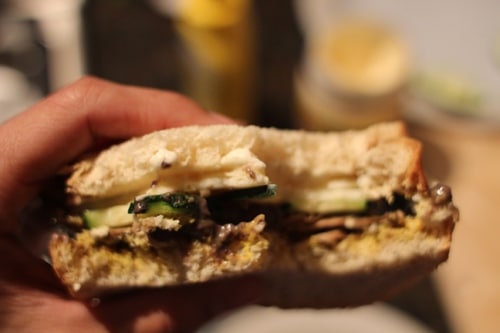 Welcome to Day #10 of the AoM sandwich project. Last month we asked readers for their best sandwich recommendations. Out of 483 submissions, we picked 20 to highlight here on the site each weekday during the month of April. At the end, we'll publish all the entries into an epic man-sandwich cookbook. Enjoy.
Today's Sandwich: Black Bean Veggie Sandwich by Scott
So far, all the sandwiches we've featured have had meat, so I figured it was time we throw a bone to our vegetarian readers (is that kosher?) and feature a sandwich sans carne. Kate, who isn't the biggest fan of deli meat, also wanted me to make a sandwich that she could share with me. This black bean veggie sandwich from Scott caught my eye. Will it make this carnivore a believer? Let's find out.
Ingredients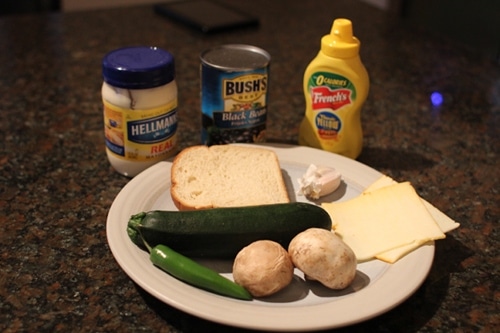 White bread
Mayo
Mustard
Cheddar cheese (I didn't have any on hand, so I used muenster cheese)
Zucchini
Mushrooms
Black beans
Red or green pepper (I used a jalapeño pepper — I like living dangerously!)
2 garlic cloves
Step 1: Make Bean Mix
Step 2: Thinly Slice Zucchini
Step 3: Slice Mushroom
Step 4: Add Mayo to Bread
Step 5: Add Cheese
Step 6: Add Zucchini Slices
Step 7: Stack Mushroom Slices
Step 8: Add a Dollop of Bean Mix
Step 9: Spread Mustard on Second Slice of Bread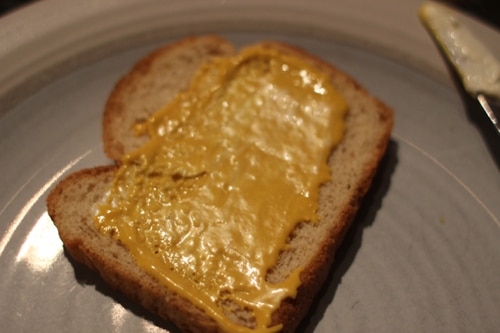 Finished Product
Taster's Notes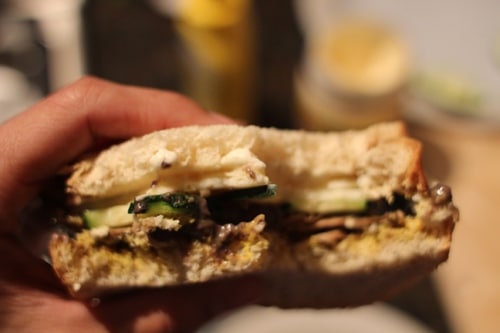 As a ravaging carnivore, I had my doubts about this no-meat sandwich. And my overly-pureed beans were not the most appetizing thing in the world. But I'll be darned if this sandwich didn't taste great. It was filling to boot! The bean mix was delicious — and there was plenty of it left over for several more sandwiches. The jalapeño gave it a strong kick of spice; if you don't like things forehead-sweating hot, use a bell pepper. The mushroom actually gave the sandwich a meaty texture. I can definitely see this becoming a regular sandwich for me. If you're a vegetarian, I highly recommend this one; if you're an unapologetic carnivore, give it a chance. You might be surprised.
Tags:
Recipes