Welcome to Day #12 of the AoM sandwich project. Last month we asked readers for their best sandwich recommendations. Out of 483 submissions, we picked 20 to highlight here on the site each weekday during the month of April. At the end, we'll publish all the entries into an epic man-sandwich cookbook. Enjoy.
Today's Sandwich: Asian Pear/Gouda/Turkey Sandwich by Tom

I've always been intrigued by sandwiches that feature some kind of fruit. I've seen apple, cranberry, and what I'm trying today, pear. I've never taken the plunge, however, and actually had one. This is a pretty simple sandwich, but has potential to have a bunch of flavor with its high-quality ingredients.
Ingredients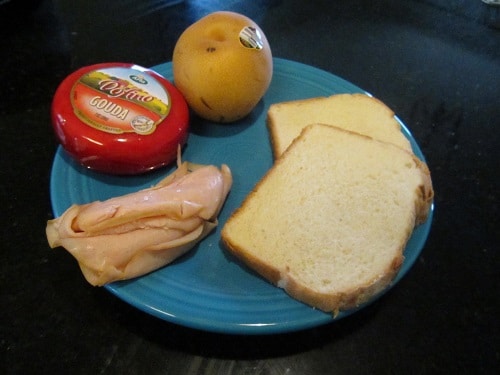 2 slices bread
Gouda cheese
Asian pear
Deli turkey
Step 1: Thinly Slice Pear
Step 2: Assemble Sandwich
Step 3: Slap Sandwich on the Foreman
Final Product
Taster's Notes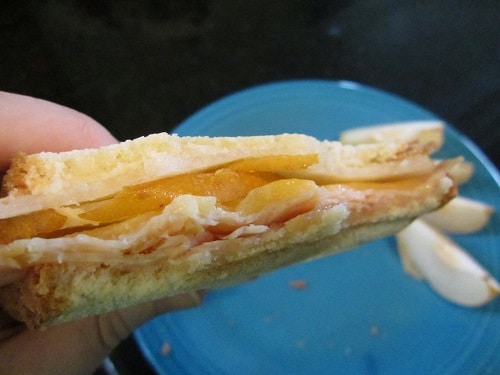 The fruit did not let me down! The sweetness was a great supplement to the turkey and Gouda. It was also nice that the sweetness factor had some crisp to it instead of coming from Nutella, as Brett got to experience. It wasn't overwhelming at all. It was also nice to enjoy the sandwich with the second half of the pear. I'll definitely experiment with more fruit creations. I'm especially curious as to what a flavorful green apple would bring to the game. As for this particular sandwich, I can't say I'd go out of my way to make it, but I'd definitely throw one together if I had the ingredients around.
Tags:
Recipes