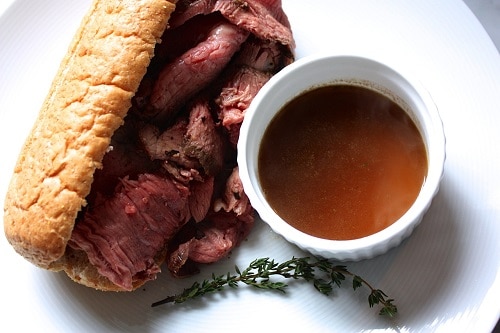 Welcome to Day #12 of the AoM sandwich project. Last month we asked readers for their best sandwich recommendations. Out of 483 submissions, we picked 20 to highlight here on the site each weekday during the month of April. At the end, we'll publish all the entries into an epic man-sandwich cookbook.
I invited AoM's food writer, Matt Moore, to contribute a sandwich to our sandwich project, and strongly hinted that making something with roast beef and au jus would be pretty awesome. Well Mr. Moore came through in a big way. This looks delicious!
Today's Sandwich: Roast Beef Au Jus by Matt Moore

Most often, life is better when you take the time to do things the right way – i.e., no short cuts. That lesson is especially true with this sandwich. Beloved by many, yet deemed too technical by most, the roast beef au jus sandwich is too often passed off by restaurants and home cooks with less than mediocre results. You know what I'm talking about — that concoction of dry, overcooked meat on stale bread served with a side of brown, salted water.
That doesn't have to be so. With some love and attention (and a bit of time) you can deliver a homemade version of this manly meal that is sure to impress.
Ingredients (serves 6, prep 25 minutes, cook 60 minutes)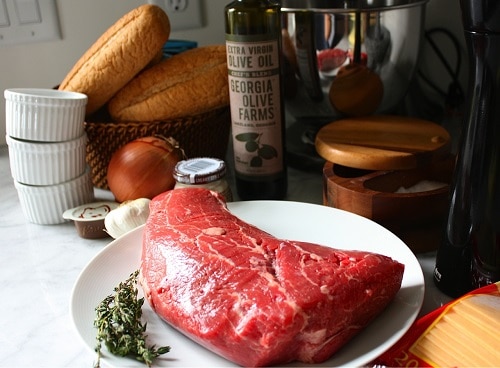 1 3lb eye of round beef roast
Extra virgin olive oil (I suggest Georgia Olive Farms)
1 head of garlic
Fresh thyme
Kosher salt
Fresh cracked pepper
8 cups beef stock
1 onion
6 hoagie rolls
Step 1: Prep Ingredients
Step 2: Season Meat & Let Sit at Room Temperature
Step 3: Start Au Jus
Step 4: Prep Pan to Sear Meat
Step 5: Sear Meat
Step 6: Roast Meat in Oven
Step 7: Rest Meat
Step 8: Strain Au Jus
Step 9: Reduce Au Jus
Step 10: Slice Meat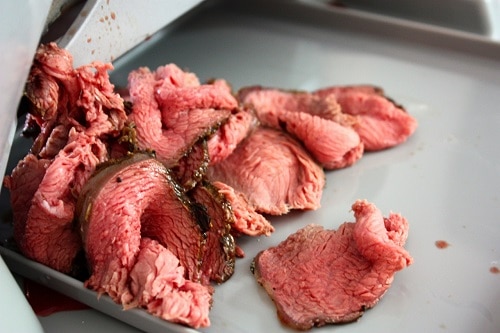 Step 11: Warm/Steam Bread
Step 12: Assemble and Enjoy!
Taster's Notes
All-in-all, this sandwich is a home run. For added flavor and flair, whip up some horseradish mayo (8 parts mayo to 1 part prepared horseradish) and serve as a condiment. You can also add in slices of Gouda or provolone cheese, sautéed peppers and onions, or sliced dill pickles – whatever you fancy. Truthfully, I love the simplicity of the perfectly cooked meat, served with the savory dipping jus. Pair with a cold Yazoo Pale Ale and life is pretty darn good.
Tags:
Recipes