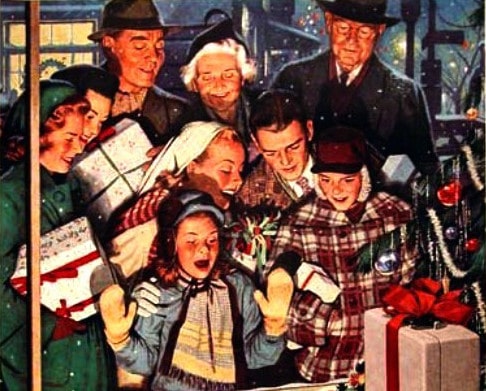 Merry Christmas! The crew at the Art of Manliness will be taking the coming week off to spend time with family and reboot before the new year. So we won't be publishing anything new on the site until January. But for those of you who still need an AoM fix while we're away, we've put together this recap of 2014 on the Art of Manliness.
Let's take a look at the big AoM happenings of the year.
Most Popular Posts Based on Traffic
January: 20 Aphorisms That I Thought Were Dumb as a Boy But Now Appreciate as a Grown Man
February: How to Survive Falling Through the Ice: An Illustrated Guide
March: 3 Ways to Escape Zip Ties: An Illustrated Guide
April: How to Tuck in a Shirt
May: The Tactical Order of Dressing: An Illustrated Guide
June: How to Make Small Talk With Strangers: My 21-Day Happiness Experiment
July: The Myth of the Alpha Male
August: How to Undo the Damage of Sitting
September: Love is All You Need
October: How to Gird Up Your Loins: An Illustrated Guide
November: Reviving Blue Collar Work: 4 Myths About the Skilled Trades
December: How to Use Your Baby as a Piece of Exercise Equipment
Editor's Picks
Of course traffic isn't the only measure of the worth of an article. Here are some of our personal favorites from this year:
10 Overlooked Truths About Taking Action
Communities Vs. Networks: To Which Do You Belong?
The 3 P's of Manhood: A Cross-Cultural Examination of Masculinity Series
Why Barbells Are Better Than Machines
Jumpstart Your Journaling: A 31-Day Challenge
Why Every Man Should Be Strong
Semper Virilis: A Roadmap to Manhood in the 21st Century
The Effect of Porn and How to Quit Using It (Series)
John Boyd's Roll Call: Do You Want to Be Someone or Do Something?
The Tao of Boyd: How to Master The OODA Loop
You Don't Have to Be Your Dad: How to Become Your Family's Transitional Character
Exploring Whether College Is the Right Choice for Everyone (Series)
What Good Shall I Do This Day?
We're Going to Hell in a Handbasket! Hooray! Why Every Man Should Embrace the Jeremiad
Why Growing Up Is Hard to Do (But the World Still Needs Adults)
Why You Should Parent Like a Video Game
4 Lessons in Manliness from Louis Zamperini (Be sure to check out the contents of his life raft as well)
Be a Time Wizard: How to Slow Down and Speed Up Time
A Crash Course on Jazz Appreciation
Series on Reviving Blue Collar Trade Work (to be continued in 2015!)
The AoM Archives
If the above articles aren't enough to satiate your AoM appetite, I highly recommend browsing through our archives. We have over 2,300 articles in there waiting to be discovered.
Videos
In addition to all the written content that you can find here on the site, we also produce a video each week. You'll find how-tos and more philosophical videos geared to helping you become a better man. You can find all our videos on YouTube. While you're there, make sure to subscribe to our channel so you get updated as soon as we publish a new video.
Here are a few of my favorite videos we put out this year:
How to Shave with a Straight Razor
How to Make Small Talk With Strangers
Podcast
I had a lot of great guests on the podcast this year. One of my goals in 2015 is to improve the sound quality and bring on even more useful and interesting guests.
If you haven't yet, I highly recommend subscribing to the AoM Podcast. It's a great way to get your AoM fix while commuting or working out.
Here are a few of my favorite episodes from this past year:
The Art of Roughhousing With Anthony T. DeBenedet
The Manliness of Jack London With Earle Labor
The Charisma Myth with Olivia Fox Cabane
Roman Honor With Carlin Barton
Barbell Training with Mark Rippetoe Part 1 and Part 2
The Myth of Following Your Passion with Cal Newport
Target Focus Training with Tim Larkin
Left of Bang with Patrick Van Horne
Other Art of Manliness Projects in 2014
Besides our regularly scheduled content, we also launched a few large projects:
New Site Redesign. Back in June we did a complete overhaul of the site. It's now mobile and tablet friendly. Due to popular demand, we're also working on an app that will be out in several months.
Heading Out on Your Own: 31 Life Skills in 31 Days. We took a series of blog posts on basic life skills that we did back in 2012 and turned it into a book. It's available in paperback on Amazon and in our store. You can find e-book versions for Kindle, iBooks, and Nook. We also have an .ePub version.
New Art of Manliness Products. We launched several new products in the AoM store including:
A Thank You to Art of Manliness Readers
We're coming up on our seventh birthday this January! We work as hard as we can every year to create useful, interesting content that both entertains and inspires. Thank you to every single reader who has supported our efforts by subscribing to the site and sharing our content with others. We wouldn't be here without you dedicated "evangelists of manliness." Thank you most of all to everyone who took a few minutes out of their day this year to share a kind word of appreciation with us. Such encouragement really means the world.
We'll be back in January for another year with y'all. Til then, have a Merry Christmas and a Happy New Year!
Semper Virilis!