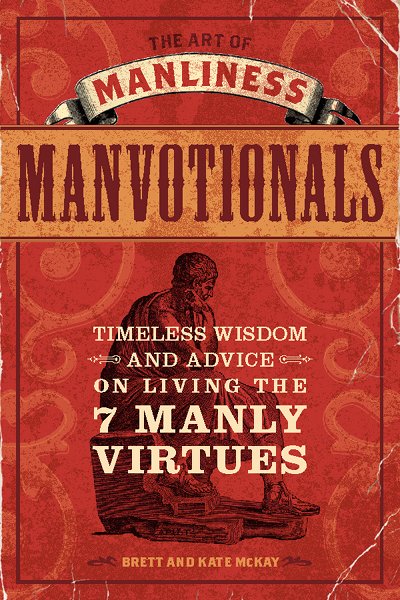 After a year of hard work, many all-nighters, and a few delays, we're happy to announce the launch of our second book, The Art of Manliness Manvotionals: Timeless Wisdom and Advice on Living the 7 Manly Virtues!
Manvotionals: Timeless Wisdom and Advice on Living the 7 Manly Virtues is a collection of the best advice ever written down for men. From the philosophy of Aristotle to the success books of the late 19th and early 20th centuries to the speeches and essays of leaders like Theodore Roosevelt and Winston Churchill, the book contains the manly wisdom of the ages–a myriad of poems, quotes, and essays designed to inspire men to live life to the fullest and realize their complete potential as men. The book is divided into 7 Manly Virtues, and each chapter begins with an introduction by the authors and is packed with words of wisdom to help the reader understand the virtue and become inspired to live it.
The book is the product of hundreds of hours spent digging through all sorts of writings from the last 2,000 years. After turning over every possible rock, we selected what we felt to be the very best pieces about being a man, and then extracted the most vital marrow from those selections to create an anthology that is both readable and enjoyable and thought-provoking and stirring.

To help you learn more about the book, here's the lowdown on it in handy question/answer format.
Q. What are Manvotionals?
A. Manvotionals is a series we started on the site a few years ago where we publish inspiring poems and excerpts from speeches, literature, letters, and essays on what it means to be a man. They're like non-religious devotionals for men. Hence the name, Manvotionals.
Q. Why did you decide to come out with a Manvotionals book?
A. Our first book, The Art of Manliness: Classic Skills and Manners for the Modern Man, centered on, as the name suggests, the practical how-to's of being a man. But while having that kind of skill set is important, even more important is the development of a man's mindset, the cultivation of the inner man. We thought a second book that focused on a man's character would be a worthy follow-up to the first.
Q. Why an anthology?
A. There are a lot of men out there who believe that manliness is abstract and meaningless. By bringing together the voices of hundreds of men who lived centuries apart, we hoped to show that not only does true manliness mean something, its meaning has been consistent for thousands of years. The different voices come together to form a splendid mosaic of manhood.
Q. Who is this book for?
A. It's for men in any situation in life: young or old, married or single, religious or not. The book can be enjoyed by boys and men from ages 12 to 92. Mom and sis will likely be sneaking peeks as well.
Q. Why should I read this book?
A. This book can offer your life direction and purpose, help you understand more about what it means to be a man, get you thinking about the kind of man you want to be, and inspire you to live your life to the fullest. I'm not a hype guy, and I don't want to oversell it, but I really think it can help change your life.
Q. Are the Manvotionals in the book the same ones that have been published on the site?
A. Some favorites that were published early on on the site were included in the book, but 75% of the book consists of Manvotionals that have not been published on the site; some haven't been reprinted anywhere else in a 100 years or more. We've been holding on to some of the best stuff we've come across, as we wanted the book to provide fresh inspiration to our regular, loyal readers.
Q. Should I buy the print edition or the eBook version?
A. I love my Kindle and mostly read eBooks myself. But I strongly recommend purchasing the print edition of the book. The book has 75 cool vintage illustrations and a great layout and design which gets a little lost in the eBook version. This is a book that feels very nice to hold in your hand.
Q. I'm planning on getting a copy for myself along with some for my friends, but I was going to buy them closer to Christmas. Is there any reason I should buy the book today?
A. Heck, we appreciate someone buying a copy any old time. But if you'd like to help support AoM as much as possible, we'd love for you to buy your copies today. A big launch day can attract attention and help bookstores decide to stock the book on their shelves.
If that still doesn't convince you, we're also throwing in some bonuses for those who buy this week. See section below.
Q. I'm buying copies for all my friends and family. Who else should I gives copies to?
A. I think it would be pretty cool to buy a copy to give to your local public or high school library, so guys in your community can check it out for free. If you're a doctor, dentist, mechanic, or barber, you can buy a copy for your waiting area. Buy a copy or several for your frat house or church's men's group. Or buy a box full and drive around town throwing them out the window for men to find and yelling, "Long live manliness!"
Q. Besides buying a book today, what can I do to help support and get the word out about this book?
A. We don't have much of an ad budget to promote the book, so we need your help to spread the word about Manvotionals. Here are a few ways you can help:
Email your friends about the book
Ask your local bookstores to carry Manvotionals
Donate a copy of Manvotionals to your local library
If you use Twitter, send out a tweet about the book
If you have a blog, blog about the book
If you liked the book, please post a review on Amazon and let other people know!
Q. Okay, I'm still on the fence about buying a book. What can you say to push me over?
First of all, it's only about $10. That's the price of a movie or a couple of Starbucks' coffees. You can probably buy the book by cashing in the coins sitting in the jar on your dresser. Or think of it as only an hour and a half of work at a minimum wage job and in return you get several hours of reading enjoyment. A great return on investment.
Second, it's a way to give back to AoM. The site is coming up on its fourth birthday, and we've published 1,235 interesting, inspiring, entertaining, top-quality free articles in that time. Keeping the site 100% free has been a matter of pride for us. We've tried to run the site with a lot of integrity and to let the articles be accessed by as many folks as possible. So if an article on the site has ever provided you with inspiration, direction, or enjoyment, I hope you'll consider giving back by buying a book today.
Thanks so much for the support everybody. We deeply and truly appreciate it!