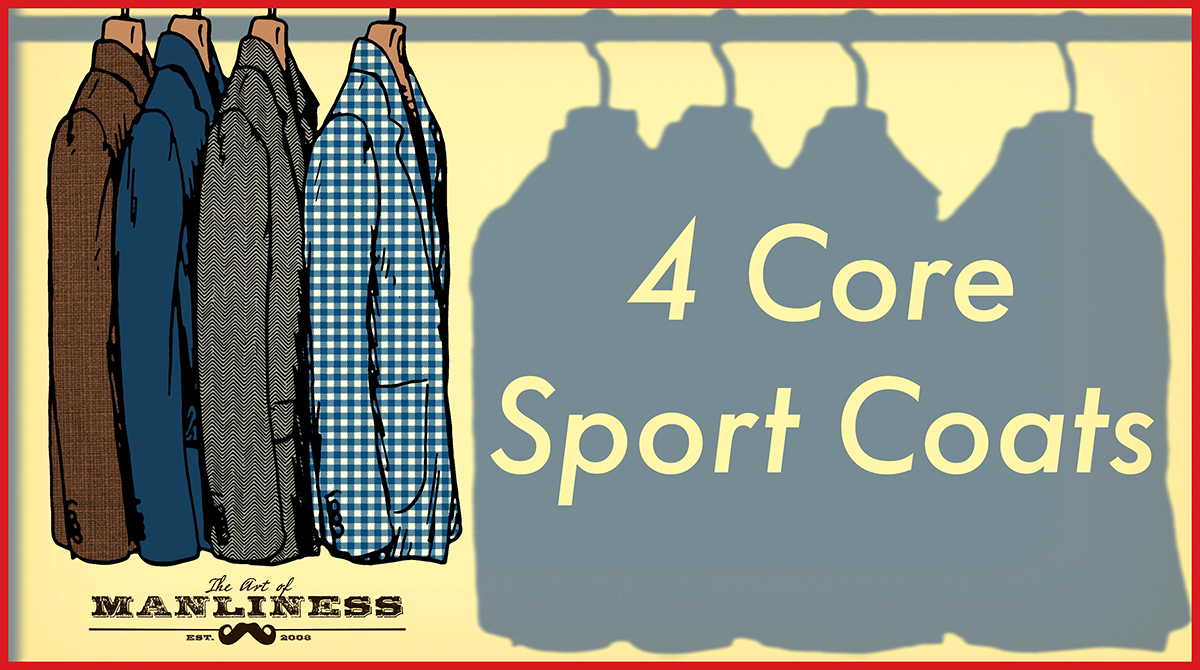 We've highlighted the benefits of sport coats numerous times here on AoM: they lend you a fitter, more masculine silhouette regardless of your body shape; offer plenty of pockets to stash your stuff; and give you a removable layer that helps you adjust to changing temperatures. Perhaps best of all, these versatile garments allow you to look sharp and put-together — in a variety of situations, with a variety of dress codes — without appearing too formal or overdressed.
Need we go on?
You may have been convinced of the desirability of adding a sport coat, or several, to your wardrobe, but just haven't known where to start, and/or how to expand your collection. How many sports jackets does a man need, and what kind of jackets should they be?
The number will really depend on your lifestyle: the climate and local culture of where you live, your personal style, and how often you have the opportunity, and simply the desire, to look snazzier both on and off the job.
With that in mind, today we'll suggest 4 types of sport coats that, for a good segment of men, will make for a well-rounded, yet un-bloated wardrobe. Changing seasons call for different colors and materials in sport coats, and these 4 will carry you through the whole year, and every kind of event, in style.
Hopsack Sport Coat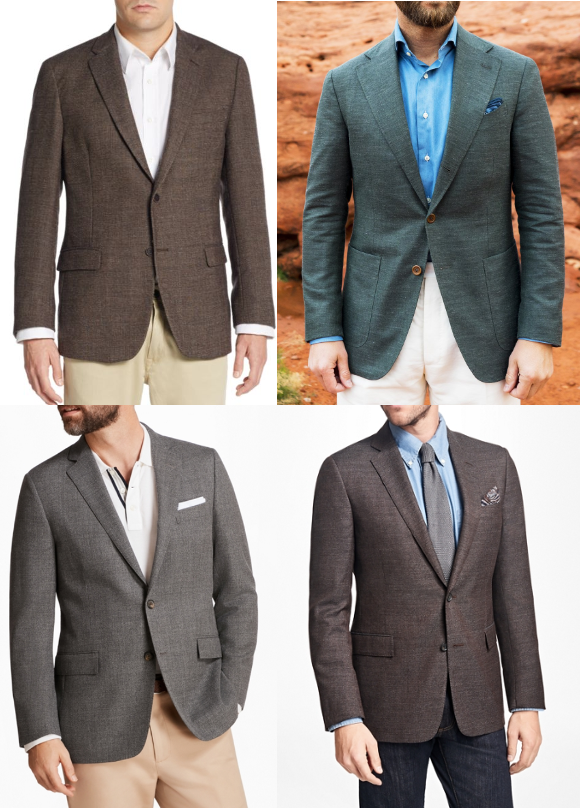 If you only have one sport coat, which kind should you own?
Many style experts will recommend a navy blazer as the first, core piece of your jacket wardrobe.
I disagree though. Navy blazers are certainly sharp and versatile (and have a spot on this list). But I find I really don't wear mine very often; it never seems quite right for the social and professional occasions in my life (being a little too formal), and I don't think I look as good or feel as good in it as I do in another one of my jackets: the hopsack sport coat.
In our more casual society, I think one's foundational, and perhaps only, sport coat should be a bit more laid-back. That's where the hopsack comes in.
The "basket weave" of this wool coat keeps it very light, breathable, and naturally wrinkle resistant, and gives the material a coarser texture and the kind of sporty feel that makes it look great with jeans — which really, is what you wear sport coats with most often these days. At the same time, the weave still feels substantial and drapes nicely, so that you can dress the jacket up with trousers or khakis if you wish.
The hopsack sport coat is at least a 3-season piece, and can go all year in many places. The airy yet substantial weave makes it fine for the summer, most at home in the fall and spring, and passable in the winter — if you live in a place that's not too frigid.
Brown's a great color for this jacket, as it's neutral and versatile and pairs well with denim. Gray is another good option. Consider going for one in green, if you plan to pair it often with khakis and/or trousers.
Functional and handsome, you'll find yourself throwing on your hopsack sport coat for everything from date night, to a company dinner, to parent/teacher conferences, to your travels and trips.
Navy Blazer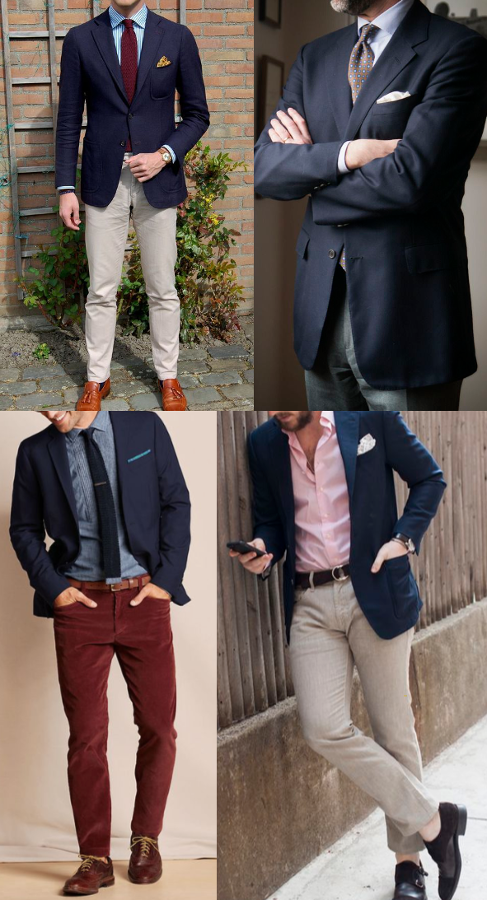 The above caveats aside, the navy blazer is a good staple to have in your wardrobe. While, just like the other jackets on this list, the blazer can be worn in more casual situations, it alone can be dressed all the way up to the semi-formal and business professional range.
For the blazer isn't technically a sport coat at all, but its own kind of garment, differentiated by a simpler, sleeker, smoother, "hard-finish" wool fabric and a more structured fit.
On the formality scale, the blazer resides just below the suit jacket and just above the sports jacket, but can be dressed up or down to encompass a wide variety of styles and dress codes. While blazers come in various colors, the most traditional is navy blue. Sharp and masculine, a navy blazer can be worn year-round and goes with just about everything.
That includes jeans, though the formality of the jacket doesn't pair best with denim. If you want to wear jeans, the other jackets on this list would be better choices. For that reason, while choosing plastic or mother-of-pearl buttons that match or complement the color of the fabric is recommended if you want to give the blazer the most versatility (muted buttons give it a more casual look), if you already know your blazer is going to be the jacket you put on when you aren't wearing jeans, then dial the formality up to its fullest by going with classic, metallic buttons. Designate the blazer as your classy jacket.
Click here for tips on how to wear a navy blazer with style.
Thick, Textured Cold Weather Sport Coat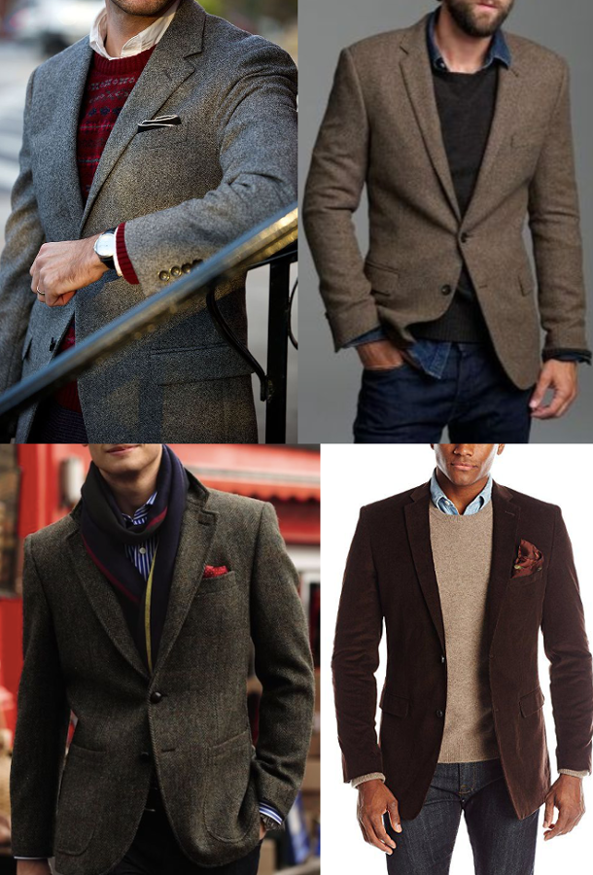 You could wear a hopsack jacket in the winter, but it's not ideal; not only is the fabric too light to keep you warm, it won't complement the heavier-weight garments you'll be wearing in colder weather either. That is to say, a thin sport coat doesn't look right when paired with thicker, chunkier trousers, sweaters, scarves, etc.
So, while you can skip this suggestion if you live in a temperate or consistently warm clime, if you live someplace where the temperature gets chilly, it's a good idea to invest in a thick, textured, wintertime sport coat.
Here I'm talking about jackets made with a fabric like tweed or corduroy. Fabrics with substance, warmth, and texture. You can do some interesting patterns here – checks, stripes, plaid – but as most guys have trouble even figuring out what to wear with a solid colored coat, I'd recommend getting just that, or something with a very subtle, minimal pattern (Herringbone is a safe way to add visual interest while keeping things simple). Brown or gray in color. Coats in this kind of straightforward style will go with the most things in your wardrobe, and be easiest to wear.
The sturdy jackets in this category have the same sharp-yet-casual vibe as hopsack coats, and can be worn in the same kind of situations; they're not business wear (unless you work in a more casual or professorial line of work), but more for social events and outside-of-work-work events. They look great over a sweater or under an overcoat; in fact, they can function as your overcoat, if you throw on a pair of gloves and a scarf (a great look), and the temps aren't too frigid. They look great with jeans, but can also work with nice wool trousers for dressier occasions.
Thin, Lightweight Warm Weather Sport Coat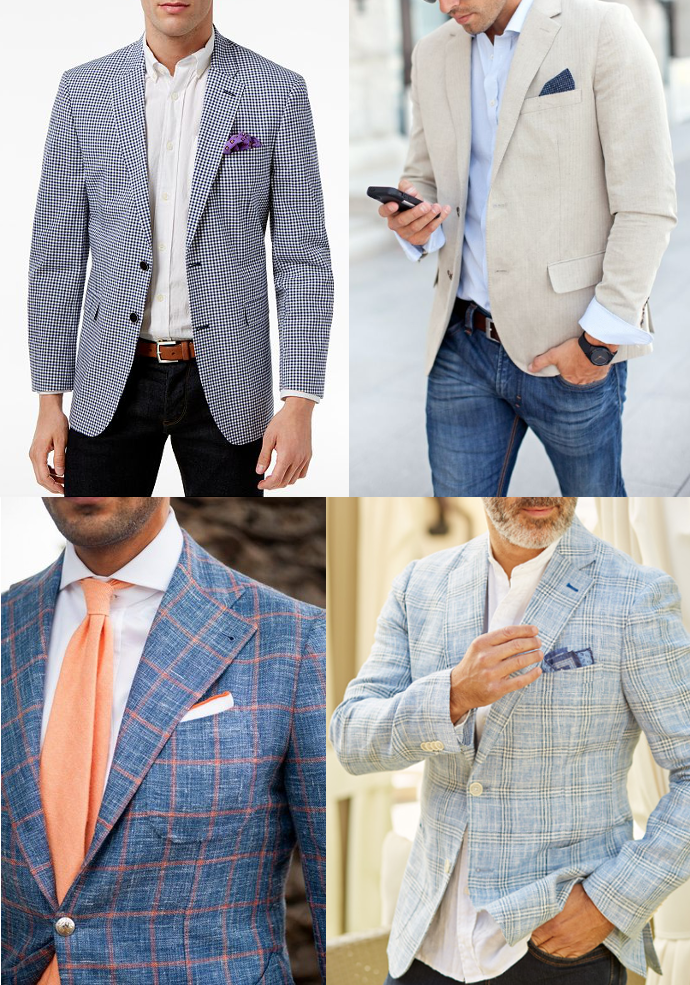 Here you have the flip side of the suggestion above: you could wear a hopsack jacket in the summer, but it isn't ideal, both because your warm weather jacket could be even cooler, and because it doesn't read as a "summertime" garment.
A hopsack sport coat is cool and breathable, but it's still wool; better to have a jacket that's made from lightweight, open-weave cotton or cotton blends — think linen or seersucker-esque materials. You'll also want a jacket that's only half-lined — that only has that silky inside lining in the sleeves (to allow your dress-shirt-sheathed arms to slide smoothly through them), but not in the torso — to maximize breathability.
You want your summertime sport coat to match the looser, laid-back vibe of the season. That means a softer, less structured construction (don't be afraid of a few wrinkles and rumples), and brighter, bolder colors and patterns. Though I'd suggest getting the other sport coats on this list in solid, neutral colors, summer is the time to break out of this box a bit. You'll pretty much only be wearing it with white or light-colored button-downs, so you don't have to worry so much about matching it with other pieces. Blue and white is a can't-miss summer jacket color combo, but try some interesting patterns with it — I like gingham check myself.
You don't necessarily need all 4 of the above sport coats in your wardrobe, but if you live in a 4-season locale, having them all at hand will ensure you always have a jacket that's ideal in function, feel, and look for each time of year, and for various kinds of events. Keep in mind you don't have to get all of the coats at the same time; start with the hopsack (or whichever kind of jacket you think you'll personally get the most use from), and then slowly build out some additional options over time.