With Memorial Day this week, we marked the unofficial start of summer. Sunshine, warmer temperatures, cookouts, and lake/beach vacations are on the horizon.
Gone are the fall and winter dishes of comforting risotto, lasagna, hearty soups, and stews. Summer ushers in a culinary season bright with fresh fruits and vegetables for use on the grill, in salads, and other lighter fare.
Yet, just because the warmer temperatures and bountiful harvests loom, that doesn't mean I've lost my cravings for comfort foods, otherwise known as carbs in my Southern vernacular. Regrettably, I'm still a few pounds heavier than my preferred 'vanity' weight required for poolside lounging. So I'm ready to put aside carb-heavy food along with my jackets and sweaters.
Of course, any diet should be one that focuses on moderation. Cutting out certain groups of food altogether leads to an eventual crash – rather than a lifestyle change of making healthy choices. That being said, one thing is certain with the workings of my own metabolism — when I cut out the carbs, I shed the pounds.
With that key component in mind, I've developed some low-carb comfort meals over the years that allow me to make better choices without sacrificing flavor. After all, one can only eat so many salads or lean proteins and veggies on a low-carb diet without searching for some flavorful alternatives.
Since pasta tends to be my carb of choice, I'm doing a remake of three of my favorite dishes with a vegetable twist. I'll give you the ins and outs of how cabbage, zucchini, and spaghetti squash can all be used to satiate that pasta craving without the guilt.
With that said, enjoy all your classics while looking your best throughout the summer season!
MM
German Braised Cabbage + Turkey Sausage (prep 10 mins, cook 15 mins, serves 2)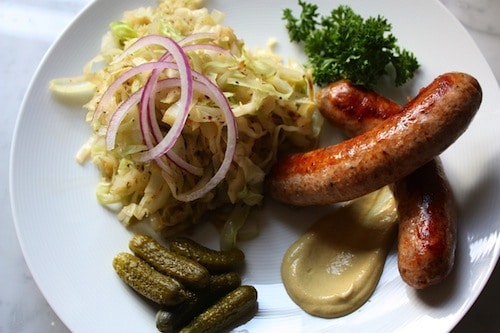 This comforting dish is typically served with a heaping of steamed egg noodles or mashed potatoes; however, I find that serving the sausages alongside shredded, braised cabbage gives much of the same payoff. Instead of a heavy gravy or brown sauce, the vibrant mustard helps to cut through the fat of the sausage while also ramping up flavor. You can substitute turkey or chicken sausage for the pork variety, if desired.
1 lb sausage kielbasa, Italian, etc., raw
1/2 head green cabbage, shredded
Red onion, thinly sliced
Assorted pickles
Spicy brown mustard
Heat a large sauté pan over medium-high heat. Add sausages, and cover with about 1 inch of water. Slowly cook sausages in a simmer for 6-8 minutes. Remove sausages and reserve 1 cup of cooking liquid. Place the same pan back over medium heat and brown sausages for 2-3 minutes each side, remove, and tent with foil to keep warm. Add cabbage and sauté in the drippings in the pan (add a bit of oil if necessary). Deglaze with reserved cooking liquid and continue to sauté, uncovered, until cabbage is tender – about 6-8 minutes. Season cabbage to taste with salt and pepper. When ready for service, place a heaping of sautéed cabbage on the plate and top with thinly sliced red onion. Serve alongside sausage, mustard, and pickles.
Bay Scallop Scampi + Zucchini 'Pasta' (prep 10 mins, cook 10 mins, serves 4)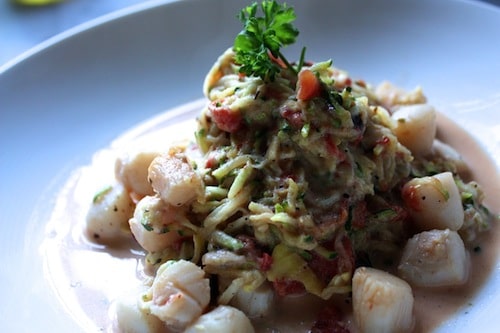 Seafood scampi is a staple around my house. Served traditionally with linguine noodles, it's the perfect pasta dish for sopping up all of the delicious and buttery sauce laden with seafood flavor throughout. Zucchini makes a great pasta substitute when you are looking to lighten up this classic. Using a vegetable peeler or food processor, one can thinly slice zucchini ribbons or grate the vegetable into thin strips to serve as a base for this great dish.
 4 large zucchini
Kosher Salt
½ stick unsalted butter
4 cloves garlic, minced
½ cup dry white wine, or substitute chicken stock
1 16.5 oz can fire roasted diced tomatoes
½ lemon, juiced
Fresh cracked pepper
1 lb bay scallops, or substitute shrimp, crab meat, etc.
½ cup heavy cream
Parmesan cheese, grated
Using a vegetable peeler or food processor, carefully slice zucchini into thin strips.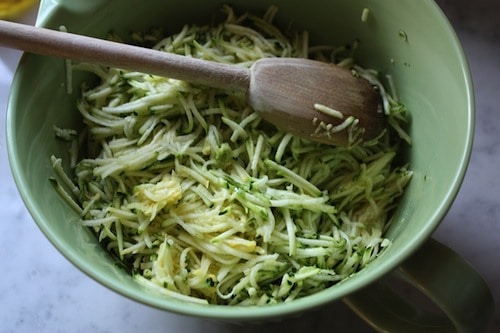 Season lightly with salt (to help 'pull out' the water) and place on paper towels to drain. Meanwhile, melt butter in a large skillet over medium heat; add garlic and sauté for 30–60 seconds, careful not to burn. Add wine, bring to a simmer, and reduce by half, about 2 minutes. Add tomatoes and lemon juice, season with cracked pepper and salt to taste. Next, add zucchini and scallops to poach in the liquid, stirring on occasion until scallops are firm to the touch and zucchini is al dente, about 2–3 minutes. Remove from heat, add cream, and stir to incorporate. Serve with grated parmesan cheese.
Turkey Bolognese + Spaghetti Squash (prep 10 mins, cook 1 hour, serves 6–8)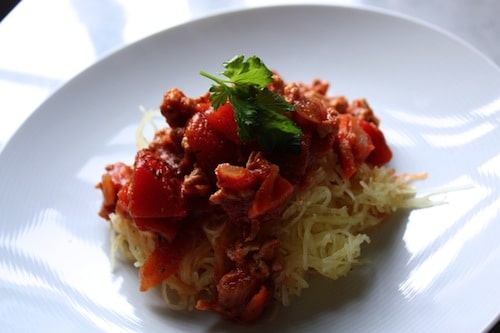 This is low-carb comfort food at its finest. If you've never cooked spaghetti squash before, now is the time to start. It's such a versatile pasta substitute that works with virtually any sauce – red, white, cream, etc. I've provided a step by step procedure for getting it perfect every time. To keep things healthy, I've also whipped up a quick bolognese sauce using lean turkey breast meat. For a vegan option, skip out on the turkey and throw in chunked portabellas. Either way, this recipe is rich and delicious, without the carb-laden food hangover.
Spaghetti Squash
2 large spaghetti squash
Kosher salt
Fresh cracked pepper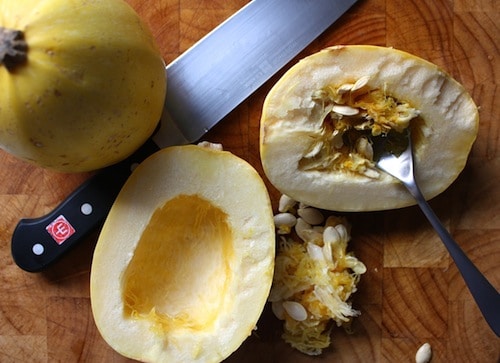 Carefully cut squash in half lengthwise and use a spoon to scoop out the seeds. Season the cut sides with salt and pepper and place cut side up into an oven at 400 degrees for 45 minutes.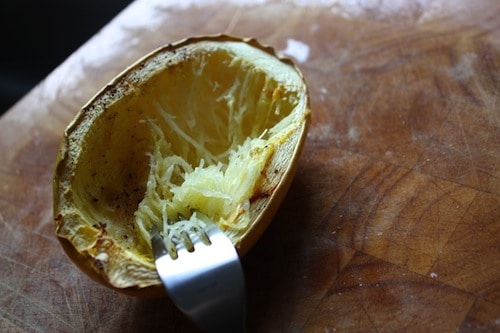 Remove squash from oven, drain, and allow to cool slightly. Use a fork to 'dig out' the strands of squash to be used as the pasta in the dish.
Turkey Bolognese
2 tablespoons extra virgin olive oil
1 onion, finely diced
2 carrots, finely diced
4 cloves Garlic, finely diced
Kosher salt
Fresh cracked pepper
½ teaspoon crushed red pepper flakes
1 teaspoon Italian seasoning
1 lb ground turkey breast
½ cup red wine
2 16.5 oz cans petite diced tomatoes
1 28 oz can tomato sauce
Parmesan cheese, grated
Preheat a skillet over medium-high heat, add oil. Add onions and carrots and saute for 5-7 minutes. Next add garlic and season with salt and pepper, Italian seasoning, and crushed red pepper flakes. Add ground turkey and cook until no longer pink, about 5 minutes. Deglaze pan with red wine and bring to a simmer to allow the wine to reduce by half. Finally, add diced tomatoes and sauce, reduce heat to low and simmer for 30–45 minutes. Serve over the top of the spaghetti squash with grated parmesan cheese to taste.
What are some of your favorite low/no-carb substitutions? Share some of your delicious recipes below!