These days, it seems that my life never gets any less busy. Just when I think I'm on top of things, another project or opportunity comes along that puts me right back behind the eight ball. I imagine most of you can relate. Between work, relationships, significant others, kids, (insert your own craziness) – life never seems to slow down.
It's no wonder why so many of us choose to "outsource" our meals to the local restaurant or drive-through. After all, it's much faster and easier to pick up dinner than spend your valuable time working away in the kitchen, right?
Not always.
Of course, I'm a bit biased, but I believe making food at home doesn't have to be such an involved process. Besides, you are likely to save money, calories, and potentially even relationships by sharing and preparing meals around the family table.
I've put together some of my favorite Southern-inspired comfort food recipes that can all be prepared rather quickly – perfect for a weeknight meal when life gets too busy. Rest assured, just because we're saving some time doesn't mean we are sacrificing any flavor! So the next time you are dialing for delivery or hopping in the car for take-out, give these recipes a try. I guarantee you'll find a favorite amongst the bunch.
Cheers,
MM
Sliced Vine Ripe Tomatoes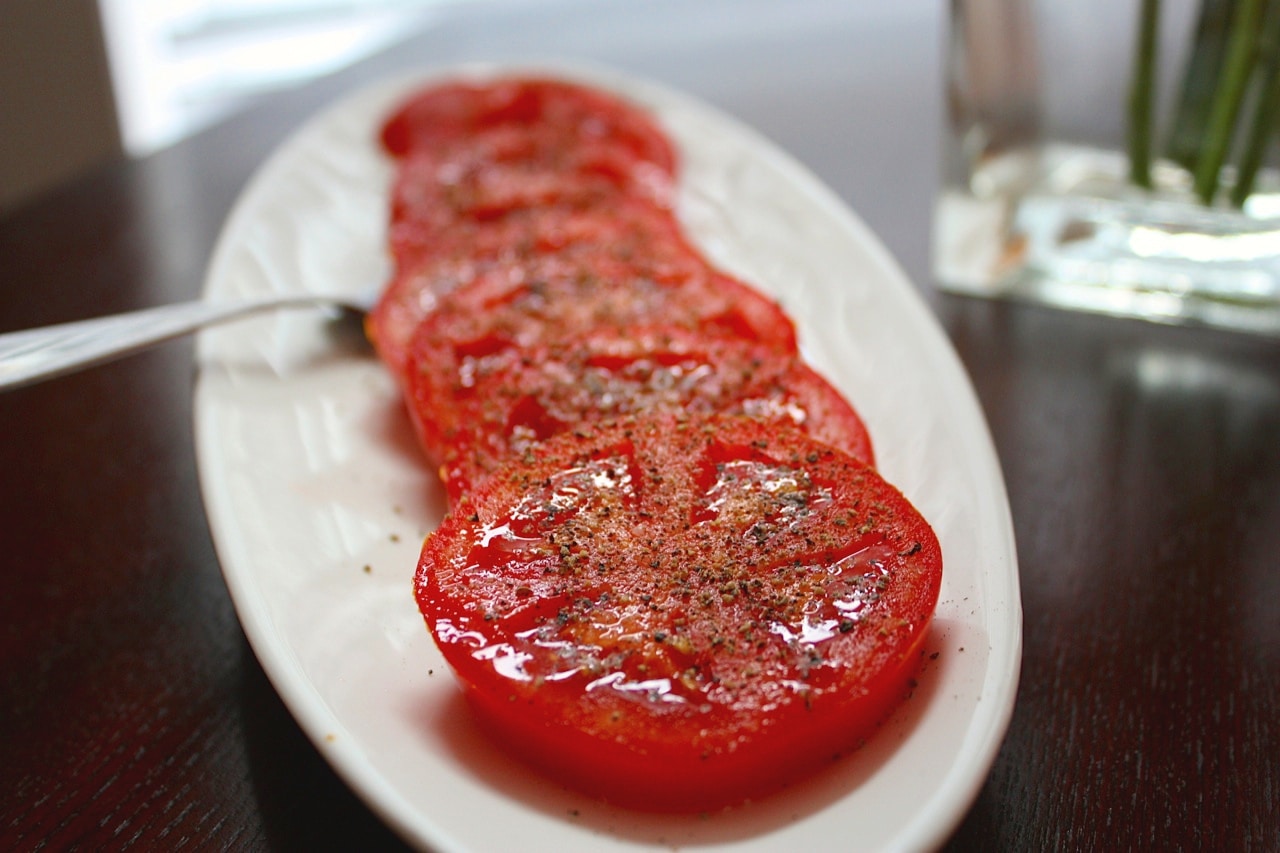 Yes, it's just that simple. Pick up tomatoes from your famers market whenever possible. Not only do they taste better, but they are typically much cheaper than those found in the supermarket. This makes for a great side dish or as a simple alternative to preparing a salad. (Prep: 1 minute, serves 4)
4 vine ripe tomatoes
Kosher salt
Fresh cracked pepper
Slice tomatoes and season with salt and pepper. Serve.
Quick Cook Grits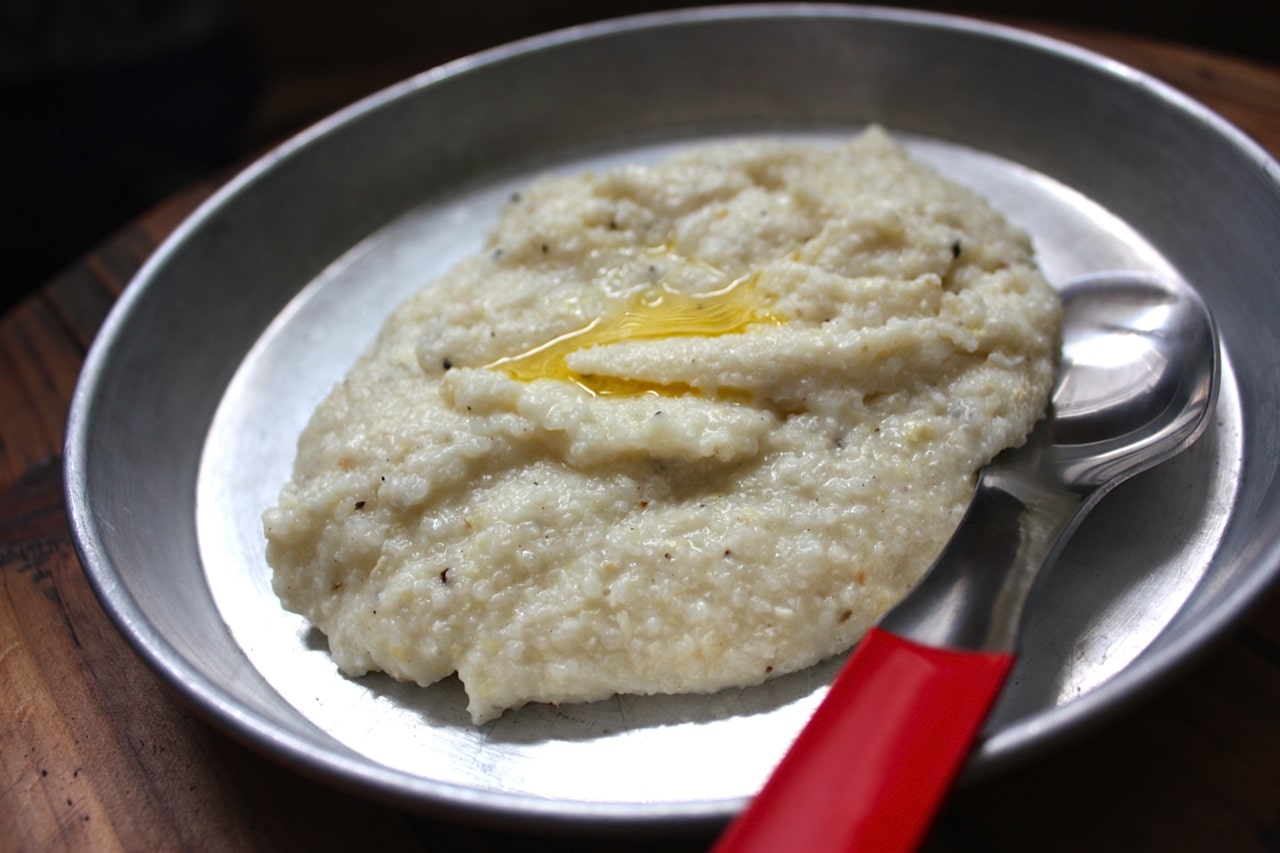 Nothing is more Southern and comforting than a bowl of creamy grits. To save calories, you can substitute olive oil for butter and omit the cream. (Prep: 1 minute, cook 10 minutes, serves 4)
1 Tablespoon unsalted butter
1 cup quick cook grits
3 cups water
1 teaspoon kosher salt
½ teaspoon fresh cracked pepper
¼ cup heavy cream
Combine the first 5 ingredients into a stock pot and bring to a slow boil over medium-high heat – stirring to ensure no lumps are formed. When mixture reaches a boil, cover and reduce heat to low; simmer for 7-8 minutes. Finish by adding cream, stir, and serve.
Roasted Broccolini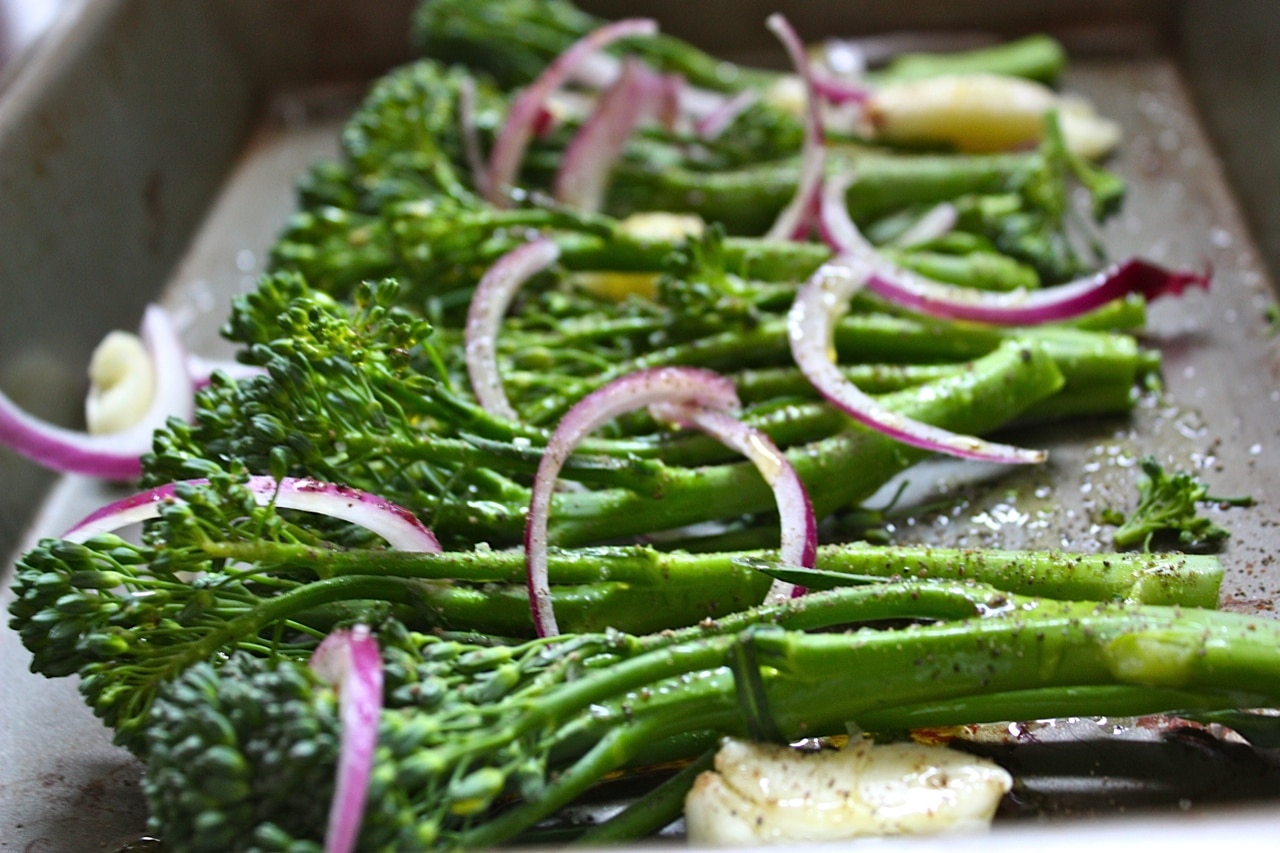 No Southern meal is complete without some greens. Instead of the traditional greens (collards, mustard, or turnips), I've chosen broccolini to help speed up the process and get dinner on the table. Substitute broccoli spears if you cannot find broccolini. (Prep: 1 minute, cook 15 minutes, serves 4)
1 bunch broccolini
¼ small red onion, sliced thin
2 cloves garlic, smashed
2 Tablespoons extra virgin olive oil
Kosher salt
Fresh cracked pepper
Preheat oven to 425 degrees F. On a baking sheet, arrange broccolini and onion slices into a single layer. Drizzle with extra virgin olive oil and season to taste with salt and pepper. Roast, uncovered, for 12-15 minutes. Discard garlic prior to serving. Serve.
Grilled Pork Chops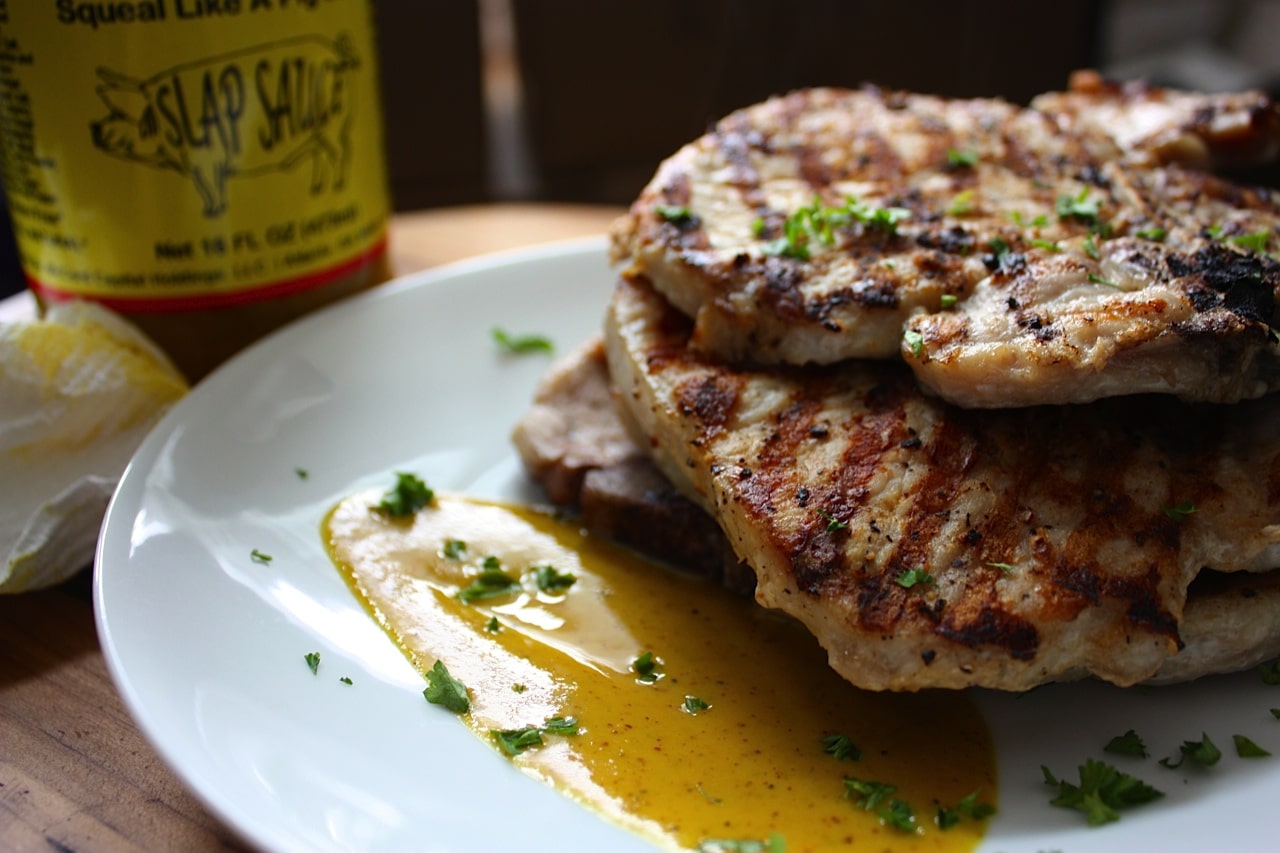 Thinly sliced, bone-in pork chops cook up quickly while still maintaining great flavor. Paired up with your favorite BBQ sauce – I recommend Slap Sauce – and this dish is sure to be a favorite. (Prep: 5 minutes, cook 10 minutes, serves 4)
4 thinly sliced bone-in pork chops
Extra virgin olive oil
Kosher salt
Fresh cracked pepper
BBQ sauce
Preheat a grill or grill pan over medium high heat. Drizzle chops with olive oil and season both sides liberally with salt and pepper. Grill over direct heat for 3-4 minutes per side. Remove from grill and rest for 3-5 minutes prior to serving. Serve alongside your favorite BBQ sauce for dipping.
Traditional Southern Pound Cake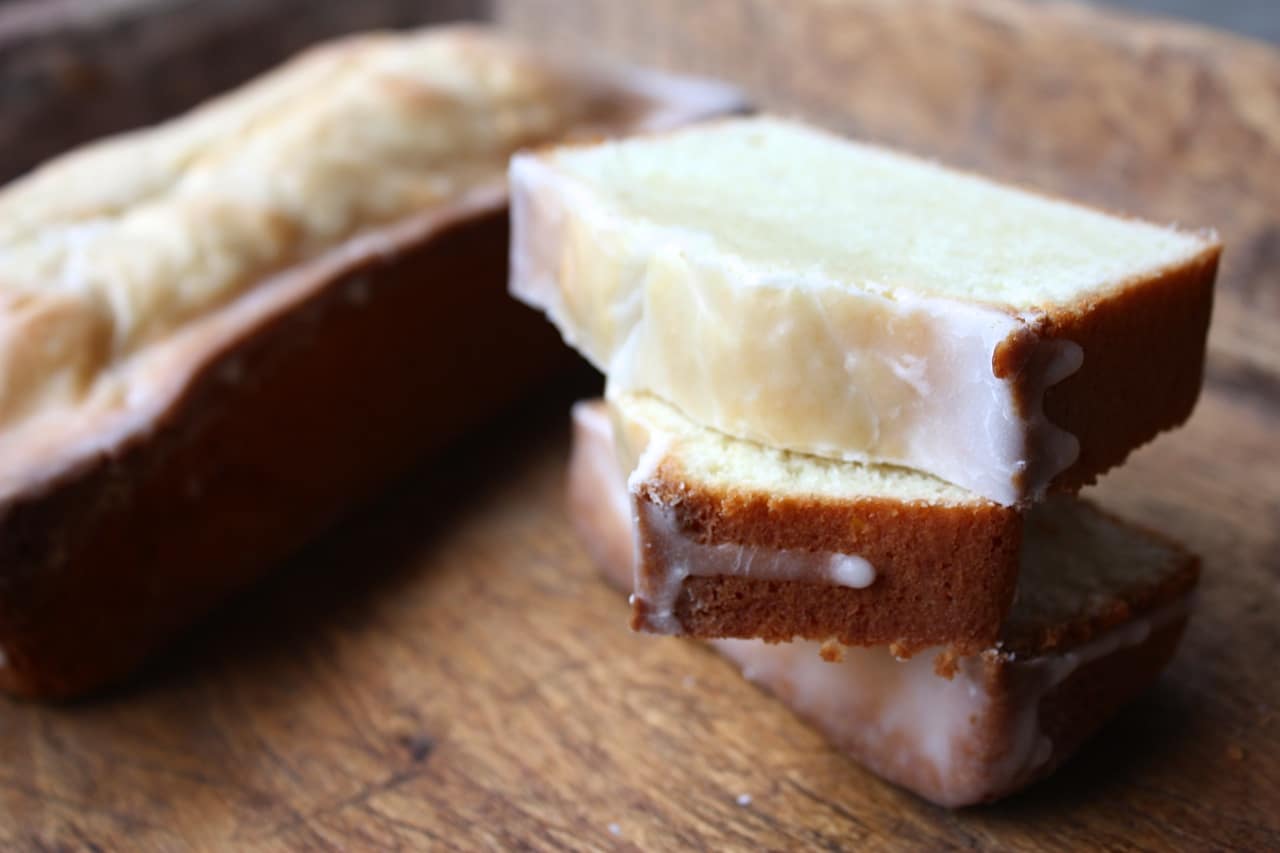 A relatively simple and delicious cake that keeps well all week long for dessert. Since this recipe takes longer to bake, I prefer to prep this before dinner and get it into the oven. You can make all of the other dishes, enjoy your meal, and pull this out just in time to enjoy a great dessert. Better yet, this cake serves as double duty in the meal department – making a great accompaniment to your morning cup of coffee. If you don't have time to bake your own (you do!), order your favorite cake online from Atlanta, GA's St Rita's Cake Company. (Prep 10 minutes, bake 60 minutes, serves 4-6)

3 cups of all-purpose flour
1 teaspoon baking powder
1/4 teaspoon kosher salt
1 cup (2 sticks) of unsalted butter, at room temperature
2-1/2 cups granulated sugar
5 extra-large eggs, at room temperature
3/4 cup half and half
1 Tablespoon pure vanilla extract
Preheat oven to 325 degrees F. Prepare a Bundt pan or loaf pan using shortening and dust lightly with flour. Put the flour, baking powder, and salt into a strainer and sift into a bowl; set aside.
Beat the room temperature butter on medium speed until creamy. Add the sugar into the butter 1/2 cup at a time and continue beating on medium until mixture becomes fluffy (about three minutes). Add eggs, one a time, to the butter and sugar mixture, blending each egg in before adding the next.
Reduce speed to low and begin to alternately add the flour mixture and the half and half into the creamed butter, starting and ending with the flour, until all is fully incorporated. Add the vanilla and blend it in. Pour the batter into the prepared pan and spread out the top evenly. Bake at 325 degrees F for about 1 hour or until a toothpick inserted into the center comes out clean.
Place the pan onto a cooling rack and cool the cake in the pan for 10 minutes. Turn cake out onto the rack and allow to cool completely.
Tags:
Recipes