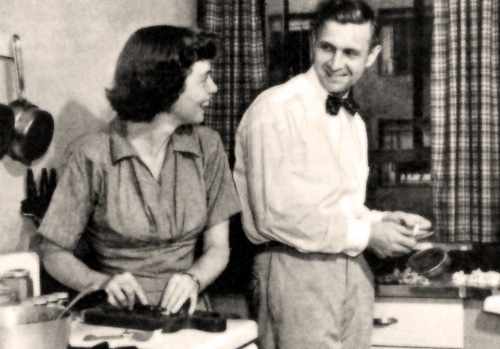 As kids, Momma would always allow my sister Ashley and I to pencil our dinner ideas into a monthly calendar. For her, such a practice created one less thing to think about — no more "what's for dinner" questions. Ashley and I also ensured that pizza and taco night were a weekly occurrence.
But every now and then, Daddy would catch wind of a meal that didn't suit his tastes, and that whole "plan" thing went kaput.
You see, Daddy is a meat-n-potatoes kind of guy. In other words, no frills or hard-to-pronounce dishes; he simply sought the comfort foods of his youth to ease the stress of travel and a busy work week.
On such evenings, I remember Momma spending a bit more time to make our nightly dinner — standing over the stove watching chickens fry to a golden brown in hot oil contained by a cast-iron skillet that was as old as the Great War.
Though I resented Daddy for scraping our planned pasta Mediterranean, it was typically just a few bites into Momma's Southern comfort foods that made such resentment quickly fade — leaving plenty of room for a satisfying food coma, washed down with gulps of sweet tea.
Nowadays, it seems that I'm always in flux, cooking my wife Callie and I a dinner based on what's in season, what I'm testing, or what's on sale at the store. I couldn't even commit to a weekly meal calendar, as it seems I've become a slave to life's demands, manuscript deadlines, and red-eye flights.
But sometimes — I put a stop to all that nonsense. I scrap the plans. Work can wait and travel can be rearranged.
It's in such moments that you'll find me in my home kitchen — not whipping up a soufflé or putting together a crudité platter. Rather, I'll be standing over that same hand-me-down skillet, frying up chicken in the tradition of my ancestors, and allowing the following dishes to remind me that dinner tonight is not just a monotonous planned activity — it's a chance to slow down and enjoy the best of what life has to offer. So, tonight, I'd like to thank Momma for teaching me how to fry the chicken, and Daddy for teaching me how to savor the entire flavor.
Cast-Iron Skillet Fried Chicken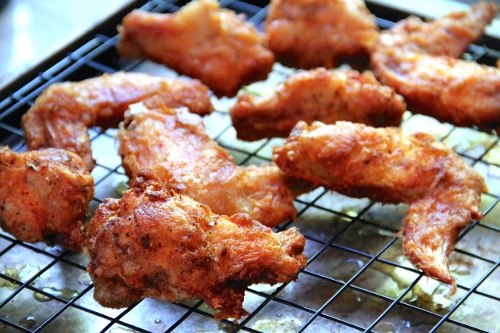 There is nothing better than frying chicken in a cast-iron skillet. Down south, such a method is the only way to "properly" fry a chicken – yielding a crispy golden skin, only to give way to moist, tender chicken. My grandfather, a butcher by trade, always said that the best frying chickens were those that weighed in at around 2-3 lbs. Finding a chicken that size is easier said than done nowadays, as most whole chickens are double that size — which certainly raises some concern! So, in this instance, I suggest buying a smaller organic or free range bird — you can taste the results. You guys have been clamoring for my grandmother's fried chicken recipe for quite a while — which this is not — I'm saving it for my new book! Regardless, this is a damn good version that wins approval in any Southern kitchen.
Ingredients
1 3lb chicken, cut into eighths
1 cup all-purpose flour
½ cup water
1 tbsp. kosher salt
1 tbsp. Louisiana Hot Sauce
½ tsp. fresh-cracked pepper
½ tsp. cayenne pepper
½ tsp. garlic powder
Peanut oil, for frying
Directions
Thoroughly wash and rinse chicken under cold running water, pat dry, and place into a large mixing bowl. Combine the remaining ingredients, except oil, and use your hands to work the flour mixture into a paste to coat the chicken — adding a bit more water if necessary. Cover chicken with plastic wrap and place into the fridge for at least 30 minutes, up to overnight.
Fill a cast-iron skillet with peanut oil until it reaches just over halfway up the side of the skillet. Over medium-high heat, bring the oil to 350 degrees F. Add chicken, working in batches of white meat and dark meat; fry the white meat pieces for 6-7 minutes per side, and the dark meat 7-8 minutes per side. Always ensure that you drop the chicken away from you in the oil to prevent hot oil from splattering on you during the process.
Remove chicken from oil and place on a wire rack to drain. Keep warm in a 200-degree oven until ready to serve.
Southern Style Potato Salad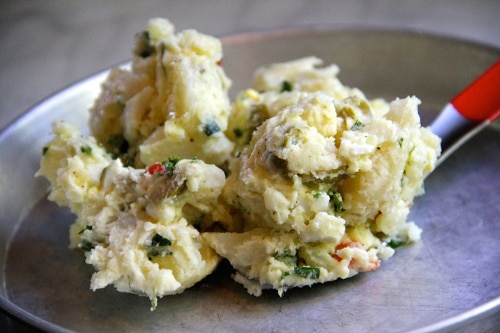 I've always been a fan of this carb-laden concoction. In my opinion, this is the perfect accompaniment to a basket of fried chicken. Served either freshly prepared and warm (my favorite), or chilled and served cold, this is a dish that always holds up as a hearty side. To cut back on fat and calories, I like to sub out some of the mayonnaise with Greek yogurt. I promise such a substitution hardly diminishes the flavor — and besides, it makes you feel just a little bit better about having that second helping.
Ingredients
3 lbs red potatoes, peeled and quartered
½ Vidalia onion, finely diced
4 hard-boiled eggs, peeled and diced
¼ cup sliced green olives with pimentos
1 cup mayonnaise
½ cup plain Greek yogurt
1 tbsp. yellow mustard
2 tbsp. finely chopped parsley
Kosher salt, to taste
Fresh cracked pepper, to taste
Directions
In a large pot of salted water, bring potatoes to a rolling boil over medium-high heat. Cook potatoes until they just give way to the pressure of a fork — do not overcook. Drain potatoes into a colander, allowing the steam to evaporate.
Combine potatoes with remaining ingredients into a larger serving bowl, mix until incorporated, and season to taste with salt and pepper. Serve immediately, or cover and chill until ready to serve. Note — if chilled, add in a bit more mayo prior to serving to get the same creamy texture.
Not Your Momma's Green Bean Casserole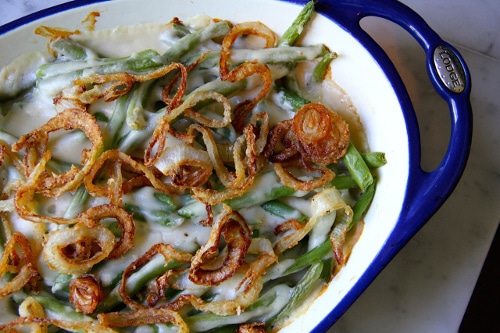 Sure, I've been known to use a canned concoction of condensed soup for green bean casserole from time-to-time, but this is not one of those moments. Instead, I skip out on that gel-like substance and create my own creamy sauce to layer with fresh green beans. Since we are already frying chicken, I toss in some onions for good measure to serve as a crispy and savory topping. The result? Oh yes — you'll never go back to the canned stuff again!
Ingredients
2 lbs. fresh green beans, ends trimmed and blanched in hot water for 30 seconds
½ stick unsalted butter
1 cup all-purpose flour
4 cups whole milk
1 tsp. kosher salt
½ tsp. fresh cracked pepper
1 ½ cups grated Parmigiano Reggiano cheese
1 Vidalia onion, peeled and cut into thin rings
Directions

Make the sauce by melting the butter into 1/2 cup flour over medium heat, whisking until combined. Next, add milk, whisk until combined, and allow the mixture to reach a slow rolling simmer. Remove from heat, season with salt and pepper, and fold the cheese in to melt completely.
Meanwhile, toss the onions in a mixture of 1/2 cup flour and 1/2 tsp. salt until just coated. Add the onions into the same skillet used for the chicken and fry until golden brown and crispy, about 5 minutes. Remove onions and place on a plate lined with paper towels to drain.
Preheat oven to 350 degrees F. Next, layer the beans into a large casserole dish and top with the cream sauce. Top with onions and bake until bubbly, about 25 minutes. Remove from heat, cool for 5 minutes, and serve.