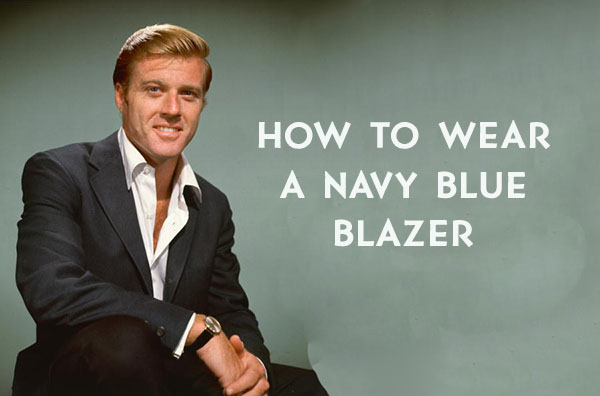 With simple lines and a flattering, masculine fit, the classic, nautical-inspired blazer jacket is a worthy men's wardrobe staple. It differs from a suit jacket in that it doesn't come with a matching pair of trousers and is thus a stand-alone separate that can be worn with different pairs of pants. It also differs from a sports jacket in that the latter is generally thicker, comes in a wider variety of fabric materials, patterns, and textures, and includes more design details like extra pockets, while the former is generally simpler and more structured with a thinner, smoother, "hard-finish" wool fabric. (You can learn more about the differences between the three jackets here.)
On the formality scale, the blazer resides just below the suit jacket and just above the sports jacket, but can be dressed up or down to encompass a wide variety of styles and dress codes. While blazers come in various colors, the most traditional and versatile of this already flexible garment is navy blue. Sharp and masculine, a navy blazer looks great and goes with just about everything. To enhance its versatility even further, choose one that is single-breasted, with plastic or mother-of-pearl buttons that match or complement the color of the fabric. While a double-breasted cut with brass buttons is most traditional, it's also more formal looking, limiting your ability to wear it in a more casual way.
While you can theoretically dress a blazer up and down, many men aren't sure what to wear with it generally, nor what to wear with it to suit particular dress codes specifically; consequently, their jacket sits in the closet, getting used less often than it could. So below we offer a descriptive and visual guide on to how to wear a blazer in everything from more formal to more casual occasions.
Semi-Formal/Business Dress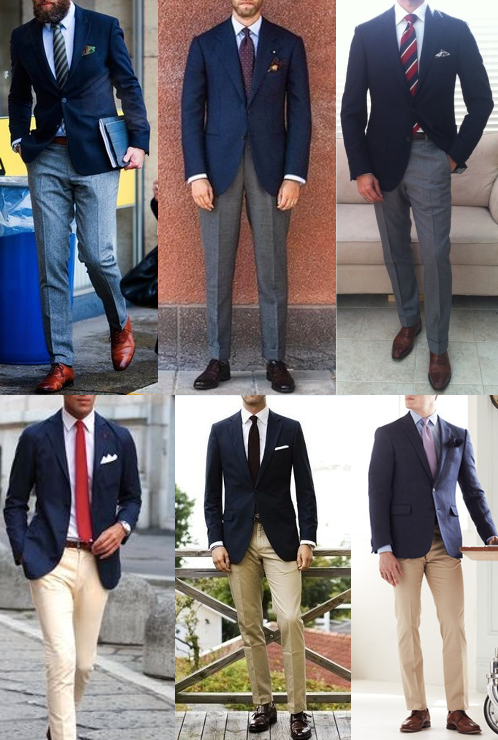 Traditional semi-formal calls for a dark-colored suit, but you can also get away with wearing a blazer with separate pants, especially if the event is in the daytime. Ditto for dressing up a blazer as business wear when you need to look professional, but don't need to wear a full suit. A more structured, tailored-looking jacket works best in these scenarios; if you own a double-breasted blazer and/or one with brass buttons, this is where it would be most appropriate to bust out.
On top, a light-colored shirt contrasts nicely with the dark blazer, so pair it with a white dress shirt for a more formal look, or a light blue shirt for a less formal one. On the bottom, you want to wear trousers that complement the blazer. Black and navy are out; you want your pants to neither be darker than your blazer, nor too close in color to it — otherwise, the overall outfit will look too much like a suit that doesn't quite match. Gray wool trousers are a great option; light-colored trousers or chinos are little less formal, but still look sharp.
A blazer is a simple jacket, so think about your accessories, too. Tucking a pocket square in the front pocket adds some visual interest, a nice striped tie lends the right level of formal panache, and a leather dress belt and leather dress shoes will pull the outfit together.
Dressy/Smart Casual
This category is really the sweet spot for the blazer. It's perfect for those times when wearing a full suit is out, but you still want to look sharp and put-together. Whether you're going out for a nice dinner, attending a networking event, going to an Easter church service, meeting your girlfriend's parents for the first time, or headed to back-to-school night, the blazer is a great choice.
The quintessential blazer combo is blazer + white button-down shirt + khakis. Worn with great-fitting garments, it's a simple get-up that can still really look sharp. But, it can also be a little boring and read as an older man's look (which may or may not be desirable, depending on your age). It's easy to mix things up a tad, though; sub in a light-colored, striped, or checked shirt up top, and even try rocking jeans on the bottom. Complement the look with leather dress shoes or boots and a more casual leather belt — solid, braided, or leather-backed ribbon. Consider tucking in an interesting-patterned pocket square for extra flair as well.
Casual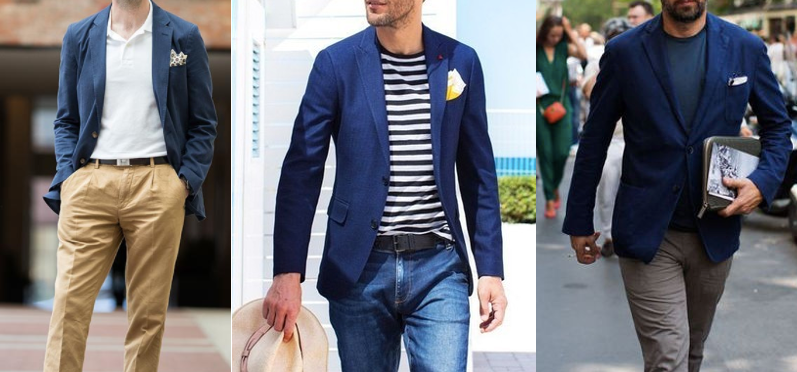 Like other sport coats, blazers don't make for the most natural pairing with very casual clothing. Their thicker fabric and more structured and formal look can clash with thinner, softer, baggier duds. Wearing a button-down shirt under a jacket will always look better, as the two garments complement each other. That being said, it's possible to wear a tee or polo shirt under a blazer and have it come off decently, as long as you keep a few guidelines in mind.
First, only pair a polo or t-shirt with a soft-shouldered, more unstructured, definitely single-breasted blazer, ideally in a natural fabric like cotton or linen. Make sure the shirts are solid or striped in color (no graphic designs). And know that the soft collar of a polo can rumple and collapse behind the collar of your jacket, so try to keep it upright and straight with its points inside the jacket's lapels; collar stays can help with this. Jeans or khakis will both pair well with a tee/polo + blazer combo, and can be worn with a casual leather or webbed belt, and boat shoes or canvas sneakers.
Let your blazer see the light of day more often by realizing it goes with many things you've already got hanging in your closet, and can help you look sharp on a wide variety of occasions.