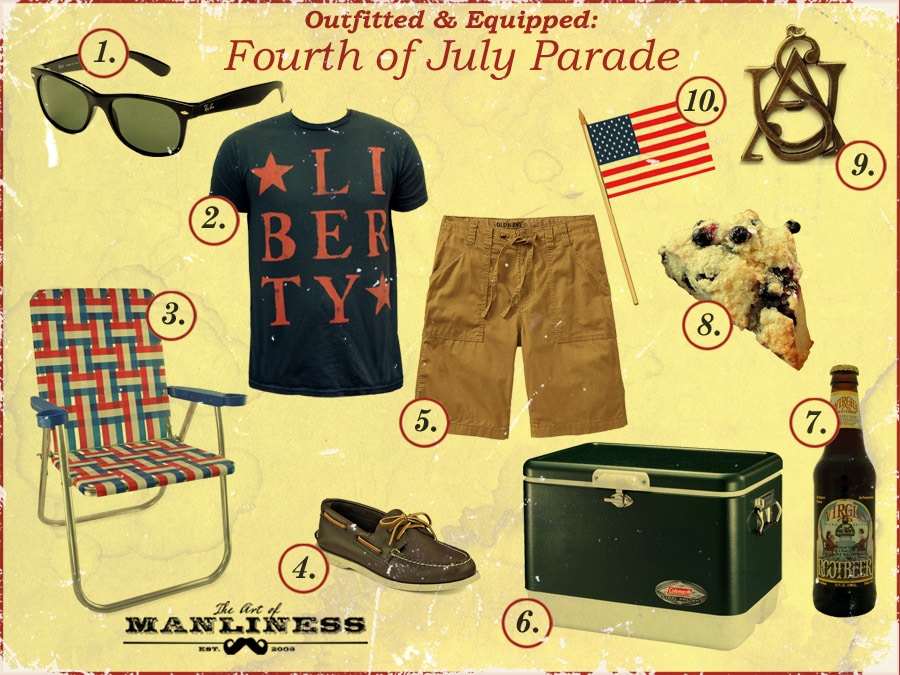 Independence Day is in two weeks. My family has always done the Fourth of July up big with lots of traditions. The day is filled with activities from morning until night; my family loves to cram as much fun as possible into the holiday. The highlight of the day has always been the Fourth of July parade in my hometown of Edmond, OK. The parade hasn't changed much in 20 years, but I still enjoy going to it year after year. I love the sense of community when I'm standing next to my neighbors cheering on the local Boy Scouts carrying flags or watching a local children's Tae Kwon Do class demonstrate their board-breaking skills along the parade route.
In today's edition of Outfitted & Equipped I highlight some of the things I'll be packing and sporting at this year's Fourth of July Parade.
1. The Shades. Ray-Ban Wayfarer. Classic, cool, and keeps the summer sun out of your eyes.
2. The Tee. Declaration Clothing Liberty. Style's not really a priority on the Fourth, at least for me. But one place I suggest a simple upgrade is the t-shirt department. Every year my mom buys us all Old Navy t-shirts with American flags emblazoned on the front. But they're not very spiffy (sorry mom) and donning a patriotic tee that's made in China doesn't exactly say "Happy Independence Day." Enter the tees from Declaration Clothing. Besides my bros at Tankfarm, these guys make my absolute favorite tees; I'm such a huge fan. They're all made in the USA and sport interesting, conversation-starting designs that draw on American history and symbolism. Their Liberty tee is perfect for the Fourth. They also make the "Join or Die" t-shirt I sported in the playground workout video that drew a good number of compliments.
3. The Chair. Lawn Chair USA Old Glory. The parade in Edmond can last a good two hours or more, so you're going to need a place to sit. These patriotic lawn chairs from Lawn Chair USA will do the trick. This American classic is made in Georgia, U.S.A.
4. The Shoes. Sperry Original Boat Shoe. My go-to summertime casual shoe. Here's how to wear them sockless without stinking up the joint.
5. The Shorts. Old Navy Utility Shorts. Simple, cheap.
6. The Beverage Container. Coleman Steel-Belted Cooler. Even at nine am, the temps on a July morning can be creeping into the 90s here in Oklahoma. A cooler packed with icy beverages is a must.
7. The Beverage. Virgil's Root Beer. What do I hope to see in that cooler? A frosty bottle of Virgil's root beer. The hands down winner of the AoM root beer taste test!
8. The Snack. Blueberry Scone. The best part of the parade is quite possibly the bagfuls of blueberry scones my sister whips up. They're extraordinary. Nothing like munching on a tasty pastry while listening to the float for a local bank blast "I'm Proud To Be An American" from their speakers.
9. The Bottle Opener. Declaration Independence Opener. This handsome bottle opener from Declaration Clothing features a U.S.A. monogram that was engraved on the buttons of Continental Army officers during the Revolutionary War.
10. The Pride. Mini American Flag. Long may she wave! Having a little American flag to wave when the troops march by is essential. The flag's gotta be made in America of course! America's oldest flag maker, Annin, has been making American flags domestically since 1847. Their flags have flown at every inauguration since Zachary Taylor's in 1849, atop Mount Suribachi on Iwo Jima in 1945, and on the moon. They don't sell online though, unfortunately, so if you have trouble finding one locally, here's a mini Made in America flag for just a buck.