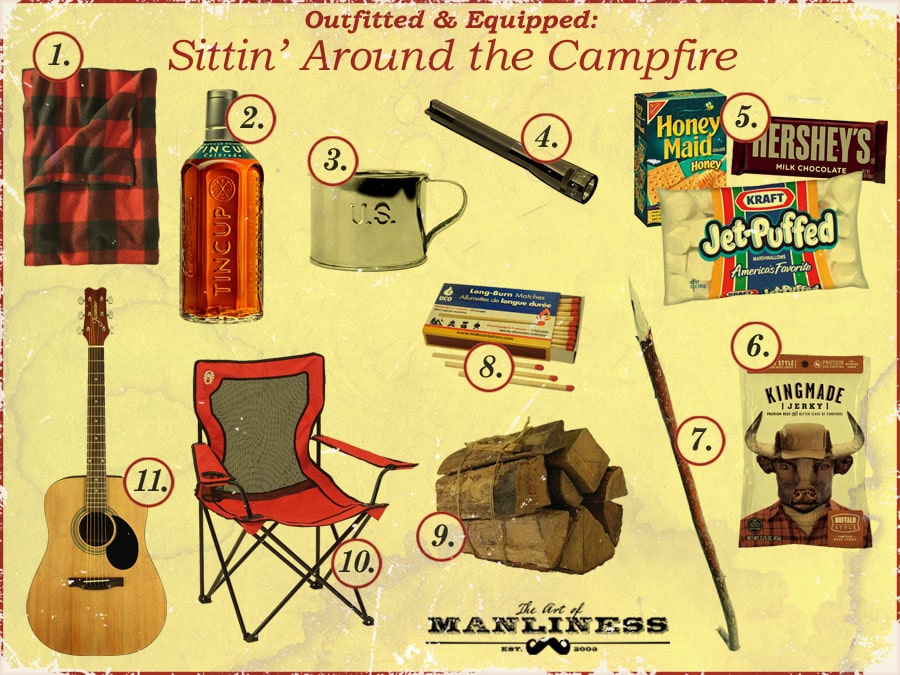 1. The Extra Warmth. Woolrich Rough Rider Throw. On a chilly night, there's nothing better for you and your gal to snuggle under than this Woolrich throw. The classic red flannel pattern adds to the rustic charm of your campfire.
2. The Beverage. TINCUP Whiskey. This bourbon is perfect for sittin' 'round the fire with your friends and family. It's full-bodied, but more drinkable on its own than many bourbons because of its high rye content. The great price point makes it even better! (If you're new whiskey, catch up on some tips for how to drink it.)
3. The Drinking Vessel. Jacob Bromwell Tin Cup. Connect with our forefathers from hundreds of years ago by drinking your whiskey out of a tin cup. This one is entirely handmade in America and is a near perfect replication of what was used by soldiers in the Civil War.
4. The Light. Mini Maglite. Having a flashlight at the campfire is essential for a variety of things: finding your way back to the fire after a pee in the woods, making sure your s'more makings don't get lost, and of course, telling scary stories. This miniature version of the classic Maglite is perfect.
5. The Sweet. S'mores. Short for "some more," s'mores have been a staple of American campfires for nearly a hundred years. We all have differing opinions on how and how much to cook our marshmallows (I prefer mine just toasted to a light golden brown), but we can all agree on its being sandwiched between two graham crackers and some Hershey's chocolate.
6. The Savory. Kingmade Buffalo Style Jerky. S'mores are mighty sweet (and don't pair too well with whiskey!). So save those concoctions for later in the night, and snack on something savory while you sip your spirit. You can never go wrong with jerky in this department. I recently tried a new upstart in the market – Kingmade – and it quickly catapulted into my pantheon of all-time favorites. The way the jerky is slow-cooked gives it a really unique texture that is unlike anything else I've had and incredibly delicious; my mouth literally starting watering as I was writing this.
7. The Cooking Tool. Whittled/Sharpened Stick. Sure, you could use one of those metal adjustable-length contraptions, but why not forage for and craft your own tool? Find a stick, whip out your handy-dandy AoM pocketknife, and go to town.
8. The Ignition. UCO Long-Burn Matches. These matches burn for as long as a minute, and they're nearly four inches long, making them safer than traditional matches. Perfect for getting your campfire lit.
9. The Fuel. Firewood. A hearty supply of dry firewood is key to having a great campfire. If you chop it and split it yourself it warms you twice!
10. The Chair. Coleman Camping Chair. While we enjoy the rustic nature of the campfire, there's no reason to sit on the ground in the dirt and rocks. Camping chairs these days are mighty comfortable, and affordable too. Get a few to have on hand!
11. The Tunes. Jasmine S35 Acoustic Guitar. What's a campfire without a guitar? Whether having an old-fashioned sing-a-long, or just strumming away with not a care in the world, the guitar is the perfect accompaniment for a blazing fire. Need some help with learning chords? Here are the three every man should know.