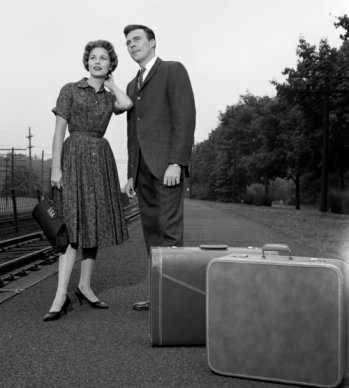 Vacations, business trips, conferences, class reunions–whenever you leave home, part of your wardrobe has to come with you. We've talked before about what to bring–now let's take a look at what you're taking it in.
A man's luggage is both a practical and a stylistic decision. You want something that carries all your necessities, is convenient to haul all over the world, and doesn't look awful when paired with your traveling clothes. The last consideration can be especially important for business travelers, who often end up making first impressions when meeting people at the airport with their luggage still in tow.
Different Trips, Different Bags: Know Your Luggage Options
Bigger isn't always better, especially when you have to carry it.
Different trips call for different bags. The family vacation suitcase is going to be all about volume and will almost certainly need rolling wheels to manage the weight, while a business trip suitcase should ideally be slim, easily slung over one shoulder, and broad enough to lay a suit coat in without folding. Even if the trips are the same number of days, the different circumstances require very different bags.
I've laid out all the primary options for you here, from the smallest to the biggest. It's a long list, and in some cases you'll be taking more than one of these bags, even sometimes one within the next. Read on and know your options:
A Man's Dopp Kit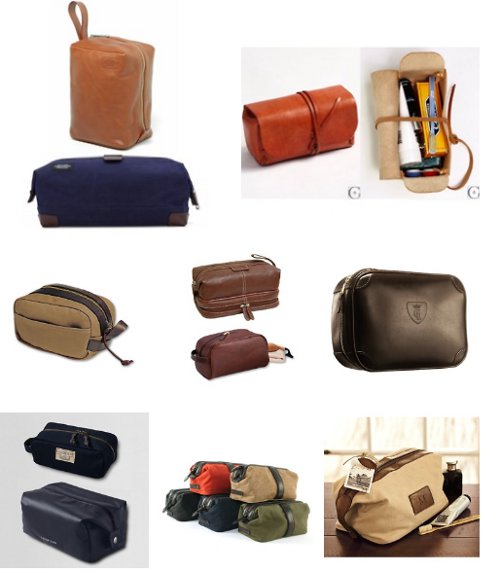 Image from Put This On
The "Dopp Kit" used to be a trademarked product, but the term is used generically these days.
A Dopp kit is a shaving and toiletries bag specifically styled for men and in my opinion is mandatory for the professional traveler. It's about the size of a football, shaped like a loaf of bread, and has a zipper all the way across the top lengthwise. Leather and nylon are common materials. Most are just a single compartment, often waterproofed (don't buy it if it isn't), and some may have small pouches along the sides to hold small items.
Why carry the extra weight and separate out your toiletries? All it takes is one busted bottle of shampoo or shaving cream to ruin your clothing and you'll never ask this question again.
Use it for:
Toiletries
Toothbrush/paste
Small cake of shaving soap (or can of shaving cream)
Razors (just the handle without blades if it's in carry-on luggage)
Keeping small items from bouncing around when stored inside larger bag
For more on what you should pack in your Dopp kit, take a quick look inside of one.
And check out Put This On for some ideas on great Dopp kit options, broken down by price range.
A Man's Briefcase
The standard man's dress case is rectangular, soft or hard-sided, and made from a business appropriate material (most often leather) in a business appropriate color (black/brown). These are the ideal carry-on for a business traveler who is also checking luggage–smart-looking and large enough to hold papers and a book or a few small electronic devices for entertainment on the flight.
There are a wide range of briefcase styles available to include satchels, pilot cases, computer bags, and the attache. The man who works in a traditional, conservative workplace will want to get a dressier briefcase that pairs well with a suit and helps him look professional when walking into a business meeting (like the one pictured above), while a man who works in a more casual and creative job can choose something more rugged. The differences between casual and dress cases are subtle, as I explain in this video:
Use it for:
Business items needed immediately upon arrival
Airline tickets and information
Electronics, laptops, and books
Hassle-free carry-on (easy to fit in-between larger bags overhead)
Attaché Case
An attaché case is a specific kind of briefcase: hard-sided, latching, and traditionally lock-able. Its origins are with diplomats and messengers carrying important information and little else–thus attaché cases are thinner than normal briefcases and minimalist in design. Inside, the cases are divided into two compartments by a hard, hinged tray.
Use it for:
A very clean, minimalist look. Great for carrying only your client's proposal into a meeting or across the world without the risk of overstuffing the case.
Storage of a few small objects in their own trays
Extra security from the hard sides and lock
A Man's Backpack
A soft-sided, two-strap backpack should be familiar to just about all of us. They often lack style but are much more comfortable for carrying over long periods, and most will have more storage space than a briefcase. There will also be more zipping pockets, which makes carrying small items easier. Backpacks are certainly handy and versatile, but please, don't wear one with a suit.
Use it for:
Convenience
Travel that involves lots of standing/walking with your bag
Trips where first impressions aren't important
Casual, non-business travel
Messenger/Laptop Bag
Basically a modern hybrid of a suitcase and a backpack. Messenger bags utilize one strap that slings over a shoulder and across the chest while the bag rests on the opposite hip. Typically used for laptops, but many are more general-purpose. They tend to have less space than backpacks but are easier to carry than a briefcase, and in plain black or a similar dark color scheme they can look much better with a suit than a backpack.
Use it for:
Carrying a laptop, papers, and accessories
Small luggage and items
Business travel where you have too many items for a briefcase
Carry-on Luggage/Suitcase
The last of the carry-on-sized options for air travel, these are cases made specifically for airline size restrictions. They are basically mini-suitcases that give you every cubic inch of space you're allotted. They're ideal for avoiding checked luggage if your trip is short enough to live out of a small bag. Just be aware that standard sizes keep shrinking–an older model may not always pass muster.
Use it for:
Your main suitcase on a short trip
Avoiding checked bag fees
Your official "carry-on," with a briefcase or backpack as your "personal item"
Two-Wheeled Suitcase
Any regular traveler will recognize these ubiquitous pieces of luggage: firm-sided rectangles with a long handle on top and a pair of wheels on the bottom. They're the easiest checked-luggage-size bag to transport, and so tend to be the most common among frequent travelers.
Of course, some men feel you shouldn't use a wheelie bag unless a health problem requires it; one of Walker Lamond's "rules for his unborn son" is this: "Never pack more than you can carry yourself, and a man's luggage doesn't roll."
Use it for:
Short trips where only a few days' clothes are needed
Storing easily-folded clothes like cotton shirts and slacks
Getting around the airport in a hurry
Upright Suitcase
A broad family of luggage–basically any big, rectangular suitcase that stands on its own. Some have wheels and some just have a carrying handle on top. The most basic kind looks like a hugely-oversized briefcase, while others may have a more tapered shape. Sides can be either hard or flexible cloth.
Use it for:
Long trips
Packing for multiple people
Fitting clothing, personal items, toiletries, etc. all into one bag
Reducing the number of checked bags a group/family needs
Travel where you don't have to walk far or fast
A Man's Garment Bag
Quite literally a "suit case"–garment bags are luggage designed to hold garments that are hung on hangers, rather than folded in drawers. Garment luggage tends to be big and soft-sided, with each side broad enough to fit a man's jacket without folding it. Higher quality designs should fold in half, doubling the soft clothing over but not pressing down hard enough to crease. Depending on size, they may be roller cases or carried by a single over-the-shoulder strap.
While it depends on the airline and your status with them, I have seen many men hand a lightly packed garment bag to the flight attendant who hung it up for the duration of the flight. Also–if not carrying more than two suits, it is often not treated as your carry-on. But check with your airline.
Use it for:
Transporting suits and shirts without wrinkling them
Week-long business trips that require multiple sets of high value clothing
The Weekend Bag
A big, soft-sided tote, longer than it is tall or wide. They make functional checked bags yet are small enough to carry with one hand and throw into the back of your car for a weekend trip (hence the name). These bags are made to hold the maximum amount of gear per cubic inch without taking on excess weight (no wheels, lighter weight materials) and usually have only one big internal compartment. One drawback is that the soft sides offer little protection, and if made from an inexpensive material, one rip (or a thief with a box cutter) can lead to all your contents spilling out.
Personally the weekender is one of my most used bags for road trips–I avoid the above problems by selecting a bag made from heavy duty ballistic nylon reinforced with sewn on leather straps.
Use it for:
Transporting a lot of gear without careful packing.
Casual trips and vacations–business trips if dark colored and made with quality leather.
Soft and non-breakable items–use your Dopp kit!
Frame Pack Backpack
These are big backpacks with built-in hard frames to give them structure for long-term carrying. They're mostly used on multiple-day backpacking/camping trips, but if you happen to be flying out for such a trip, they make a decent checked bag as well. They're by far the easiest thing to carry around with you all day–that's what they're designed for–but they'll never pass muster as anything but casual vacation gear. Also, they scream tourist, so be aware you'll be quickly approached by taxi drivers and other "airport salesmen" in many countries.
Use it for:
Carrying a large amount of gear very comfortably to a destination where you'll be walking often
Travel that involves hiking
Camping trips
Steamer Trunk Luggage
A hard-sided chest, often with internal compartments on the sides or top. Meant to be either stood on its side and opened like a mini-wardrobe or laid flat and opened like a clothing chest in a ship's cabin. They can also come equipped to stand as working desks. Old-fashioned and heavy, they're from a time when trips away from home often lasted for months and are not meant for air travel, though they can be checked bags.
Steamer trunks are very rarely seen as tighter airline restrictions, overnight shipping, easier access to stocked stores, and better hotel work spaces have negated the need to carry your own closet/desk. However, these relics are still useful for many professions. Shooting a movie in Africa? You need to have all your costumes with you and organized. Commanding a mechanized battalion in Afghanistan? Your S-1 should have a portable desk available so you can perform required admin duties during downtime.
Use it for:
Remote travel where organization and access to a wide range of amenities is required
Cruises and ocean trips or multi-day sleeper car train trips
Other Masculine Bag Styles
Summary: A Man and His Luggage
Watch the video to have me talk you through the article and to see more examples of bags.
Great luggage is peace of mind. Buy the right bags for the right occasion, and you'll know that you have everything you need right where you want it, safe and secure.
______________________________
Written By:
Antonio Centeno
Grab My Free 47 Page Men's Style eBook