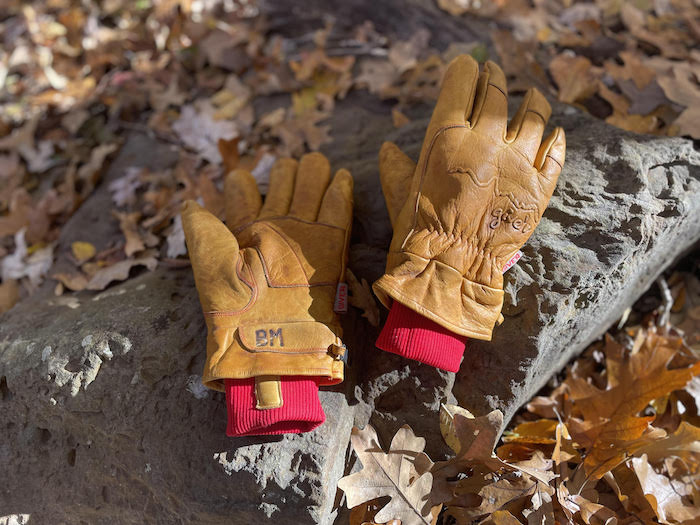 Running a "men's lifestyle" website means that sometimes companies send you unsolicited products for potential review or promotion.
Most of the stuff I get sent ends up on the prize table at the McKays' annual Christmas party.
But every now and then, I get sent a product that I end up using regularly.
That happened in 2016. Give'r Gloves sent me a pair of their 4-Season Gloves with my initials branded on them. I was immediately impressed with their construction and comfort. They're super heavy-duty but really, really comfortable. In the spring, I started using them to do backyard chores like clearing brush (we have a little patch of "woods" out back). When winter rolled around, I wore them during cold weather excursions or while building fires in our family's secret backyard fire pit.
I was so impressed with the gloves that I emailed the guys at Huckberry, telling them, "You gotta carry these things! They're amazing." And they did. The Give'r 4-Season Glove continues to be a bestseller for HB.
I'm going on six years with my Give'r 4-Season Gloves, and they're still going strong. In fact, they've only gotten more comfortable over the years as the leather has broken in. They've also developed a nice-looking patina. What man doesn't like donning something with a good patina?
Why the Give'r 4-Season Glove Will Be the Last Pair of Gloves You'll Ever Need
The Give'r 4-Season Glove is an all-around workhorse, and may become the last glove you'll ever need to buy. Here's why:
They're durable. The Give'r 4-Season Glove has a reinforced, all-leather cowhide exterior which makes them extremely durable. You can pick up burning logs with these bad boys.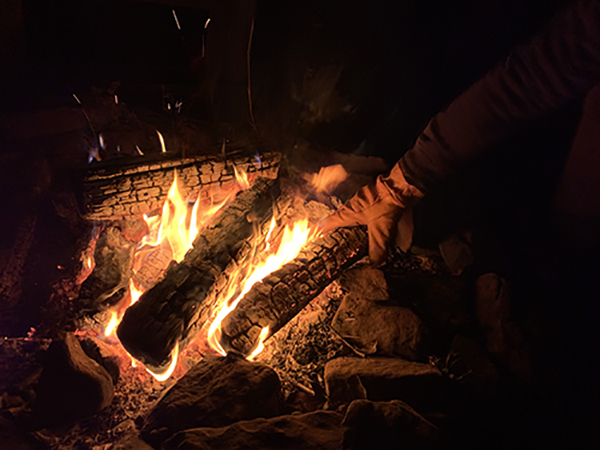 I've used mine regularly for five years, and there's no sign of wear and tear.
They're waterproof. Beneath the leather exterior, there's a waterproof membrane. You can work in the snow and rain, form the perfect snowball, or wear these babies skiing, and your hands will remain nice and dry. The exterior of the gloves also has a wax coating, adding to their water resistance.
They're warm. The 4-Season Glove is insulated with Thinsulate, providing 1.5X the warmth of down. They've been field-tested in subzero temperatures and proven to keep hands nice and toasty.
You can use them all year. While the 4-Season Glove has been crafted to withstand cold weather extremes, as its name suggests, you can use them all year. I've worn them during the sweltering summers here in Oklahoma for outdoor work, and they're comfortable. My hands don't get overly hot or sweaty.
They look good. I'm definitely a function over form kind of guy, but I appreciate when something functional looks good to boot. And the 4-Season Glove certainly does. They look like the type of glove a rancher out in the panhandle of Oklahoma would have on the bench seat of his beat-up pick-up truck. And the waxed leather will take on a nice patina with years of use.
They're battle-tested in the Tetons. Give'r Gloves got their start in Jackson Hole, Wyoming, near Grand Teton National Park. The founders field-tested the gloves in the severe mountain conditions of this rugged landscape to ensure the 4-Season Glove could withstand whatever was thrown at them.
A note on sizing: The sizing of the gloves is based on the idea that eventually the gloves will break in. So when you initially get them, they're going to feel a little tight; after you start using them, they'll loosen up into the "appropriate" size. If you want to have a little room from the get-go without waiting for this break-in period, then Give'r recommends sizing up one size.
With cold weather upon us, now's a great time to pick up a pair of Give'r 4-Season Gloves (or to gift them to someone). Huckberry offers two exclusive colors of the glove, if you're looking for something beyond the classic tan.