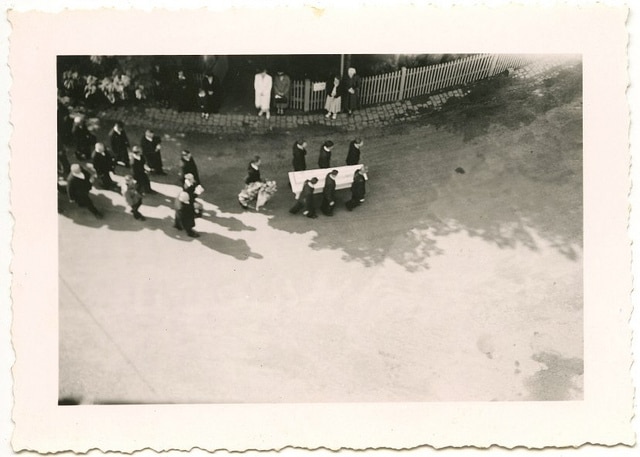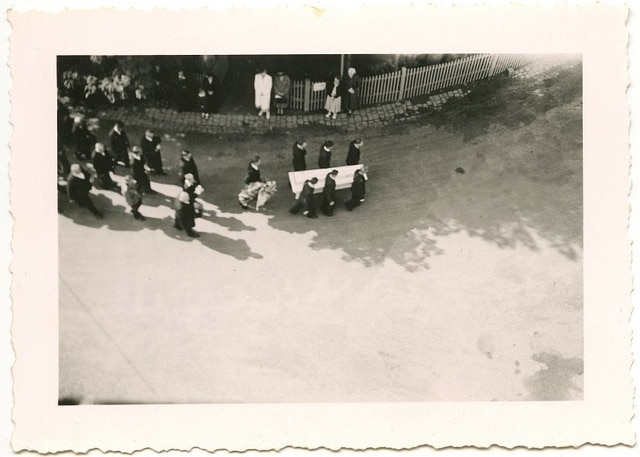 With our archives now 3,500+ articles deep, we've decided to republish a classic piece each Sunday to help our newer readers discover some of the best, evergreen gems from the past. This article was originally published in September 2016.
It was written by James "Buzz" Surwilo, who unexpectedly died last week. Buzz was Kate's uncle, Brett's adopted uncle, and one of our best friends. Buzz taught us, and AoM readers, how to work out without a gym, fell a tree, and make maple syrup. He shared with us why spending a day at the horse races is so enjoyable, why it's important to keep in touch with old friends, why you should always get your dog from the pound, and how truly sad it is when you have to put your faithful pooch down (a real dog-lover, one of the saddest things about Buzz's death is contemplating how his current dog, Danni, will be waiting, forever in vain, for her faithful master to return home.) Buzz was a one-of-a-kind, salt-of-the-earth guy, an American original who never compromised his principles to join the consumeristic rat race, looked on wryly at our culture's various weirdnesses (his review of the Tough Mudder is worth a read), and was always up for a new adventure, like volunteering to fight forest fires for the first time in his fifties.
He will be greatly missed. R.I.P., Buzz.
***
Justin Beebe was a 26-year-old native of Vermont, from the hardscrabble town of Bellows Falls. He was killed several weeks ago wildland firefighting in Nevada as a first-year member of the elite Lolo Interagency Hotshot Crew.
I had never met Justin, and did not know him, but first heard the news from the state's Fire Supervisor, who I had served under. As a sometimes-wildland-firefighter and resident of VT, I felt a dual kinship. I also have a 26-year-old native Vermonter son who, like Justin, moved west to pursue his dreams, and who has, like Justin did, a girlfriend that he loves. The similarity, another reminder of the fragility of life, gnawed at me. My son Doug was just visiting Vermont from California a week ago. When he left, we said our casual goodbyes at the airport, complacent that we'd see each other at Christmas or in the spring. But hearing of Justin's death was evidence that nothing in this world is certain, and youth is no insurance against mortality.
Out of the desire to honor a comrade, I began contemplating attending Justin's memorial service. But you know how these things go — the internal back and forth that accompanies this kind of choice: I have no personal connection to this person, it's an hour and a half drive, there will be plenty of other firefighters there, the grass needs mowing. Is a desire to go, well, weird?
Ultimately though, I decided to go.
The high school auditorium was packed, airless, and stifling hot, with the overflow crowd in the adjacent gymnasium. Justin's family occupied the front and center rows, with a dozen or so of the Montana-based hotshot crew to the front and side. We other 30 or 40 wildland firefighters from four states and several federal agencies walked in single file and took seats behind the Lolo crew. Off to the side came in dozens of structural firefighters who, to their great credit, stood at attention in the oppressive heat for the hour-plus-long service.
Eight different coaches, friends, family members, and the hotshot crew leader spoke to the audience. Each one, obviously without corroboration, spoke in turn about Justin's good-heartedness, vitality, leadership, and kindness to persons of all walks of life. Nearly every speaker affirmed Justin's love of the outdoor world and, what especially resonated with me, his unwavering pursuit of his passions. We heard time and again that for Justin, no challenge was too great if he really wanted the objective. I know I've backed away from many ventures, either convincing myself of my or its unworthiness, or foolishly being dissuaded by naysayers. So it was inspirational to learn of a young man who went at life full bore, but not at the expense or exclusion of others. Nearly every speaker represented this noble tenacity as a lesson we would benefit to learn, and I surely did.
Justin's best friend, aunt, fiancée, and mother all spoke from the heart with beautifully moving eloquence, and often laughter-producing humor. Coming from someone who gets anxious speaking to 25 people on some rote, dry subject matter, it was incredible that these bereaved people could find it in themselves to sincerely voice their feelings on stage to over a thousand people, many of them strangers. And to watch a poignant slideshow of Justin from baby to sports nut to hotshot crew member, with their loss so recent and raw. I'm not sure I could have done that, and I have nothing but admiration for them all; an act of bravery to rival any firefighter's.
Do Good Rather Than Nothing
A decade ago, I read an essay entitled "Always Go to the Funeral" and it has stayed with me since. The author's cogent point, as taught by her father's actions, is that we should make the effort to extend ourselves, or put ourselves in uncomfortable situations for the benefit of others. Such moments, such opportunities for a kind act, may never happen again, and a seemingly slight gesture, or offering of mere presence, may be awkward, may be bothersome, but can have a lasting impact. It's always better to do something than to take the easier way out:
I believe in always going to the funeral. My father taught me that . . . 'Always go to the funeral' means that I have to do the right thing when I really, really don't feel like it. I have to remind myself of it when I could make some small gesture, but I don't really have to and I definitely don't want to. I'm talking about those things that represent only inconvenience to me, but the world to the other guy. You know, the painfully under-attended birthday party. The hospital visit during happy hour. The shiva call for one of my ex's uncles. In my humdrum life, the daily battle hasn't been good versus evil. It's hardly so epic. Most days, my real battle is doing good versus doing nothing.
Attending Justin's funeral was certainly not a heroic act on my part; he's the real hero in this equation. It wasn't even a particularly noteworthy "good deed." But going was a better choice than not going. I'm glad I added to the crowd of those there to testify that Justin's was a life that mattered.
As overwhelming as the day must have been, after the service Justin's sister came out to where we wildland firefighters lined the sidewalk to graciously thank us for attending. Two weeks ago she lost her brother, and had spent the last hour having those wounds opened again, and she had the benevolence to acknowledge our presence and work. It wouldn't have made a difference if I had dodged the event and was not in line, but it would have made a difference if all 40 firefighters, or all 1,000 civilians had. Singularly, my attendance was inconsequential, but collectively I hope our presence gave some consolation.
As it is with all good choices, it probably benefitted us more than those on the receiving end of the gesture. I was certainly inspired by Justin's life of choosing to do good, over doing nothing, to do more good myself. While I continue to let such chances slip by — my introversion and social ineptitude sometimes getting the better of me — I've started trying to remind myself more often of that simple but important maxim: "Always go to the funeral."