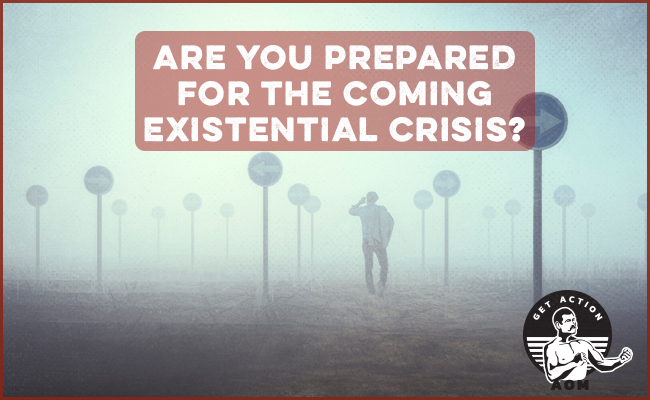 Many people have, throughout their lives, experienced varying degrees of existential angst: the feeling of being some combination of unmoored, bored, anxious, restless, depressed, lost, isolated, and/or alienated, and simply wondering what it's all about.
For many too, these feelings of existential angst have been exacerbated over the past pandemic-burdened year. Yet, heightened though these feelings may have been, they may have also, in a strange way, been easier to deal with during this period than they were prior to its start — and still easier than they'll be after it's through.
One of the most difficult things about existential angst, is that it can be isolatingly individual, of indeterminate length, with a cause, and solution, that is vexingly difficult to pin down. During the pandemic, however, the cause of one's angst became external, clear, tangible, and universal, with an end date that was at least (semi) defined. People could point to the pandemic and say, "That's why I'm feeling off," and reason to themselves: "Once x, y, and z return to normal, then I'll feel fine." This buttressing, in the form of having a definable explanation for one's malaise, thus allowed for that malaise to be both more acute and easier to bear.
In the post-COVID landscape, feelings of existential angst may return to their pre-pandemic levels, and yet are likely to stand out in starker, more disorienting relief than ever. When a weight once wholly carried, is for a time buttressed by supports, but then loses those supports, the original weight feels heavier than before.
This hypothesis may seem off the mark at the moment. Hope and optimism are in the air; a light at the end of the tunnel is warming the blood. We feel certain that a resumption in indoor dining, and parties, and travel will entirely eliminate our feelings of existential angst. And indeed they will, for a time. When the dopamine that accompanies novelty (or the re-novelization of old habits) surges, we'll be all aglow with anticipation and excitement and momentum. But when that parabolic arc of dopamine hits its peak and begins its descent — which it always, always does — we'll recognize the old feelings of angst again, once more shorn of any ready-made concrete cause. And the re-realization that visits to the local ramen bar and trips to Hawaii don't resolve the desire for greater meaning, the resettling of the full weight of yearning on the soul, may usher in a widespread existential crisis.
When it comes to "emergency prep," we prepare for natural disasters by building bug out bags, prepare for a breakdown of the utility grid by storing up a long-term water supply, and will one day ready ourselves for the possibility of a future pandemic by . . . buying toilet paper? But are we preparing for a potential existential emergency? Is there any way to prepare for such a crisis?
Perhaps the best form of preparation is simply to accept that while existential angst may lessen and deepen according to one's external circumstances, it will never entirely go away. To accept that restlessness is intrinsic to the human experience. That we are, as Kierkeegaard argued, made up of both the infinite and the finite, and that these two parts of our nature will always be in conflict and never entirely fit together in a neat, tensionless way.
While existential restlessness can never be extinguished, it can be tamed. The other part of existential emergency prep, then, is to start asking bigger questions, studying profounder writings and ideas that may furnish tools on how to get a handle on things. Ironically, while your angst may have gotten deeper during the pandemic, your media consumption may have gotten shallower; more Netflix, more Twitter scrolling, more headline scanning. Less pearl diving.
To avoid emerging from a health crisis, only to step into an existential one, reverse that trend and start getting into heartier fare. Start stocking your existential cupboard with sustaining insights and perspectives that transcend this moment of time. And start equipping your philosophical first aid kit with supplies that will help you survive whatever moments come next — daily habits in thinking and doing that point not only beyond restaurant-dining and world-traveling, but beyond the narrow, and ultimately unsatisfying, confines of the self.