Thanksgiving is this week here in the United States. Over the years we've published a myriad of articles on how to make your Thanksgiving a holiday truly worth celebrating. We thought it would be helpful to put all that content in one place. Consider this your ultimate guide to the best, most enjoyable, most meaningful, most manly, and of course, most delicious Thanksgiving ever. From cooking and carving your turkey, to how to be a gentlemanly guest, to how to create memorable Thanksgiving traditions, you'll find it here. Pull up a chair to this feast of content, browse through the subjects you need a refresher on, and you'll be all set for this Thursday.
Cooking and Carving the Bird
The turkey is the centerpiece of the Thanksgiving celebration. Preparing and carving a delicious turkey for loved ones is definitely a manly task. It involves roasted flesh, sharp knives, and popping joints. So impress your friends and family this year by cooking up a juicy and delicious bird. After you've cooked it, earn extra man points by masterfully carving it with a sharp knife. Carving a turkey is a rite of passage every man must go through. But if you don't do it right, you'll just be left with a mangled mess of meat.
To help guide us through cooking and carving our Thanksgiving turkey, we brought in our friend Karl Engel. Karl is the head chef of the award winning BBQ and grilling team Pigcasso, and he's given us a primer on several ways to cook your bird, as well as how to deftly carve it. Follow Karl's instructions, and come Thanksgiving day, you'll be presenting your family and friends with a beautiful plate of juicy, delicious meat.
How to Brine and Prepare a Turkey [Video]
How to Oven Roast a Turkey [Video]
How to Deep Fry a Turkey [Video]
How to Smoke a Turkey [Video]
How to Rotisserie Cook a Turkey [Video]
How to Carve a Turkey [Video]

A man needs stuffing to go along with that bird, so we brought Karl back to show you how to make a killer stuffing that will please any Thanksgiving crowd. His recipe is incredibly easy and delicious.
Being a Gentlemanly Guest & Host
Many of you will be traveling to see family and friends this time of year. Staying with loved ones can be a great time, and everyone loves free lodging. But you must always remember that hospitality is a gift, one that should be accepted graciously. Here's how to show your gratitude and make your stay a welcome and pleasant one this holiday season, or any time of the year.
Likewise, if you've graciously agreed to be the host this time around, find ways to make your guests feel welcome and right at home.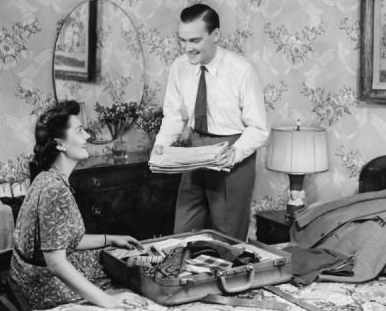 Dim & Dash: At the Thanksgiving Table
Enjoying the Day
Your family is gathered around the table, on its best behavior, and ready to dig in to a great meal.
And there sits your children at the kids table wondering what Thanksgiving means besides turkey leftovers and time with relatives.
As the man of the house, Thanksgiving offers you a great opportunity to pass traditions onto your children that can make them understand why the holiday is uniquely important and uniquely American.
In addition to finding ways to make the day more meaningful, look for ways to simply make it more fun and memorable. Here are some activities and traditions that can be enjoyed by the young and the old.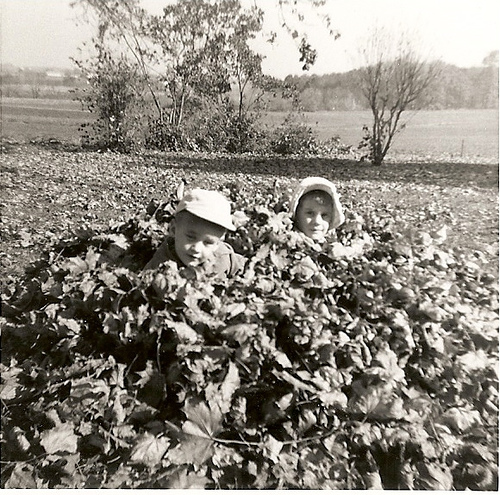 Instead of serving up the usual beer or wine for dinner, try one of these classic, warm cocktails.
How to Tackle and Throw a Spiral Like a Pro
Many a family will play a lighthearted (or maybe not so lighthearted) game of football on Turkey Day. To really hone your skills, study these illustrated guides to dominating the Thanksgiving gridiron.
With Thanksgiving this week, many minds will be turning to the things they are grateful for. But here's a twist on the subject not often explored: what do you do when others do not share your attitude of gratitude and your good turns go unappreciated? William George Jordan offers up a veritable cornucopia of powerful thoughts.
A Day of Thanksgiving [Video]
Stumped as to how to express the real meaning of Thanksgiving to your kids? Watch this classic vid.
Using Your Leftovers
After your Thanksgiving feast, there's always lots of delicious leftovers to devour the next day. Here's how to make the most of them.
From AoM food expert Matt Moore: "The idea of repeating the exact same meal from the day before often loses its luster on my tired taste buds. So instead, I seek out ways to re-use all of that goodness before I stare down a week of grilled salmon and salad. In other words, don't be bored with your meals, or even worse, let great food go to waste! Entertain your family and friends one more time around with these great ideas for turkey leftovers!"
Many Thanksgiving dinners end with a turkey carcass in the trash. Instead, keep it, and turn it into a delicious stock or soup. From our food expert, Matt Moore: "Since it's the holidays, folks are stocking up on all the essentials: turkeys, rib roasts, stuffing, vegetables, pie crusts, and especially cooking stock. After all, a bit of stock or broth is called for in almost every holiday recipe. Four cups of store-bought stock costs over $5 bucks in most places. Gentlemen, it shouldn't be so… So this year, I encourage you to keep 'stock-ing' through the holidays. Spend a bit of time to save what you typically discard and enjoy good eats and cost savings in the New Year!"
Getting Back on the Wagon
Once you've stuffed yourself to oblivion, it's time to get back on the exercise wagon and start mitigating some of the damage of your endless feasting. If you can't get to the gym, try this brutal stair workout. All you need is a set of stairs and a strong anti-puke reflex.
Hope everyone has a Happy Thanksgiving!