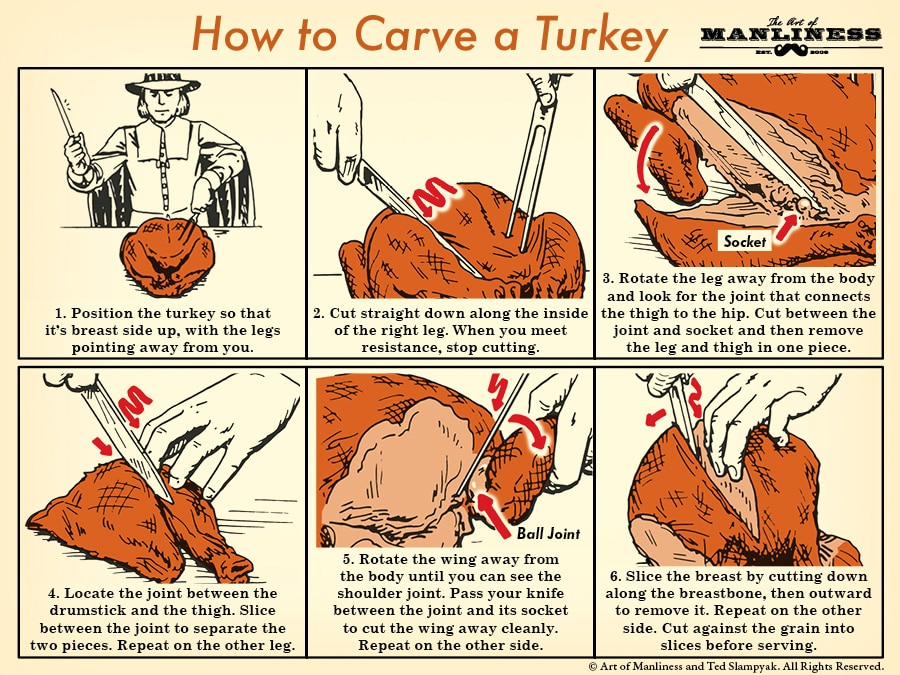 The holidays are a time for traditions, celebrated by family and friends gathered around crackling fireplaces and tables full of festive dishes, including massive, crispy-skinned turkeys. The act of carving the turkey tableside is a tradition that goes back generations and has both symbolic and practical roots. Typically, the head of the household carves the turkey before guests as a symbol of hospitality. Doing it tableside is partly for showmanship, but also ensures that juicy pieces of turkey stay warm and don't dry out sitting on a platter in the kitchen.
For the uninitiated, carving a turkey can be a daunting task. No one wants a thanksgiving feast ruined by unsightly hunks of hacked up bird. The ideal carving job should yield hearty, cleanly sliced pieces of turkey, separated into piles of light and dark meat. With a sharp knife and a little patience, carving a turkey should be simple and straightforward. Most importantly, before carving any turkey, make sure you let the bird rest for at least 30 minutes after it's come out of the oven.
1: Position the turkey so that it's breast side up, with the legs pointing away from you.
2: Cut straight down along the inside or the right leg. When you meet resistance, stop cutting.
3: Rotate the leg away from the body and look for the joint that connects the thigh to the hip. Cut between the joint and socket and then remove the leg and thigh in one piece.
4: Locate the joint between the drumstick and the thigh. Slice between the joint to separate the two pieces. Repeat on the other leg.
5: Rotate the wing away from the body until you can see the shoulder joint pass your knife between the joint and its socket to cut the wing away cleanly. Repeat on the other side.
6: Slice the breast by cutting down along the breastbone, then outward to remove it. Repeat on the other side. Cut against the grain into slices before serving.
For a full text guide and video on how to carve (and cook) a turkey, click here.
Like this illustrated guide? Then you're going to love our book The Illustrated Art of Manliness! Pick up a copy on Amazon.