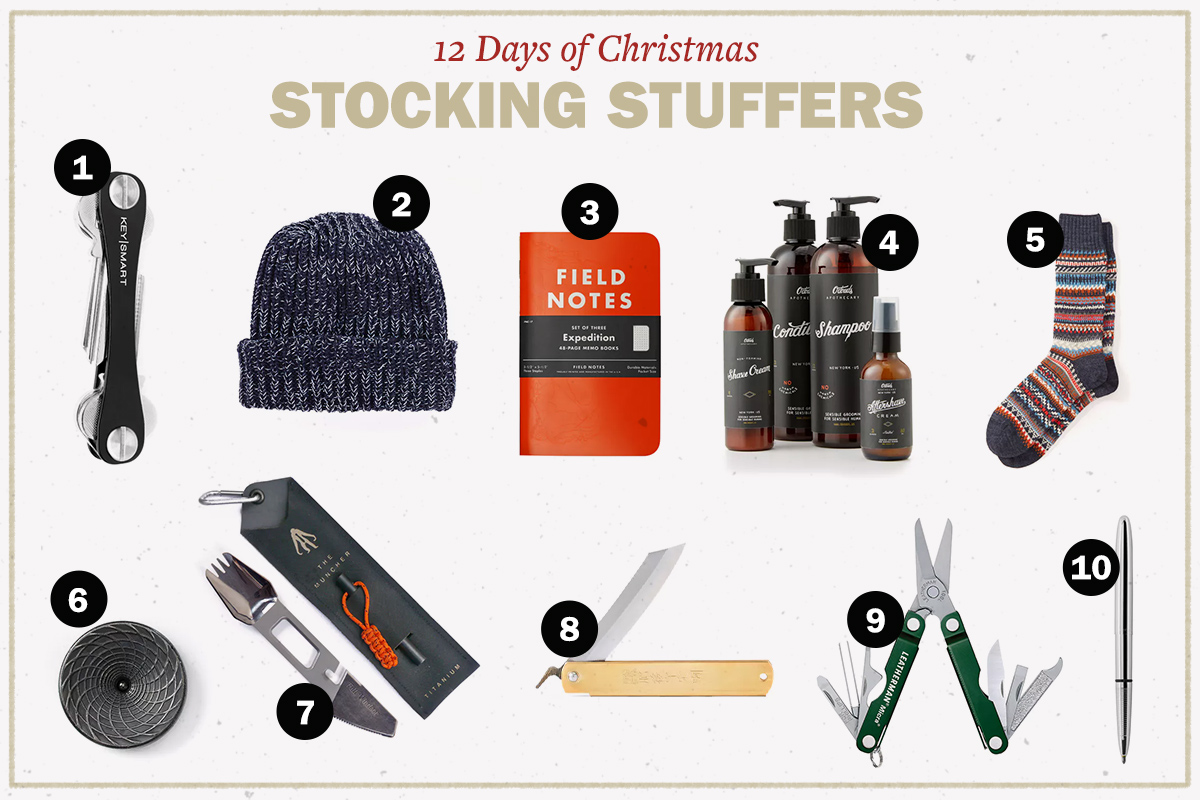 Welcome to AoM's 12 Days of Christmas! We've partnered with Huckberry to bring you 12 straight days of awesome gift guides and giveaways. Each day will feature a different Huckberry shop with 10 gift ideas, as well as a giveaway. The giveaways will run until 12pm CT the next day, and the winner will get to choose an item of their choice from that day's featured shop.
Stocking stuffers are arguably the most fun part of Christmas. The 10 ideas below from Huckberry's Stocking Stuffer Shop run the gamut of what one hopes to find in their yuletide sock, ranging from the practical to the delightful. Be sure to browse the whole shop for a bunch more can't-miss items.
The 12 Days of Christmas: Stocking Stuffers
1. Keysmart. The ring is an outdated method of organizing our keys, leaving them noisily jangling in pockets and briefcases. The Keysmart upgrades the old model, providing a sleek way to organize your keys.
2. Columbiaknit Cap. When the weather outside is frightful, you need a warm but handsome cap to keep the cold at bay. This one from Columbiaknit keeps your noggin toasty, while its textured cotton fabric makes for a better-looking hat than the sleek, athletic-style nylon and polyester variety.
3. Field Notes 3-Pack. Every man should carry a pocket notebook. Whether it's a grocery list, a journal entry, or a million-dollar idea, a physical notebook in your back pocket lends some physicality to an ethereal world. The legendary notebooks from Field Notes are even Made in the USA.
4. O'Douds Grooming Package. Quality, well-sourced grooming products to keep you looking — and feeling — your best. Includes shampoo, conditioner, shave cream, and aftershave. Even the roughest fellas need some love for the hair and skin now and then.
5. CHUP Hogan Socks. Durable Japanese socks with a seamless, ultra-comfortable interior. Each design is a limited edition with an intricate pattern inspired by the natural world and folk art.
6. J. L. Lawson Event Horizon Spin Coin. The original fidget spinner, in the form of a coin. Designed to be like a miniature black hole, it sucks you in with a calming, relaxing gravity. Can keep going for minutes on a single spin.
7. Full Windsor Multi-Tool Utensil. Full Windsor took the spork, an item already built to maximize utility, and packed it to the brim with 10 additional functions — can/bottle opener, fire flint, peeler, box cutter knife, and more — so you'll have what you need at hand no matter the situation.
8. Higonokami Brass Folder. A traditional style of Japanese pocket knife. Crafted at Nagao Kanekoma Factory, which has been manufacturing knives since 1894, the Higonokami Folder's blue paper steel blade is strengthened with alloys for durability. This is a knife that really maintains its edge.
9. Leatherman Keychain Pocket Tool. It's like Leatherman's classic and legendary multitool, but miniaturized. Perfect not only for a keychain, but also to tuck away in a tackle box, glove compartment, or any other place where its tools will come in handy.
10. Bullet Space Pen. Writes smoothly, evenly, and dependably, upside down, underwater, over grease, and in extreme temperatures. Thanks to a pressurized ink cartridge with specially developed ink, it can even write in zero gravity, hence the name and its inclusion on every manned NASA space mission since 1968. This version sports the classic Fisher "Bullet" design originally developed in 1948.
Giveaway
The Prize
Any item available in Huckberry's Stocking Stuffers Shop.
Enter the Giveaway
If you are an email subscriber, do not reply to this email to make your entry. You must click on the title of this post, which will take you to the post on our web page where you can make your entry. Use the form below to enter. Don't forget! You have multiple ways to enter! The more of them you do, the better your chances are!
The 12 Days of Christmas: Stocking Stuffers

Deadline to enter is 12pm tomorrow (Central Time), December 4th, 2018.